Eight children and a grandmother were among 23 persons killed in a tenth day of heavy Israeli bombardment targeting civilians, civilian homes and other infrastructure across the occupied Gaza Strip.
Wednesday's carnage brought the toll since Israel began its assault to 220 Palestinians killed and 1,570 injured, the Gaza-based newspaper Filistin reported, citing the health ministry.
The latest deaths bring the number of children killed to at least forty-six.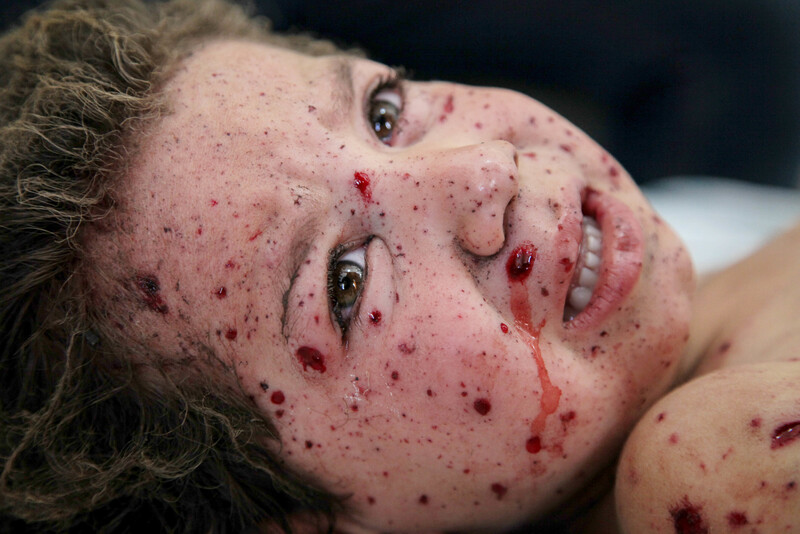 Human Rights Watch said today that Israeli air attacks it investigated "have been targeting apparent civilian structures and killing civilians in violation of the laws of war."
The group called on Israel to "end unlawful attacks that do not target military objectives and may be intended as collective punishment or broadly to destroy civilian property."
Almost eighty percent of those killed in the Israeli attacks are civilians, according to the UN's Office for the Coordination of Humanitarian Affairs (OCHA).
Children killed on beach
On Wednesday afternoon, in an horrific attack witnessed by international journalists stationed at the Al-Deira Hotel, shelling from an Israeli gunboat killed four children from a single family as they played football on a beach near Gaza's seaport.
The four victims were Ahed Atef Bakr and Zakaria Ahed Bakr, both ten years old, Muhammad Ramiz Bakr, eleven, and Ismail Muhammad Bakr, aged nine.

Three other children were wounded, one critically.

NBC journalist Ayman Mohyeldin witnessed the attack.

"He was my only son," Zakaria's father, Ahed Bakr, told NBC. "He died with his cousins, they all died together."

"We live by the coast. There was a headline on the news that four children were injured … so we went looking for the kids and we could not find them, so we came here to the hospital to look for them and we found them all, including my son … oh my God," Bakr told NBC.

The Guardian's Peter Beaumont, witnessed the attack:
The first projectile hit the sea wall of Gaza City's little harbour a little after four o'clock. As the smoke from the explosion thinned, four figures could be seen running, ragged silhouettes, legs pumping furiously along the wall. Even from a distance of 200 metres, it was obvious that three of them were children.

Jumping off the harbour wall, they turned on to the beach, attempting to cross the short distance to the safety of the Al-Deira hotel, base for many of the journalists covering the Gaza conflict.

They waved and shouted at the watching journalists as they passed a little collection of brightly coloured beach tents, used by bathers in peacetime.

It was there that the second shell hit the beach, those firing apparently adjusting their fire to target the fleeing survivors. As it exploded, journalists standing by the terrace wall shouted: "They are only children." In the space of 40 seconds, four boys who had been playing hide and seek among the fishermen's shacks built on the wall were dead.
Killed by a mosque
Four people were killed, including two small children and an elderly woman, and three others injured, when Israeli fire targeted them near the al-Katiba mosque west of Khan Younis.
Health ministry spokesperson Dr. Ashraf al-Qidra, quoted in Filistin, said the dead were four-year-old Yasmin al-Astal, six-year-old Osama al-Astal and seventy-year-old Raqiyya al-Astal.
Family decimated after hospital visit
An Israeli drone fired a missile at a civilian taxi in Bani Suheila west of Khan Yunis on Wednesday morning, killing four people from one family.
Ten-year-old Ibrahim Ramadan Abu Daqqa, his 25-year-old brother Amro Ramadan Abu Daqqa, and their sister, 27-year-old Madeline Abu Daqqa, a pregnant mother of three, died along with their elderly grandmother, Khadra Abu Daqqa.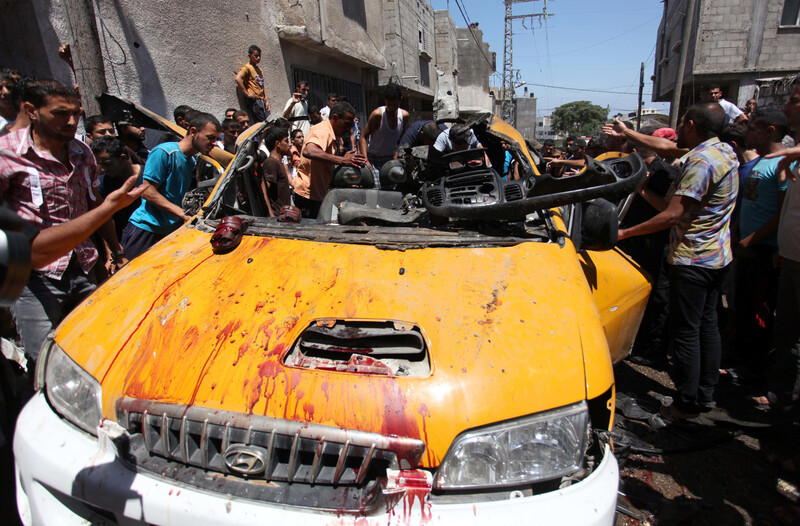 Several people were reported injured, including fifty-year-old Ramadan Abu Daqqa, Khadra's son and the father of the three siblings.
According to a reporter from the official Palestinian news agency WAFA, cited by Quds News, the family had been on their way home from visiting an injured relative at al-Shifa hospital in Gaza City when their minivan was attacked.
Palestinian health ministry spokesperson Dr. Ashraf al-Qidra told local media that six-year-old Hamza Raed Thari died today of injuries from an Israeli air attack in Jabalyia, northern Gaza, which occurred several days ago.
The United Nations reported that as of yesterday, 1,370 homes had been destroyed in Israeli attacks, directly displacing 8,200 people.
Another 18,000 people were being sheltered at UN-run schools, and 600,000 of Gaza's 1.8 million residents were at risk of losing their water supply.
Tags