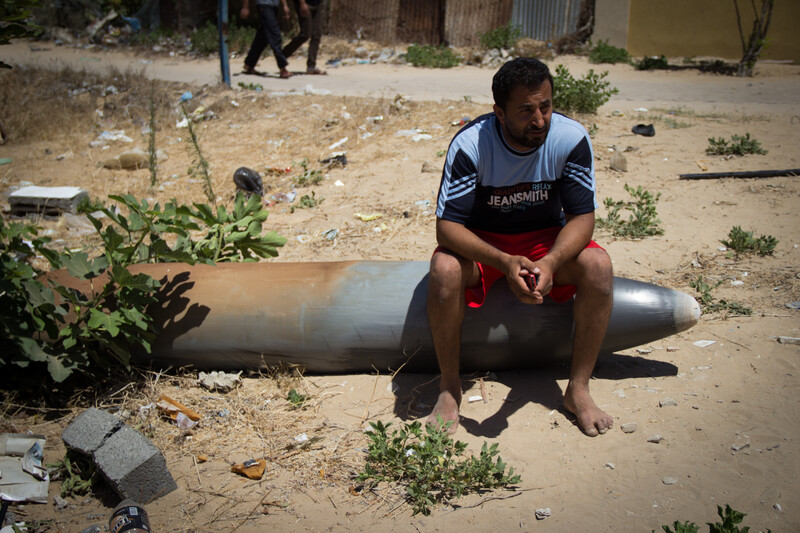 A source in the Gaza Strip with direct knowledge of the matter has provided The Electronic Intifada with a copy of Hamas' five demands for a ceasefire with Israel, amid ongoing mediation efforts that involve Turkey, Qatar and Germany.
Meanwhile, US President Barack Obama confirmed intense US-backed diplomatic efforts by Egypt to achieve a ceasefire.
On Wednesday, the tenth day of Israel's relentless bombardment of Gaza, 23 Palestinians, including eight children, were killed.
Since the start of the assault, 220 Palestinians have been slaughtered and more than 1,500 injured, the vast majority civilians.
Israel announced that it would observe a "humanitarian truce" for five hours on Thursday morning to allow residents and humanitarian agencies to restock supplies.
Five conditions
The text of the Hamas conditions, provided to The Electronic Intifada in Arabic, is as follows:
First – Opening all the crossing with the Gaza Strip.

Second – Opening Rafah crossing, the link between Gaza and Egypt, on a permanent basis, 24 hours per day with international guarantees it will not be closed.

Third – A maritime corridor to Gaza.

Fourth – Allowing residents of the Gaza Strip to pray in the al-Aqsa Mosque in Jerusalem.

Fifth – Israel will release the prisoners who were freed as part of the "Shalit" deal, and Israel will abide by the previous agreement reached by prisoners and the Israel Prison Service with Egyptian mediation in 2012.
These demands, albeit refined, are in line with earlier public statements Hamas has made about its terms.
Earlier today, Israeli media published a more expansive ten-point plan for a ten-year truce that was said to have been passed by Hamas and Islamic Jihad to Egyptian officials.
Obama confirms intense efforts
At a White House press briefing this afternoon, Obama reiterated his position that Israel's bombardment of Gaza constitutes an exercise of Israel's "right to defend itself" from rockets fired from Gaza.
"But over the past two weeks," Obama added, "we've all been heartbroken by the violence, especially the death and injury of so many innocent civilians in Gaza, men, women and children who were caught in the crossfire."
Obama's misleading statement ignores the findings of, among others, Human Rights Watch and the United Nations that Palestinian civilians, civilian homes and other infrastructure have been deliberately targeted in Israeli attacks, a war crime.
Obama also blamed Hamas for rejecting a unilateral Israeli truce yesterday, announced by Egypt, which many Palestinians saw as a ploy to give Israel a pretext for further escalation without meeting minimal demands to ease the siege of Gaza.
Hamas said it had learned about the Egyptian truce plan through the media and had never been consulted. Trust between Egypt and Hamas is at an all-time low since the military overthrew Egypt's first democratically-elected president a year ago.
Egyptian media loyal to the current regime have echoed Israeli propaganda against Hamas, while Egypt has kept the Rafah crossing closed.
But Obama confirmed intense efforts to achieve a ceasefire.
"The Israeli people and the Palestinian people don't want to live like this. They deserve to live in peace, security and free from fear. That's why we're going to continue to encourage diplomatic efforts to restore the ceasefire and we support Egypt's continued efforts to bring this about," Obama said. "Over the next twenty-four hours we'll continue to stay in contact with our friends and parties in the region and we will use all of our diplomatic resources and relationships to support efforts of closing a deal on a ceasefire."
Tags