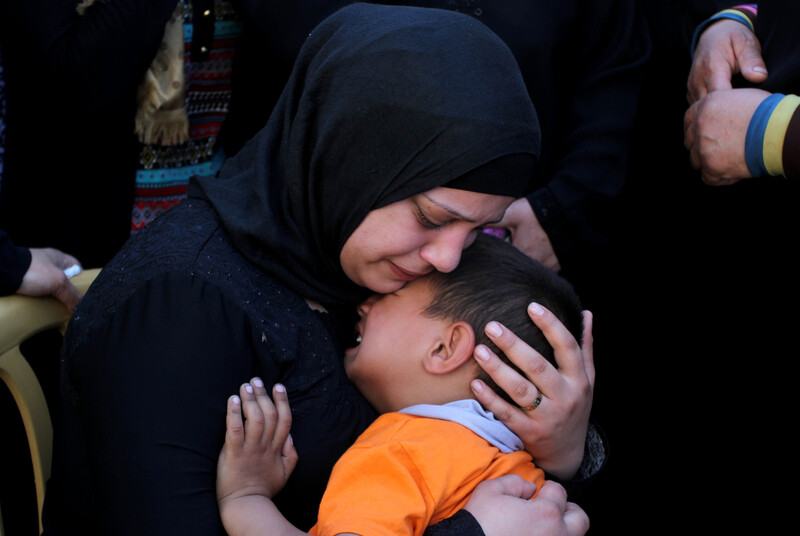 Correction (25 June 2014): Mustafa Aslan, whose death is counted in this headline, was reported at the time of publication by Ma'an News Agency to have died on 20 June but this information was incorrect. He passed away on 25 June from the injuries he sustained on 20 June.
Israeli forces shot dead two young Palestinian men in the occupied West Bank today, bringing the number of shooting victims to five in an ongoing military siege on the territory now in its tenth day. It is the largest assault on the West Bank in more than a decade.
Another Palestinian, an elderly man in Hares village near Salfit in the northern West Bank, died yesterday after suffering a heart attack while trying to prevent Israeli soldiers from raiding his home, the Ma'an News Agency reported.
The Israeli army denied responsibility for Jamil Ali Abed Jabir's death, but Palestinian security sources told Ma'an that "the soldiers had prevented him from leaving during the raid to receive treatment."
So far there have been no reported Israeli casualties, though an Israeli youth was killed today in an attack on an Israeli defense contractor's vehicle in the occupied Syrian Golan Heights. It is the first Israeli casualty of the four-year-long Syrian civil war.
Collective punishment
The Israeli military has arrested more than 400 Palestinians in the West Bank over the past ten days as part of what human rights group say is a campaign of collective punishment after three Israeli teens from Gush Etzion settlement colony went missing while hitchhiking on a settler road on 12 June.
The Israeli government has so far offered no evidence that the teens were abducted by Palestinians, though it has blamed the Hamas party for the teens' disappearance, and has arrested many of its West Bank leaders and affiliates. No Palestinian faction has claimed responsibility for the disappearance of the youths, two of whom are minors and one of whom holds dual US and Israeli nationality.
The Palestinian Centre for Human Rights reported yesterday that it had documented "more than 220 incursions into Palestinian towns, villages and refugee camps in the West Bank."
PCHR adds that the ongoing military assault includes:
large-scale incursions into Palestinian communities in the West Bank and brutal night house raids using tracker dogs and maltreating residents of houses by expelling them outside their houses, detaining them in one room or arresting them. Moreover, Israeli forces turned many of those houses into military sites and deliberately damaged their belongings. This campaign was accompanied by the use of excessive force against Palestinian civilians, who demonstrated against the Israeli forces. In addition, the raid campaign targeted charities, health centers, media offices, schools, universities and currency exchange shops. Israeli forces confiscated their contents as well as dozens of surveillance cameras. Israeli forces also launched many airstrikes on training sites for armed groups and civilian objects in the Gaza Strip.
The Israeli attorney general has reportedly approved the use of "moderate physical pressure" against those arrested, in what the Public Committee Against Torture in Israel says amounts to "pre-approval of torture."
Shot on way to mosque
One of today's victims was 27-year-old civilian Ahmed Said Soud Khaled from al-Ein refugee camp north of Nablus, who was gunned down at close range by Israeli soldiers while he was on his way to a mosque for dawn prayer.
The Palestinian Centre for Human Rights reports:
Around ten meters away from his house, a group of Israeli soldiers were raiding and searching houses when an Israeli soldier shouted at [Khaled] to stop. However, he did not obey the orders, so the Israeli soldiers opened fire at him from a distance of around thirty meters. As a result, he was killed by four bullets to the abdomen, back, right thigh and right shoulder.
The rights group adds that the family of the victim say that Khaled suffered from mental health problems and epilepsy.
In Ramallah, thirty-year-old Muhammad Ismail Atallah Tarifi was found dead on the roof of a commercial building this morning, Ma'an News Agency reported.
Ma'an adds:
The autopsy came after a controversy erupted regarding the circumstances of his death, which occurred amid an Israeli army raid in the heart of the central West Bank city of Ramallah.
Immediately after the withdrawal of Israeli forces from the area following a number of home raids and detentions, locals began throwing stones at the Palestinian police headquarters in anger for the police's withdrawal from the streets in order to allow Israeli forces to raid at will.

Some media outlets and social media activists claimed earlier on Sunday that Tarifi was shot dead by Palestinian security officers in the ensuing clashes, and his family and the Islamic Jihad movement with whom he was affiliated demanded an autopsy to determine who was responsible.

These rumors gained credence after a widely-circulated video appeared to show Palestinian security forces using live fire against demonstrators.

A Ma'an reporter on the scene in Ramallah found seven empty casings of M16 bullets on the roof of a building forty to fifty meters away from the roof where Tarifi was found. Furthermore, Muna al-Dalou, a woman who lives in an apartment in the building, told Ma'an that about twenty Israeli soldiers had stormed the building and fired gunshots from the roof at Palestinian protestors during the raid.

Undersecretary of the Palestinian ministry of prisoner affairs Ziad Abu Ein said he was following up closely with the autopsy. The tests, he affirmed, proved without a doubt that Tarifi was shot by Israeli snipers.
Israeli settlers opened fire on Palestinians who had gathered in al-Bireh near Ramallah for Tarifi's funeral, injuring one, Ma'an reported.
More universities raided
Israeli forces raided al-Quds University in eastern occupied Jerusalem this morning, locking up security guards while they confiscated computers, flags and banners, according to popular resistance committee spokesperson Hani Halabiyya's testimony to Ma'an News Agency.
Ma'an adds:
In the last week Israeli forces have raided a number of Palestinian universities, including Birzeit near Ramallah and the Arab American University in Jenin, and taken numerous documents and files during campus searches.
They also used the Palestine Ahliya University as a holding ground for detainees during a raid in nearby Dheisheh camp near Bethlehem.

On Thursday, Birzeit University condemned the raid on their campus, calling it a "blatant attack on the right to education."
Israeli forces also raided the Ibdaa cultural center in Dheisheh refugee camp in Bethlehem, Ma'an reported, vandalizing the community center and seizing computers and other equipment, as well as money and documents from the center's safe.
The director of the center told Ma'an that "he was handcuffed, blindfolded and detained, along with other Palestinians at the entrance of the camp where clashes erupted."
Elsewhere in the West Bank, in Hebron, an Israeli unmanned aerial vehicle, or a drone, crashed on the roof of a Palestinian home today. The Israeli website YNet reported that "Palestinian police arrived on the scene to confiscate the device and returned it to Israeli forces."
Meanwhile, a seventeen-year-old Palestinian boy died yesterday after he stepped on a landmine while herding sheep in the occupied West Bank's Jordan Valley, Ma'an reported.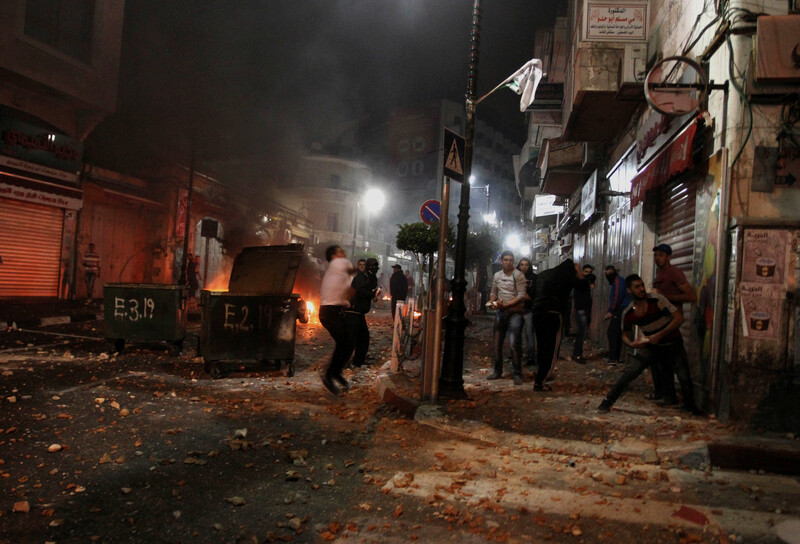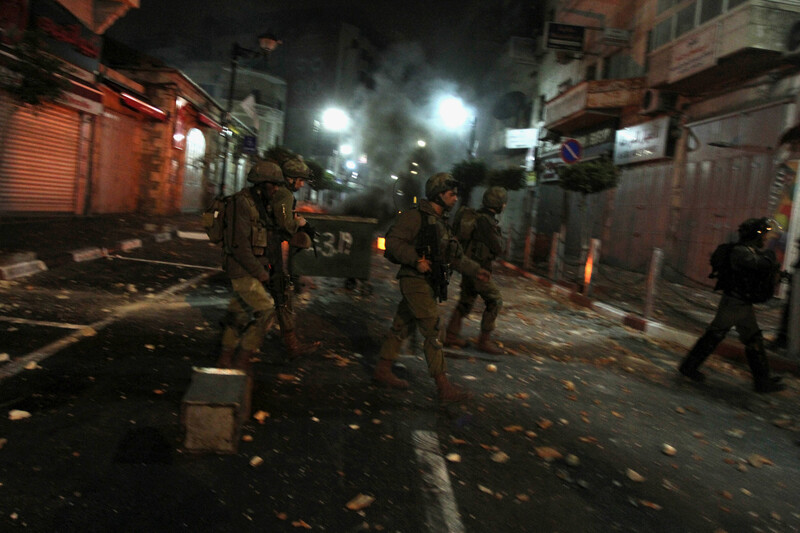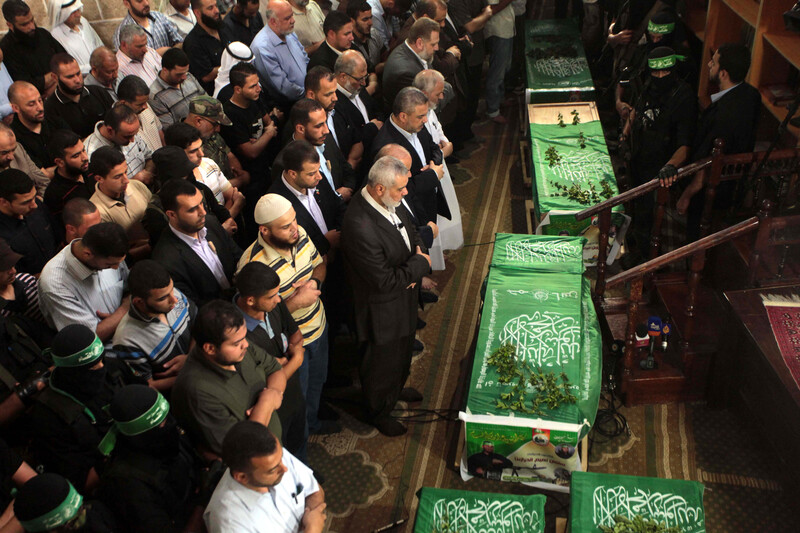 Tags