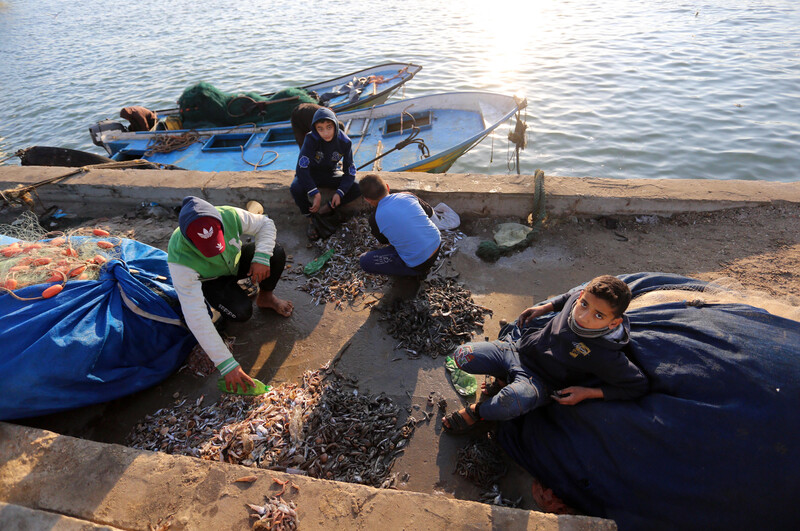 The coronavirus pandemic has derailed a lot of activities, but not Israel's attacks on Palestinian fishers.
Israeli warships have increased their assaults in recent months, causing injuries to fishers and damage to boats.
Last week, Israeli warships chased and opened fire towards a fishing boat sailing approximately four nautical miles off the northern Gaza town of Beit Lahiya, eyewitnesses told the human rights group Al Mezan.
Soldiers shot Ziad Fahd Baker, 25, in the head using a rubber-coated steel bullet.
He was moderately injured and the boat and its engine – which belonged to his father – were damaged by Israeli live bullets.
Al Mezan recorded 92 violations against Gaza fishers since the beginning of 2020.
All were instances of Israeli forces opening fire towards fishers and their boats, causing six injuries.
Israel also arrested three fishers, including a child, damaged seven boats and gear, and seized one boat.
Earlier this month, Israeli gunboats chased and opened fire on another fishing boat sailing four miles from the shore.
Ahmad Ahmad Hasan Zidan, 29, was not injured, but his boat's engine was damaged by Israeli bullets.
The Palestinian Center for Human Rights said these attacks occurred in Gaza's territorial waters when the fishers posed no threat to Israeli forces.
Israel typically allows fishers to sail up to six nautical miles off the Gaza shore.
Most violations committed by Israeli forces against Palestinian fishers are done in areas where the latter are permitted to fish.
Israel's ongoing attacks on fishers are collective punishment, which is illegal under international law, Al Mezan stated.
High season, Ramadan and pandemic
Meanwhile, April marks the beginning of the sardine fishing season in Gaza.
Combined with Ramadan and the COVID-19 pandemic, this is a particularly important and difficult time for Gaza's fishers.
"Sardines historically make up 60 percent of the total fish catch and form the bulk of the income of Gazan fishermen," OCHA, the United Nations humanitarian coordination agency, has previously reported.
Sardines are not typically found near Gaza's coast, but because of Israel's naval blockade on the territory, fishers miss out on catches that are further out.
As a result, the sardine catch has diminished by more than half since Israel imposed its siege on the Strip, now in its 13th year.
On 16 April, an Israeli military unit threatened to shoot and confiscate the boats of fishers who approach an Israeli-declared "sterile area" on the northern coast, the Israeli rights group Gisha said.
Gaza's northern waters are rich with sardines and other types of fish that are especially prized during Ramadan, when demand increases.
Due to Israel's arbitrary restrictions, Gaza's fishers are forced to sail near the shore.
Those areas are contaminated with large amounts of untreated sewage pumped into the Mediterranean Sea, due to Gaza's degraded waste treatment infrastructure.
Industry in decline
Last year, Israel shot at fishers 347 times, causing 16 injuries.
Israel's relentless assaults on Gaza's fishing industry have caused a severe decline in a crucial sector of the economy.
The number of people working in the industry fell from 10,000 in the year 2000 to about 3,500 today, according to Gisha.
Israel's attacks on fishers further hamper Gazans' access to good nutrition.
Despite the humanitarian crisis and sky-high unemployment and poverty – all rooted in the siege – Israel has not eased its suffocation of the two million Palestinians in Gaza, even in the face of the pandemic.
There have been 17 confirmed cases of the new coronavirus in the Gaza Strip.
"Targeting the fishing sector amid the implementation of the COVID-19 safety measures, which have curbed life in Gaza and confined breadwinners to their houses, means increasing these vulnerabilities among the fishing community and for families throughout Gaza,"Al Mezan stated.
Gaza's extremely vulnerable population faces the threat of a catastrophic coronavirus outbreak against the backdrop of an Israeli blockade that has, according to the UN, rendered the territory "unlivable."
Israel, as the occupying power, remains responsible for the health and welfare of Palestinians in Gaza. Yet Israel has no plan to prevent an outbreak there of COVID-19.
The disastrous consequences of such an outbreak would fall squarely on Israel's shoulders.
Tags