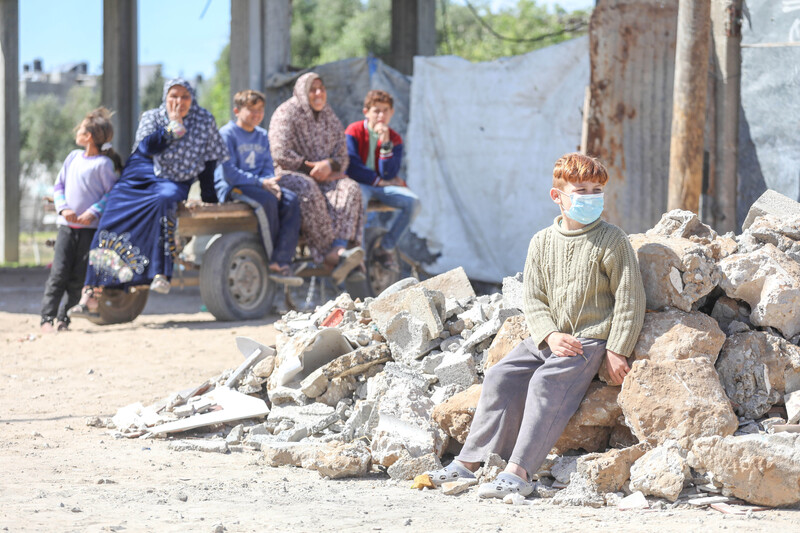 The coronavirus pandemic has disrupted most business as usual. But the propaganda operation of COGAT, the bureaucratic arm of Israel's military occupation, marches on.

COGAT has exploited the pandemic for propaganda opportunities, posting photos of medical equipment donated by international organizations for Palestinians living under Israeli military rule.

COGAT apparently wishes to project a false image of the Israeli military as a quasi humanitarian agency, one that benefits the lives of Palestinians instead of directly harming them.

Or at least they wish to continue to be lavished with praise for not obstructing the transfer of urgently needed medical supplies – praise that some UN officials have been too quick to provide.

COGAT's propaganda inadvertently reveals the level of control that Israel exerts over Palestinians' right to health – that it controls what medical equipment and supplies are allowed into the West Bank and Gaza Strip.

While Israel exercises much influence over the quality of the health care services Palestinians have access to, it has no plan to prevent the spread of the coronavirus to Gaza.

As noted by human rights groups, Gaza's "healthcare system teetered on the brink of collapse well before the coronavirus pandemic" due to Israeli policies.

These include a severe blockade imposed on Gaza since 2007, restricting the movement of people and goods to and from the territory, harming health infrastructure and hindering the professional development of medical practitioners.
Israel has no Gaza plan
So while Israel has degraded the capacity of Gaza's health care system to respond to a public health crisis like COVID-19, it has no publicly declared plan to prevent the spread of the virus to one of the most densely populated and vulnerable territories in the world.
Three human rights groups – Gisha, Adalah and Al-Mezan – are urgently appealing to Israeli military bodies, including COGAT, demanding that they "formulate and immediately publish an action plan" to contend with the spread of COVID-19 in Gaza.
The groups are also calling on Israel "to remove any and all restrictions on [the] travel of medical staff and access to medical equipment and spare parts," and to permit Gaza residents to travel for medical treatment related to COVID-19.
The human rights groups cite an authoritative study indicating that "at least one quarter to one half of the world's population may be infected with the virus if no measures are taken to prevent its spread."
The same study "found that about one-fifth of those infected with the virus will have to be hospitalized."
That would test any health care system, but it could break that of Gaza, which lacks personal protective equipment, equipment needed to prevent the spread of the disease, as well as ventilators and other life-saving medical devices.
On top of that, medical teams in Gaza "are contending with a severe shortage of manpower, especially an expert ICU team," the rights groups state.
There are fewer than 100 ventilators in Gaza, which has a population of two million. Ten of those ventilators "are out of order and inoperable," according to the rights groups.
"Many other types of medical equipment in Gaza hospitals are out of order and cannot be used or repaired owing to the policy of restrictions imposed by Israel," they add.
Israel has defined some medical equipment and supplies as "dual-use," meaning that they could also have a military purpose, highly restricting or outright banning their import to Gaza. It has also prevented the entry of spare parts needed to keep medical equipment operational.
The United Nations has served as an enforcer of the dual-use regime that has allowed Israel to tighten its control over Gaza after unilaterally withdrawing its settler population and ground forces from the territory in 2005.
"The rounds of violence in recent years and Israeli military operations have directly affected the health system, the economy and infrastructure in the Gaza Strip, bringing them to the brink of collapse," the human rights groups say.
Derelict treatment
Israel's lack of proactive response to the threat of coronavirus in Gaza is reflective of its derelict treatment of the territory and the Palestinians who live there more generally.
It has been willing to abandon that small strip of land to concentrate its settler-colonial enterprise in the West Bank. But it has not been willing to let Palestinians in Gaza live free of its rule.
Israel has waged successive military campaigns on Gaza, at great cost to its civilian population, to maintain its blockade on the territory.
But it has disavowed its obligation to protect the health of Gaza's residents.
There have been 15 confirmed cases of COVID-19 in Gaza, though that relatively low figure may reflect a lack of available testing. Nine of those cases have recovered.
Palestinian authorities in Gaza have taken measures to prevent community transmission of the virus.
"The authorities in the Gaza Strip have ordered a reduction in traffic throughout Gaza and have prohibited crowding, including at weddings or funerals, the opening of markets, prayers in mosques and churches," according to the human rights groups.
"Departure from the Gaza Strip is only permitted in exceptional cases and entry is conditional upon a mandatory stay in a government isolation facility."
But they warn that these steps, while important, "do not suffice."
More than 300 cases of COVID-19 have been confirmed in the West Bank, including two deaths.
Israel has reported nearly 14,000 confirmed cases, including more than 180 deaths.
Tags