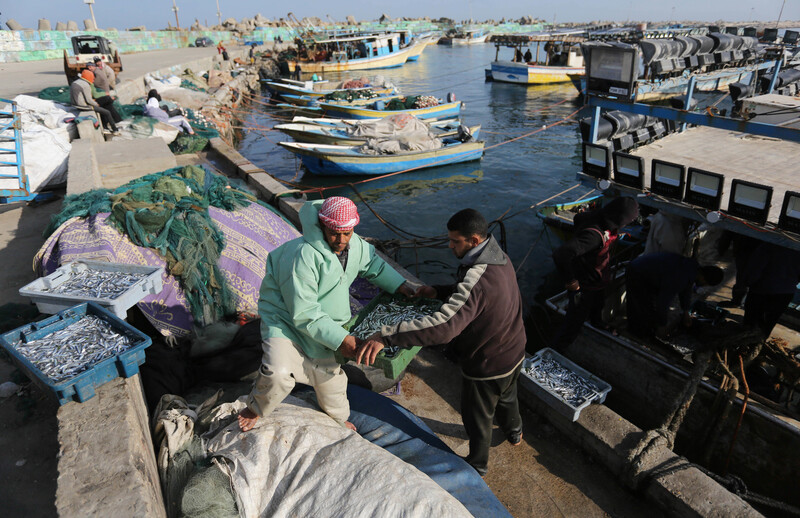 Israel and its leaders do not shy from boasting about committing war crimes, even while being scrutinized by the International Criminal Court.

Multiple times last year, COGAT, the bureaucratic arm of Israel's military occupation, announced that it was collectively punishing Palestinian fishers by restricting access to Gaza's coastal waters.

In four cases, it banned Gaza fishers from sailing altogether.
Collective punishment
Israel announced changes in access to Gaza's coastal waters 20 times last year. Benjamin Netanyahu, Israel's prime minister, has treated the Gaza fishing industry as "a lever for pressure" on the two million Palestinians living in the territory, which has been under Israeli economic blockade since 2007.

The punishment of a civilian population over acts for which they bear no responsibility is prohibited under the Fourth Geneva Convention, which Israel has ratified.

During 2019, Israel imposed restrictions on fishers as collective punishment after incendiary balloons and rockets were launched from the territory.

But Al Mezan, a human rights group in Gaza, says that the true aim of Israel's restrictions on and violence against fishers is the destruction of the fishing sector altogether.

Traditionally a cornerstone of Gaza's economy, the fishing industry has shrunk in recent years. Some 10,000 Palestinians in Gaza were employed in the industry in the year 2000. There are only some 2,000 fishing regularly today.

Al Mezan recorded 351 violations against Gaza fishers in 2019.

There were 347 instances of Israel opening fire towards Gaza fishers last year, causing 16 injuries.

One fisher, Khaled Saidi, was shot with multiple rubber-coated metal bullets while at sea in February last year and Israeli forces detained him.

Saidi's right eye was removed in an Israeli hospital, and he was soon released back to Gaza. But he was not permitted to re-enter Israel for treatment to his left eye, which was also injured, despite having an appointment at an Israeli hospital.

He eventually traveled to Cairo for treatment. Doctors there were unable to repair the injury to his remaining eye.

"Now my economic situation is below zero, I don't work at all," the young father says in a short video on Israel's violations against Palestinian fishers produced by Al Mezan:

Injured fishers are unable to work, sometimes permanently, depriving their families of an income.

Israeli forces also chase and detain fishers and their vessels. Thirty-five fishers were detained last year, including three children. Nine of those arrested remain in Israeli prison.

Occupation forces order detained fishers to remove their clothing and swim in seawater towards Israeli gunboats, even in frigid winter conditions. Fishers detained by Israel are subjected to humiliating interrogations and various forms of physical torture, Al-Mezan says.

Israeli forces confiscated fifteen boats in 2019, and there were 11 cases of damage to fishers' property, according to Al Mezan's documentation.
Violations
Violations against Gaza's fishing industry further impoverish those who depend on it and increase food insecurity for the general population, according to the rights group.
Israeli abuses of Gaza fishers also violate the UN Convention on the Law of the Sea, Al Mezan says.
Article 3 of that convention stipulates that "Every State has the right to establish the breadth of its territorial sea up to a limit not exceeding 12 nautical miles."
Israel currently restricts fishers to waters up to 6 nautical miles off of Gaza's northern coast and between 9 to 15 miles off its central and southern coasts. Fishers are banned from accessing Gaza's waters in a 1.5-mile area parallel to its northern boundary and 1-mile area parallel to its southern boundary.
Article 56 of the convention says that a coastal state has "sovereign rights for the purpose of exploring and exploiting, conserving and managing the natural resources" of its waters.
International parties bear legal and moral responsibility for Israel's violations of international law, Al Mezan says.
Tags