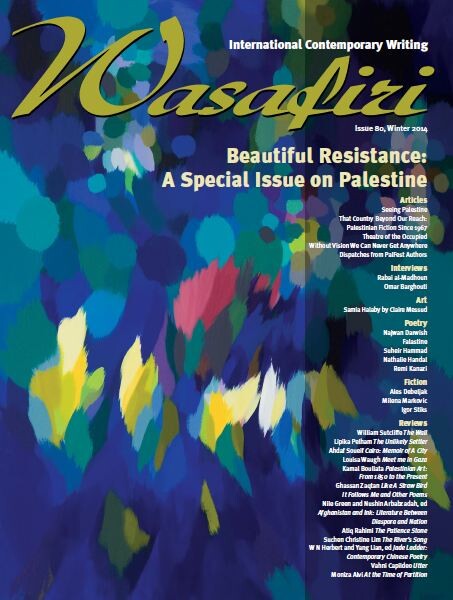 The Winter 2014 issue of respected literary journal Wasafiri is a "Palestine special," titled Beautiful Resistance and featuring some of the best-known names in contemporary Palestinian writing in English.
There is fiction from Susan Abulhawa, Selma Dabbagh and Adania Shibli, and poetry from Najwan Darwish, Falastine Dwikat, Suheir Hammad, Nathalie Handal and Remi Kanazi. Omar Barghouti, a prominent figure in the Palestinian-led campaign for boycott, divestment and sanctions (BDS) against Israel, is interviewed by renowned South African author Gillian Slovo, while novelist Rabai al-Madhoun talks to another South African writer and academic, Imraan Coovadia.
Among the non-fiction contributions, author and human rights lawyer Raja Shehadeh writes on the need for "vision," Armenian-American novelist and campaigner with the anti-war group Code Pink Nancy Kricorian on Palestinian literature since 1967, and British poet Avaes Mohammad on theater under occupation.
And American novelist Claire Messud contributes a long-form essay on Palestinian-American painter Samia Halaby, whose vibrant work graces the front cover.
Reviews include a number of titles on Palestine or by Palestinian writers, including Ghassan Zaqtan's prize-winning poetry collection Like a Straw Bird It Follows Me, and Louisa Waugh's Meet Me in Gaza. Alongside these are reviews of books on or from Egypt, Iraq, Syria and Australia.
Precise elegance
For aficionados of Palestinian literature, there will be few surprises here; names such as Dabbagh, Hammad, Abulhawa and Shehadeh are the go-to authors of recent years — indeed, the last decade or more — for Palestinian writing in English.
There are good reasons for this and they show in the magazine's selections. Hammad's poem Three Sequins, for example, is glittering, shocking and visceral, while Shehadeh's essay Without Vision We Can Never Get Anywhere displays his characteristic quiet, precise elegance of argument — the lawyer with a soul.
Lesser-known names such as Falastine Dwikat have been championed by PalFest, the Palestinian festival which has close links with the London literary scene. It's great, though, to see her work appearing in translation.
Editor Rachel Holmes may be taking few risks in that respect, but what this does ensure is a dependably high-quality publication, ideal as a kind of reader for Western-accessible Palestinian writing of the current moment.
Although translated work is represented by the (excellent) fiction of Adania Shibli and the (equally excellent) poetry of Dwikat and Darwish, it would have been nice to see more exploration of Palestinian literature originally written in Arabic. There are, however, understandable obstacles, including the cost and time of translation.
It's to be hoped that this issue of Wasafiri helps, along with exciting releases from many online literary magazines this year, to pave the way for more adventurous engagement with Palestine's rich and diverse literary output.
Coming from the academic sector, Wasafiri is, unfortunately, expensive — subscriptions have to go via the publishers Taylor & Francis, although individual issues can be ordered from the magazine's office. Samples from the Palestine issue are also  available to download from the Taylor & Francis website.
In the UK, a few independent bookstores also stock copies of Wasafiri, and since the magazine has an International Standard Serial Number (ISSN 0269-0055) it should be possible for other stores to order it.
Tags