If you are experiencing problems playing this podcast from the above media player, right-click (PC) or control-click (Mac) the file link (in blue), download and play in your computer's media player, such as iTunes.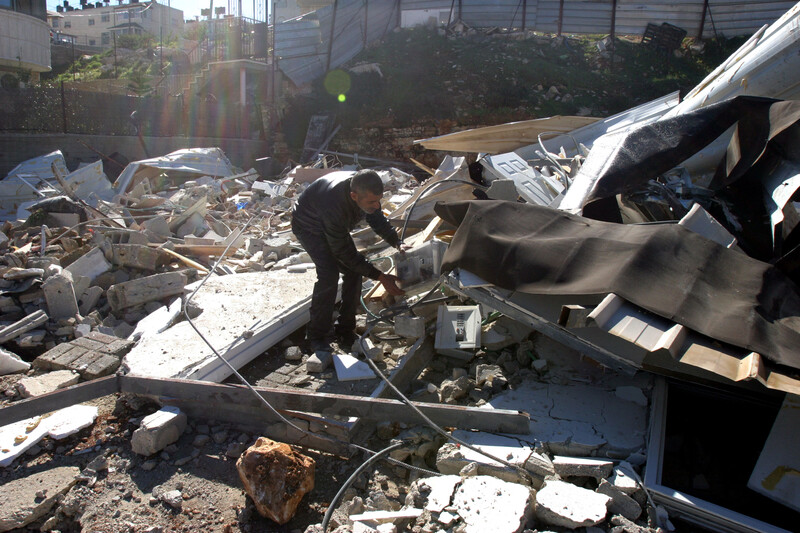 This week on The Electronic Intifada podcast: 
Rush transcript: Maath Musleh, journalist and EI contributor
The Electronic Intifada: Let's talk about Issawiyeh in the context of what's happening across Jerusalem to Palestinian families and their homes. Give us an update on the types of repression and demolition of Palestinian homes across the city, especially in Issawiyeh, and the kinds of resistance that Palestinians are engaging in day by day.
Maath Musleh: In several villages of Jerusalem, there are many issues. Each village has its unique issue and unique problem with the occupation. But house demolitions and house evictions are something that does occur between most of the villages. For example, in Sheikh Jarrah, the whole area is under the threat of being evicted. There has been an eviction order on several houses in March which were postponed, but several cases are in the court and under threat of being evicted, at least nine houses in Sheikh Jarrah.
In Issawiyeh, they have been confiscating hundreds of dunams of Issawiyeh land and several villages nearby, to as they say, build a planned project like what they call a national park, or a dump [site] for solid waste.
The main reason for these projects is to actually cut off Jerusalem from the West Bank and make a connection between the Maale Addumim settlement and Jerusalem.
In Beit Hanina, there have been house demolitions, in Beit Safafa, there have been land confiscations and it's not about Road 4, there's also a new plan that is still going ahead which is Road 10, which is going to also connect settlements to the main road. And there's also the Givat Hamatos settlement which has been approved last year. They might start working on it anytime, with a lot of land confiscation as well. And also, cutting Beit Safafa from Jerusalem.
But the plan is really to turn these villages into just neighborhoods. Neighborhoods on the outskirts of Jerusalem that could easily be … to just destroy the identity of each of these villages.
EI: Maath, can you talk about what these kinds of attacks, for example in Beit Hanina, in Issawiyeh, look like — what does it look like when the Israeli army comes in and starts demolishing homes, what happens to the families?
MM: Usually when they come to demolish the house, they usually don't give much time to the families to leave the house and take their stuff with them. In many cases, the families pay for the demolition. Some families, they don't have the money to pay these fines, or the price of the demolition, so they end up demolishing their own houses with their own bare hands — the houses they built with their hands, they demolish it stone by stone with their hands. This happened lately, in Bab Hatta inside the Old City, where a man was forced to demolish his own house.
So these families are always left homeless. They either find families, or in some cases they stay in … until they find a place to stay in, really their life, what the families have to go through is unbearable, especially for the children. The children are probably the most people who suffer from these demolitions and the instability in their lives.
And in some cases, like in Issawiyeh, when they come to demolish the houses, like the house of Samer [Issawi]'s brother, which they demolished not long ago, they got in with a big force to maybe look tough and try to threaten or scare the people into not doing anything.
So really it's not an easy thing for families, especially for those families who have no one to go to.
EI: Maath, can you talk about the kinds of resistance that is happening in villages like Issawiyeh and Beit Safafa, and what people are doing to mobilize in their communities to resist these attacks and threats of home demolitions?
MM: As I said in my latest article on Issawiyeh, the occupation has given each village a unique problem to care about. In Silwan, for example, they are arresting all the children; in Issawiyeh, it's mostly the raids and arrest; in Beit Hanina, house demolitions; in Sheikh Jarrah, house evictions; so every village has its own unique problem. But really it's to disassociate each village from another.
There is a lack of solidarity between the villages, and there needs to be more of a coordination between the villages. Currently, each village is fighting their own fight with some support from individual activists and sometimes from nearby villages, but not enough. But each village mainly fights their own fight.
In Beit Safafa, they have been organizing protest after protest, and the protests have been big. And for this stuff, for example, the occupation wants Beit Safafa to remain calm. And it has been calm. Since the first intifada, no major clashes have happened in Beit Safafa. So they are a bit sensitive about Beit Safafa and they try really not to escalate the conflict there.
In Issawiyeh, it's a place where protests always turn into clashes, and the Israeli army are really brutal in dealing with the people in Issawiyeh with night raids. In the past three months, there has been an escalation in attacks against the campaign in Issawiyeh. And some days they would raid the village four times in one day. They'd come in the morning, and then again at noon, then after noon and then at night. They'd raid it sometimes for four times a day, but nevertheless, the people of Issawiyeh have been resisting non stop.
They build up their protests. The Israeli army could not deceive the spirit of the people. Eventually, the people, especially the people of Jerusalem, they have nothing to lose, there is nowhere to go. And all what we can do is keep on fighting. That's the only option.
Tags