If you are experiencing problems playing this podcast from the above media player, right-click (PC) or control-click (Mac) the file link (in blue), download and play in your computer's media player, such as iTunes.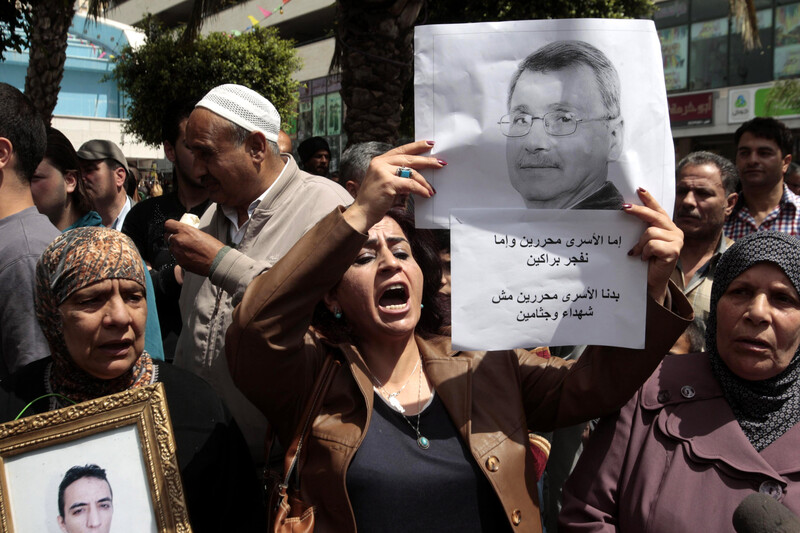 This week on The Electronic Intifada podcast:
Rush transcript: Linah Alsaafin on death of Maysara Abuhamdia
The Electronic Intifada: So, if you could talk about Maysara Abuhamdia's death in the context of the level of medical neglect in Israeli prisons right now.
Linah Alsaafin: Maysara Abuhamdia began complaining of a sickness in August 2012. He had trouble breathing, he was coughing up blood. As his lawyer Rami al-Alami told me, Maysara was only transferred to the hospital from August 2012 until December 2012 a maximum of 2-3 times only. And then in January, Maysara lost his voice in addition to a lot of weight. And of course during this entire time, Israeli hospital staff were running tests on him. So they obviously knew that he was afflicted with cancer, but they didn't tell him that.
And then in March, March was when they began giving him chemotherapy sessions, chemotherapy treatment. But again, he wasn't full time in hospital, he was being transferred from the prison to the hospital. And it wasn't until three days before his death, when he fell unconscious and he couldn't feel his body, in the prison, it wasn't until then that they transferred him to the hospital — where he was shackled to the bed and three guards were keeping watch over him 24/7. And then of course after three days, Maysara died.
This follows a long pattern of medical negligence … since 1967, 52 prisoners have died because of that. And recently, we have Ashraf Abu Thrae who died, from Hebron, and last year, Zuhair Lubada from Nablus — he was released from prison and straight to the Nablus national hospital, he didn't even go home. He was in a coma and a week later he was dead.
So this again follows a policy of Israeli prison authorities.
EI: Linah, you reported also that Maysara's son, Tariq, delivered a message of his own to the Palestinian Authority. What role does the PA play in this kind of situation, especially in terms of Palestinian prisoners in Israeli detention?
LA: It plays a role of coordination. Or collaboration. The Minister of Prisoners Affairs, Issa Qaraqe, said that — he blamed the Israeli authorities, he said they told the Ministry of Prisoners Affairs of Maysara's condition, and it was too late to do anything then, but they were in contact, the PA, and the Israeli authorities, and according to the Palestinian Authority, they said that the Israeli authorities were working hard to either secure the release of Maysara so he could die amongst his family, or they promised to give him the required treatment.
And of course I think that's just absurd. Why place your trust in your occupier? The Ministry of Prisoners Affairs — its role is very symbolic. They don't really do anything other than issue condemnations and that sort of stuff, maybe weekly rallies. But achieving objective goals, that's unfortunately non-existent.
EI: Linah, talk about some of the protests that have happened across the West Bank after the death of Maysara Abuhamdia, and also the brutality that Israeli forces have meted out against protesters. On Wednesday, Israeli forces killed two teenagers in separate incidents, in Tulkarem. Talk about what's happened since his death.
LA: Well, the majority of protests have taken place in Maysara Abuhamdia's hometown of Hebron. The protests continued for three days, and the protests are met with the usual repressive force by the Israeli occupation army, with rubber bullets and tear gas canisters, and in some cases, even live ammunition.
There are reports of cases of dozens of injuries, but none were serious. But on Wednesday night in Tulkarem, a protest broke out and 17-year-old Amer Nassar was shot in the chest, and was killed, the Israeli army prevented medical staff or the ambulance from reaching him for 30 minutes, and actually they shot at a group of young men who tried to reach him.
Amer's cousin, Naji al-Balbisi, was found later that morning, around 5am. He was shot in the head, I think with a rubber bullet, but he managed to run away, and I think he collapsed and succumbed to his wounds. He was reported missing for those hours that nobody knew where he was until he was found at 5am.
Obviously on Thursday, that's when the funerals of the two teenagers from Tulkarem took place, in addition to Maysara Abuhamdia's funeral in Hebron. But for all the talk about the West Bank breaking out into large-scale protests — unfortunately, to be brutally honest, that didn't happen. I mean in Hebron of course, protests did happen, but in other parts of the West Bank, that was non-existent, especially in Ramallah which didn't even observe a general strike, unlike the cities of Nablus, Hebron and even East Jerusalem.
EI: Well finally Linah, can you give us an update on the current Palestinian prisoners in Israeli jails who are on hunger strike and their ongoing situation, and how this fits into the context of what's happening all across Palestine right now?
LA: Instead of people talking about a third intifada — and I believe that we are still years away from that — I think we should start instead focusing on the intifada that is happening inside the Israeli prisons currently. We had all prisoners, approximately 4,600 prisoners, on hunger strike, or who refused food the following morning after Maysara Abuhamdia death was announced.
And you also had protest there inside the prisons, which of course were met by brutal force from the Israeli prison authorities who shoot tear gas canisters at the prisoners and beat them up. And I think it was around 84 prisoners who, as a punishment for their protest, were transferred to different prisons.
And of course the longest hunger striker is Samer Issawi. Unfortunately the solidarity has been very weak, even in local media, even with local activists — there's absolutely nothing done to highlight his very dangerous situation. Even though his lawyer kept saying that at any moment now, Samer is expected to die because his heart rate is very weak.
On some level there is this angry reaction that we cannot let another, a third prisoner die; especially after Arafat Jaradat who was tortured to death on 23 February. But at the same time, people have lost hope in the Palestinian Authority, the so-called leadership.
And one interesting thing that I forgot to mention but I would like to highlight is that during Maysara Abuhamdia's funeral, he was of course carried by the PA security forces. Maysara Abuhamdia used to be a general in the preventative security forces. So they would offer him that kind of tribute, I would say. But the funeral procession proceeded in a very western fashion, according to his son, Tariq, who denouced the playing of music, the bagpipes and the drums, during the funeral and said that this is actually a disgrace to my father's memory … The PA has done nothing to help my father, and now they're giving him a proper burial. It reeks of hypocrisy.
And I think that explains why there's a lack of protest — because the Palestinian Authority, they're actually smarter than we give them credit for. And they've completely [infiltrated] the protests with security forces, either those in uniforms, or in plain clothes.
Tags