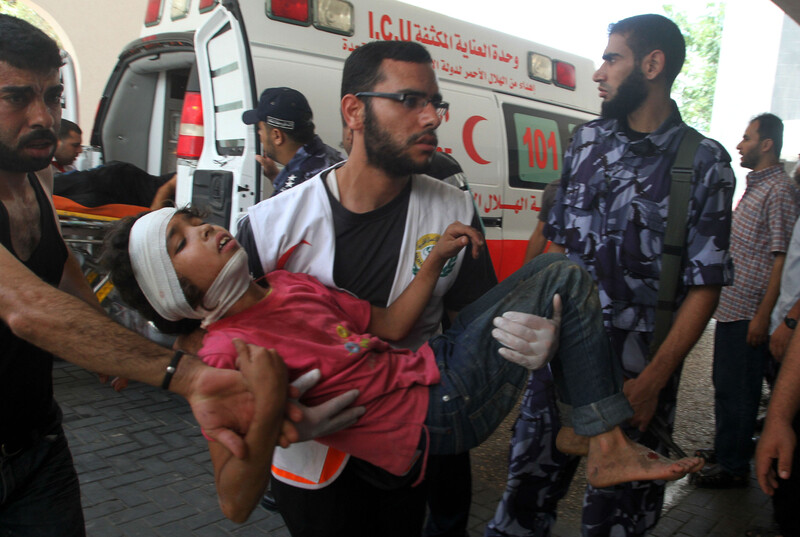 This week on The Electronic Intifada podcast:
Israel continues to pound the Gaza Strip, killing more than one hundred Palestinians and injuring seven hundred since Monday; we'll speak with Dr. Mona El-Farra, a physician in Gaza City and the director of Gaza projects at the [Middle East Children's Alliance]( a physician in Gaza City), about the impact of Israel's brutal assault on Palestinian children and families. [Read transcript and listen to individual segment](#Mona El-Farra)

Rami Almeghari speaks with a man who lost his entire family in an Israeli air strike on his home in the Maghazi refugee camp. [Read transcript and listen to individual segment](#Rami Almeghari)

Nader Ihmoud reports from Chicago as Israel's attacks spur a wave of demonstrations across the US and around the world. Read transcript and listen to individual segment
The Electronic Intifada podcast is available on iTunes! _Click here to view the podcast archive, or subscribe via the iTunes interface (search for The Electronic Intifada)._
Listen to the entire Electronic Intifada podcast:
Israel pummels Gaza
Dr. Mona El-Farra: Today, in Gaza, the drones are still in the sky, the jet fighters are still in the sky, gunboats or warships are still hitting Gaza with missiles. The streets of Gaza are really empty – people are afraid to leave their homes because of the intensity of the shelling. Hundreds of thousands of children are in their homes, terrified, tired, skittish, anxious, clinging to their parents because they are afraid of the shelling. And as you know, we don't have shelters in Gaza, so just people are trying to be in their homes, trying to be in the most safest place inside their homes. This is one thing.
Another thing – Israel has destroyed more than 210 homes until this minute and the number is increasing. And they give very short notice – just ten minutes to the family to leave their home. Those ten minutes and then no home – no memories, no history, nothing. Just get out of the house even without any papers, documents to see who you are, any official documents.
The number of the injured has reached 659 up to this minute, the number keeps increasing. The number of killed is 105. At least forty are women and children. Hospitals are working under great pressure because of a severe shortage of medication and supplies, especially the emergency needs for the operating theaters. And of course the problem of the electricity continues. We don't have power. We don't have internet and power most of the time. A feeling of insecurity is the case. No place is safe.
I'd like to share something with you – two things. First thing, on a personal level, I have had to leave my apartment because all the windows were shattered, and my place is just in front of the sea and it was very very unsafe. I was too close to the bombardment. So I moved to a friend's house to see if it was safer than our place. No place is safe. This is one thing.
Another thing – one friend of mine, she was expecting her baby. She was supposed to come to Gaza [City], to her doctor to have the baby, but she couldn't – there's no transportation between towns and villages. No public transportation, of course, and even the private taxis are afraid to go from one place to another, because of the intensity of the shelling. So she had to give birth to the baby in another place, but she was so anxious, and because of that, she hemorrhaged badly. This is from one day – the tension, the stress can do that. But she's okay now. She gave birth to the baby.
What I'm trying to tell you, Nora – imagine yourself as a mother, expecting mother, that needs all the good circumstances to give birth, and thinking all of the time of being unsafe while going to the hospital. This is what I'm trying to let you know. She gave birth to a baby girl. She's okay now. I telephoned her and found out she's okay.
The situation is very bad and it can lead to more escalation and the ground operation is imminent, despite that they keep postponing it. And this again puts the population in a feeling of insecurity – when are they going to hit? When are they going to enter Gaza?
This is the general situation. But also, there is a great deal of social solidarity between people, and steadfastness. Because we went through this several times. You cannot get used to the ugly feeling of war. But still, there is strength inside Palestinian people at the moment. Strength – I don't know how to put this feeling into words. Two feelings – you are afraid, you are insecure, but there is something strong inside you. This is the situation at the moment.
I think I have mentioned the hospitals and the medication, the shortage, lack of medication and supplies, there is another thing – the situation is dire. An increasing number of families are impoverished because of the lack of cash, lack of money, it's Ramadan. The Israeli army as well has hit many water wells inside Gaza. And this morning there has been water cuts – no water in many neighborhoods because the water wells have been hit.
UNRWA has opened its schools to receive homeless people in case of the military ground [invasion], and on this level, I am satisfied that some of the homeless families will have access to Middle East Children's Alliance's water purification systems.
So this is the situation in general, and I can't see any ceasefire in the near future.
Nora Barrows-Friedman: That's Mona El-Farra. She's a leader with the Palestinian Red Crescent Society and also the director of Gaza projects with the Middle East Children's Alliance. She's speaking to us from Gaza City. Mona, very quickly, what are the physicians with the Palestinian Red Crescent dealing with at this moment, what is the level of trauma and triage at the hospitals – especially as medical supplies, and basic medical equipment and medicines are in short supply?
ME: We are coping, but we are in great need for emergency medical supplies. We are working, we are coping, we are receiving injured patients from other hospitals as well, because the burden on the governmental hospitals is high, so they evacuate their patients to us. But what we have – the medical resources are exhausted at the moment because of the border closure, and we are in great need of medications and supplies. We can buy it from private pharmaceutical companies inside Gaza, and we need that to be done quickly. This is a life-saving process for patients.
End transcript.
Rami Almeghari reports from Gaza
Rami Almeghari: Forty-nine-year-old Awad al-Nawasra from the al-Maghazi refugee camp in the central Gaza Strip says that his house was built ten years ago, and during previous Israeli attacks on Gaza, it did not suffer any damage. However, this week, an Israeli missile leveled it to the ground. Al-Nawasra lost his wife, his son, his daughter-in-law and two grandchildren. He told The Electronic Intifada that the Israeli military did not warn him before his house was hit. The Israeli air force justifies its targeting of civilian homes by saying it warns residents of impending strikes, but human rights groups say this does not change the fact that targeting homes is a war crime.
Awad al-Nawasra: The entire Gaza Strip is targeted. May God lay them all to rest. As for this house, may God compensate me for that and for my children. We are here to bring more children, God willing. May God take revenge on them – the Israelis – we hope we will be victorious.
RA: Al-Nawasra's house is not the only one that was targeted. Israeli warplanes have destroyed more than 200 houses so far in the attacks. Jaber Weshah is deputy-director for the Gaza-based Palestinian Centre for human rights.
Jaber Weshah: This is an intentional war crime that happens in large scale and therefore, it is a massacre. we call on an international inquiry committee to start investigating those crimes that are committed on a large scale.
RA: As the Gaza Strip enters its eighth year of an Israeli-imposed siege and blockade that has prevented the import of basic medical supplies and medicines, Palestinian medics in Gaza are calling for immediate assistance. So far, two ambulance crew members have been injured, as ambulances have come under Israeli army fire. Dr. Ashraf al-Qidra is the spokesperson for Gaza's health ministry.
Dr. Ashraf al-Qidra: The type of injuries no doubt indicate that Israel has used new weapons that melt bodies. There are many holes in the bodies of dead and injured as well as dismemberment of the lower parts of the bodies, and the limbs.
RA: The Israeli army has named the ongoing military offensive "Protective Edge," and Israeli officials warn of an imminent ground invasion. Israel's stated objective for its intensified assault on Gaza is to halt the fire of rockets from Gaza. The United Nations Office for the Coordination of Humanitarian Affairs stated that the latest escalation started on June 11th, when Israeli forces extrajudicially executed an alleged member of an armed group, along with a child, followed by reprisal rocket fire by armed groups in Gaza. Gaza's 1.8 million residents live one of the most densely-populated areas in the world. More than 1 million of Gaza residents are registered refugees who receive aid from the United Nations agency for Palestine refugees, UNRWA. UNRWA says it is responding to the current developments and has declared a state of emergency across the occupied Gaza Strip. Adnan Abu Hasna is UNRWA's spokesperson in Gaza.
Adnan Abu Hasna: We will provide fuel for hospitals and municipalities in case there is some displacement for the expected escalation, we will be opening our schools and our installations to shelter people. But right now, we are waiting for any developments.
RA: Across the Gaza Strip, people are expecting the worse to come as Israel continues to attack residential homes more than it has in previous attacks. So far, Egyptian mediation has failed to stop Israeli aggression against the coastal territory. For the Electronic Intifada, I am Rami Almeghari in Gaza.
End transcript.
Israeli attacks motivate wave of demonstrations
Tarek Khalil: An Israeli spokesperson once said, "every people live in a place except the Palestinians … the place lives in them." It is up to us for the sake of our brothers and sisters living in Palestine and the diaspora to do what is right and what is just and free our people from occupation.
Nader Ihmoud: Tarek Khalil, a Palestinian American, was one of the speakers to address the crowd of more than a thousand supporters who gathered at the historic Water Tower on Michigan Avenue in downtown Chicago on July 5. During the first of two protests held in Chicago this past week, the protesters called for an end to Israel's collective punishment of Palestinians and demanded that mainstream western media appropriately cover Israel's inhumane acts against Palestinians.
Israel launched air raids on Gaza after the bodies of three youths from an Israeli settlement were found in the occupied West Bank on June 30th following their disappearance on June 12. Last week in occupied Jerusalem, sixteen-year-old Muhammad Abu Khudair was abducted and burned to death by Jewish extremists July 2 in a revenge attack, and, the following day, fifteen-year-old Palestinian American Tariq Abukhdeir was brutally beaten and arrested by Israeli police and held without charge. Tariq Abukhdeir was released July 5 and was put on house arrest for the remainder of his stay in Palestine.
TK: We have to understand that the disappearance of the three settlers must be understood in the context of this brutal military occupation against the Palestinian people. The media has made well known the names and the faces of these Israeli settlers but they have not made known the beautiful faces of the Palestinian people. So our job right now is to make them know.
NI: As Israel continued its largest attack on Gaza since 2012, activists in many cities across the US have organized protests in Chicago, Boston, San Francisco, Austin, Cleveland, New York, Syracuse, Seattle, New Orleans, and Philadelphia, and across the world. Human rights activists in Greece, Italy, Belgium, Germany, Spain, Ireland, France, Colombia, Australia, the UK, Canada, Scotland and Jordan have hosted or are planning multiple demonstrations for justice in Palestine. Demonstrations are scheduled across the globe throughout the month of July.
Fadi Zanayed, a Palestinian lawyer, also addressed the Chicago protesters before the crowd began its half-mile march to the Tribune Tower July 5. Zanayed said he was proud of the young organizers and mentioned how the Palestinian spirit will never be broken, despite israel's cruel methods of oppressing Palestinians.
Fadi Zanayed: The human spirit in us, all of us, as Palestinians is right here and in Palestine. Israel can go into our homes and kill our children, they can do whatever they want, but they cannot kill the human spirit of the Palestinians.
NI: Ben Lorber, a Jewish American activist, expressed support and understanding of the Palestinian struggle. He also condemned Israel's occupation [[and the oppression]] of the indigenous Palestinian people during the July 5 protest.
Ben Lorber: Our people, the Jewish people, did not suffer our own oppression and exile for centuries so we could turn around and oppress other people.
NI: Ahmad Hamad, born and raised in Gaza, has been in Chicago for two years while he received his master's degree from Columbia College.
Ahmad lost eight family members who were murdered by Israeli drones during the past two days. Hafiz, Ibrahim, Fawzia, Suha, Dunya and Mahdi Hamad were killed July 8 when a drone struck their home in Beit Hanoun. The following day in Beit Hanoun another one of his cousin's home was hit by a drone in the early morning resulting in the deaths of Hani and Ibrahim Hamid.
Ahmad passionately pleaded with protesters to keep fighting for the freedom of the Palestinian people and to help remove the constant fear the people in Gaza are living with.
Ahmad hamad: I don't remember how many people I have lost in my life. I can't remember all the names. I don't want to think about this anymore…I want a solution. You all want a solution. Your parents have left [Palestine]. You have left [Palestine]. Are you going to go back?! Go back! Go back!
NI: Both Chicago demonstrations marched through parts of the downtown area but the July 9th protest went a significantly longer distance using louder microphones that garnered much more public attention. Protesters first gathered in front of the Consulate General of Israel on Wednesday before marching a few miles to the Daily Plaza on the way the demonstration passed the Taste of Chicago taking place at Grant Park.
During both days the participants were united in loud chants and motives regardless of their age, race, gender or religion.
For The Electronic Intifada in Chicago, I'm Nader Ihmoud.
End transcript.
Tags