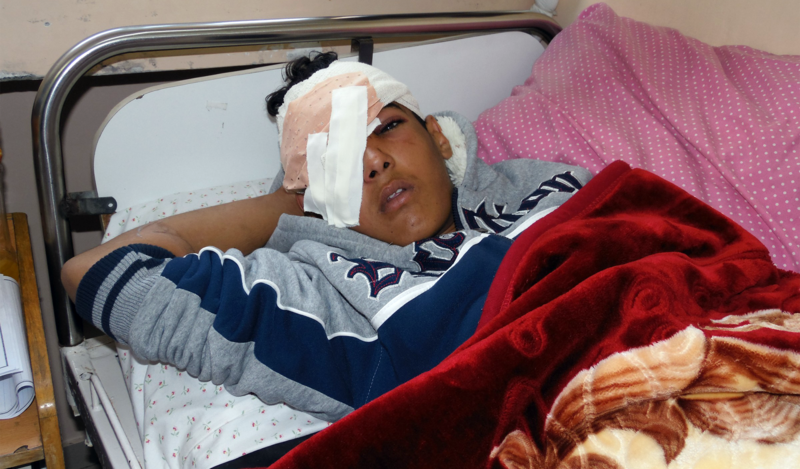 With Israel's crackdown on protests over Jerusalem has come a spike in violations of Palestinian children's rights.
Since 6 December, when President Donald Trump announced that the US recognized the city as Israel's capital and pledged to move the country's embassy there, Palestinian children have been among the hundreds injured and arrested by Israeli forces.
Several children have suffered potentially irreversible head injuries, according to Defense for Children International-Palestine.
Two have lost eyes.
Two boys were hit in the face with tear gas canisters fired by Israeli soldiers from a watchtower near Erez checkpoint during an 11 December protest at the Gaza-Israel boundary.
Mohammad al-Farani was sitting on a concrete block when he was hit.
"It was so painful, I don't know how to describe it. There was a lot of blood running down my face," the 14-year-old told Defense for Children International-Palestine.
The group stated that the child "was treated for a fractured cheekbone, head gash, internal bleeding in the brain and later underwent eye surgery to remove his right eye."
Nidal al-Majzoub, also 14, was standing nearby and was hit soon after Mohammad, according to Defense for Children International-Palestine. He required 10 stitches to his forehead.
Shot in head with live ammunition
In the occupied West Bank, a 15-year-old boy was shot in the face with live ammunition near the town of Salfit on 12 December. He was detained and reportedly remains hospitalized in critical condition.
Israel initially claimed that the boy, identified by media as Hamed al-Masri, was attempting to stab soldiers when he was shot. Later they said that the child was "suspected of an attempt to attack on the border."
Defense for Children International-Palestine also documented "two live fire injuries including a 16-year-old who was shot above his right eye, causing skull fractures and vision loss. The teen told DCIP he participated in a march on 8 December near Tulkarem in the northern West Bank."
Other children were seriously injured by "less lethal" ammunition fired by soldiers.
A 15-year-old boy identified by the group as Qassam K. was critically injured when he was shot in the skull with a rubber-coated metal bullet during a late-night raid in the occupied West Bank city of Nablus on 20 December.
Muhammad Tamimi, 15, was seriously injured when he was shot in the face with a rubber-coated metal bullet fired at close range in the West Bank village of Nabi Saleh on 15 December.
He required complex surgery and was placed in an induced coma and doctors fear he may be left with permanent disabilities.
His cousin, 16-year-old Ahed Tamimi, was arrested days later during a night raid on her home after she was seen in a widely circulated video slapping and shoving an Israeli soldier on her family's property shortly after Muhammad was shot.
Ahed's mother and another cousin were also arrested.
An Israeli military court extended all three of their detention orders by another four days on 25 December.
The military court judge "accepted police claims that Ahed Tamimi presents a danger, and that she could impede soldiers in their work," the Israeli daily Haaretz reported.
"I remember my face bleeding"
A 16-year-old boy seen blindfolded and frogmarched by a group of Israeli soldiers in a now iconic photograph taken in the West Bank city of Hebron is among the 77 children who have been newly detained at Ofer military prison in the first three weeks of December, according to Defense for Children International-Palestine.

The boy, who has been identified by media as Fawzi al-Juneidi, told the rights group that he had been beaten and verbally abused for two hours before he was taken in for interrogation.

"When I arrived at the checkpoint, I remember my face bleeding, mostly my lips because of the beating. They took me to a room, knocked me down to the floor and began kicking me all over my body," the boy testified to Defense for Children International-Palestine.

Palestinian media reported that the child was released Wednesday night. A video shows the boy upon his release:

In the video, Fawzi appears with his arm in a sling and states that his injury was from the beating by Israeli soldiers.

Some 500 to 700 Palestinian children go through Israel's military courts each year.

"In 590 cases documented by DCIP between 2012 and 2016, 72 percent of Palestinian child detainees reported physical violence and 66 percent faced verbal abuse and humiliation," the group stated.

"Under Israeli military law, Palestinian children have no right to a lawyer during interrogation. Confessions that are often coerced through ill-treatment are routinely used in military courts to sentence children to prison terms."

Palestinian children who go through civilian courts in Jerusalem are also subjected to "extensive denial of their rights," according to a recent study.

Children are left traumatized after being detained by Israeli forces.

Ashraf, a 5-year-old boy from Jalazone refugee camp detained by soldiers for five hours earlier this month, has trouble sleeping at night, refuses to go to school and speaks very little, his father told Haaretz reporter Amira Hass.

The small boy's detention was defended by Yoav Mordechai, head of COGAT, the bureaucratic arm of Israel's military occupation, who stated on Facebook that the child had engaged in "dangerous and violent behavior" by throwing stones at soldiers.

Israel violates Palestinian children's rights with nearly total impunity.

Thirty-five Palestinian children were killed by Israeli soldiers, police and armed civilians last year. It was the deadliest year for Palestinian children in the West Bank in the past decade.

Families of children who are badly injured by soldiers struggle to cover the costs of medical care and related expenses.

Israeli law all but bars Palestinians from getting compensation for injuries caused by its forces.
Tags