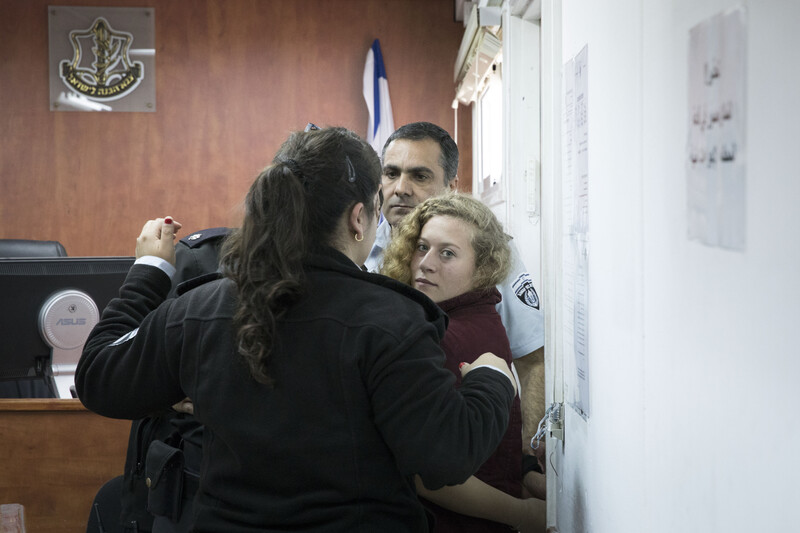 Ahed, Nariman and Nour Tamimi are in high spirits and are sending greetings to supporters around the world from their cells in HaSharon prison where Israel is detaining them.

Ahed, 16, her mother Nariman and her 21-year-old cousin Nour were arrested in recent days by Israeli occupation forces in the West Bank village of Nabi Saleh.

This followed violence on Friday when occupation forces shot Muhammad Fadel Tamimi, a 14-year-old member of the extended family, in the head leaving him gravely injured.

The Tamimi women then ordered the occupation soldiers off the family property and tried to remove them physically.

A video of heavily armed Israeli soldiers being forcefully confronted by Palestinian civilians defending their village was widely shown in Israeli media and prompted a campaign of threats and revenge by Israeli leaders against the Tamimi family.

The Israeli army published a video to brag about its night raid to seize Ahed Tamimi from her home, prompting outrage and expressions of solidarity with the teenager and her family from all over the world.

On Thursday, Nariman and Nour were taken before Israel's Ofer military court in the occupied West Bank. Just as the court did with Ahed in a hearing the day before, their detention was extended at least until Monday.

Bassem Tamimi, Ahed's father, posted on Facebook following Thursday's hearing that all three are being held in HaSharon prison – Nariman and Nour in one cell and Ahed in another.

According to Bassem, they are being held in the section of the prison for Israeli criminals instead of the section where Palestinian women are usually detained.

Ahed, Nariman and Nour are in high spirits and "sending their love and respect for you, our partners in our struggle for freedom and justice," Bassem Tamimi wrote.
Silent resistance
On Wednesday there had been reports that Bassem, himself a former prisoner of conscience in Israel's jails, had again been detained by occupation forces.

According to extended family member Manal Tamimi, Bassem had not been formally arrested but has been summoned for questioning.

Bassem also posted a Facebook message after Wednesday's hearing for Ahed. He said his daughter was "refusing to speak with Israeli officers who are trying to interrogate her."

"Despite the abuse and ongoing imprisonment, she is staying silent and refusing to have any cooperation with [the] occupation," Bassem added.

He also appealed for ongoing support "to defend our family from the propaganda the Israeli media is instigating against us."

Bassem also told media after the hearing the he feels proud of Ahed, "but I also worry about her because she is in the hands of this terrorist regime." He added that he had no trust in Israel's military court, because it is a part of the occupation.

Bassem also said that he faced interrogation by Israeli authorities.
500 arrested
Israel has been waging a long-running campaign to suppress the nonviolent resistance to its occupation and colonization in Nabi Saleh.
Israel's violence has cost the lives and freedom of many members of the Tamimi family and others in the village.
The Tamimi women are among more than 500 Palestinians detained since Israel began an intensified arrest campaign following US President Donald Trump's recognition of Jerusalem as Israel's capital on 6 December, prisoners rights group Addameer said on Thursday.
In the early hours of Thursday alone, occupation forces detained 85 Palestinians in the West Bank, including Jerusalem.
"These mass arrest and harassment campaigns are part of Israel's collective punishment measures," which violate international law, Addameer stated.
Editor's note: This article has been amended to give Ahed Tamimi's age as 16, the age provided by the human rights group Defense for Children International-Palestine.
Tags