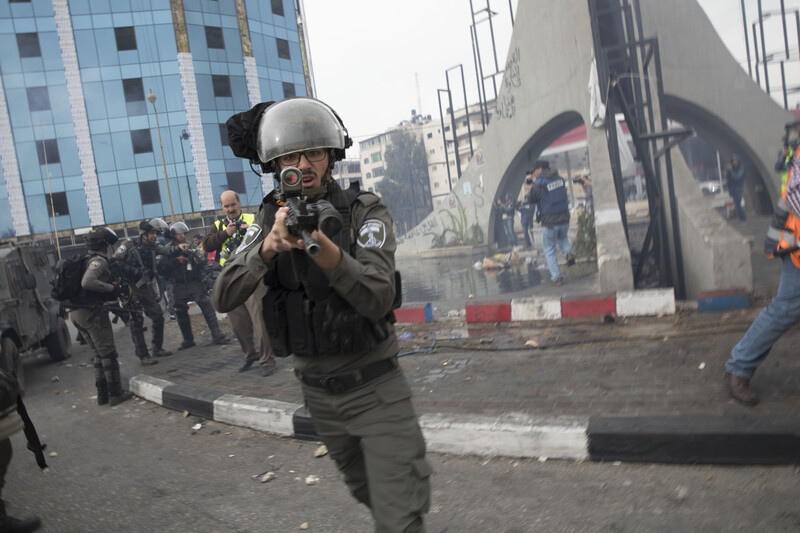 Two Palestinians were killed in Gaza on Friday, bringing to six the number of unarmed protesters killed by Israeli forces during demonstrations against US President Donald Trump's recognition of Jerusalem as Israel's capital.

The Gaza health ministry identified the slain men as Zakariya Zakarna, 24, and Muhammad Muheisen, 29.

The Palestine Red Crescent Society stated that nearly 700 Palestinians were injured by Israeli forces during protests in the occupied West Bank and Gaza Strip on Friday, 65 by live fire, more than 100 with rubber-coated bullets, and nearly 450 by gas.

Ten journalists were injured by Israeli forces while covering protests on Friday, the Journalists Support Committee stated:

The Palestinian Journalists Syndicate has counted 100 violations against journalists by Israeli forces while covering protests since Trump's announcement on 6 December, according to the Palestinian Journalists Syndicate.

Several paramedics were also treated for injuries sustained during protests on Friday.

The Activestills collective documented Israeli soldiers hitting medics with their rifles and firing at and aiming their weapons towards journalists near the West Bank town of al-Bireh on Friday:

A journalist with the Quds News Network was hit in the stomach while filming the al-Bireh protest: Footage from the scene shows Israeli forces wrestling a man to the ground, pushing down his head, while they fire towards and threaten journalists and medics to keep them away from the area: The above video shows a cameraman suffering from distress as he is loaded into an ambulance, his recording equipment resting on his stomach.

Journalist Alaa Milhem was treated at a hospital after suffering tear gas inhalation at al-Bireh on Friday:

A paramedic named Muhammad Omar was hospitalized after being hit in the eye with a rifle butt while treating an injured protester at al-Bireh, the Ma'an News Agency reported.

The assault on medics and journalists occurred at the same al-Bireh traffic circle where Israeli forces shot and fatally wounded an incapacitated Palestinian youth who had stabbed a soldier last week.

Also on Friday, photojournalist Ahmad Talaat was injured by a rubber-coated bullet while covering confrontations between Palestinian protesters and Israeli forces at Huwwara checkpoint near the West Bank city of Nablus:

Palestine TV journalist Azmi Banat was hit in the face with a rubber-coated metal bullet while covering protests in Arroub refugee camp that same day: In Jerusalem itself, worshippers amassed at al-Aqsa mosque for Friday prayers: Palestinians attempted to march through Jerusalem's Old City after Friday prayers: But the procession was forcibly dispersed by Israeli forces: Protesters outside Damascus Gate were also detained and forced from the area: Palestinians were forbidden from congregating around Damascus Gate on Thursday night: Israeli police were shown on video taking a kuffiyeh scarf from a small boy outside Damascus Gate on Thursday: They were also shown chasing and detaining Ibrahim Ghaith, a young Palestinian boy who was handled roughly by an officer at Damascus Gate: More than 500 Palestinians have been detained by Israeli forces since Trump's proclamation, the rights group Addameer stated Thursday.

Children as young as 12 have been among the 170 Palestinian minors arrested during that period.

Three dozen children arrested since Trump's announcement, currently being held at Ofer military prison, "experienced humiliation and brutal direct beating from Israeli occupation soldiers while getting arrested," according to Addameer.

The number of child detainees at Ofer more than doubled during the first 19 days of December, according to Defense for Children International - Palestine:

While Israel cracked down on protesters, the United Nations General Assembly overwhelmingly voted in favor of a resolution condemning the Trump administration's Jerusalem move on Thursday.

Thirty-five countries abstained, while just nine – including Israel and the US – opposed the resolution.

The emergency session was called to consider the resolution after it failed to pass in the Security Council earlier in the week because the US cast its veto. The 14 other states on the council supported the resolution.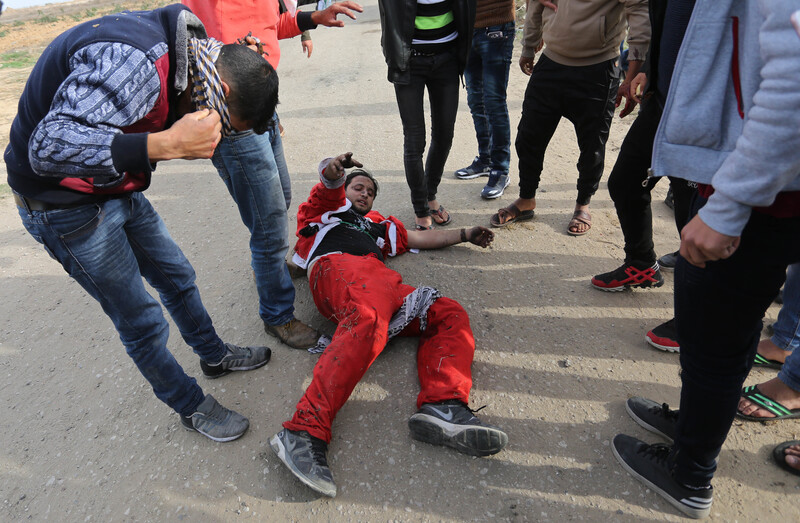 After Thursday's landslide vote, Israeli Prime Minister Benjamin Netanyahu lashed out at what he called a "preposterous resolution" while thanking Trump and Nikki Haley, US ambassador to the UN, for "their stalwart defense of Israel and their stalwart defense of the truth."
The Trump administration had threatened that it would be "taking names" of countries voting in favor of the resolution.
Representatives of countries that joined the US and Israel in opposing the resolution, or that abstained or didn't vote altogether, were invited to a reception hosted by Haley early next year "to thank you for your friendship to the United States."
Palestinian Authority leader Mahmoud Abbas reiterated on Friday his assertion that the US will no longer have any peace process role.
"It is because of this US decision to support illegality and the blatant violations of our rights, that we will not accept the US as the mediator in the peace process nor are we going to accept any plan from the US side," Abbas stated in a Christmas letter.
"The US chose to be biased."
Tags