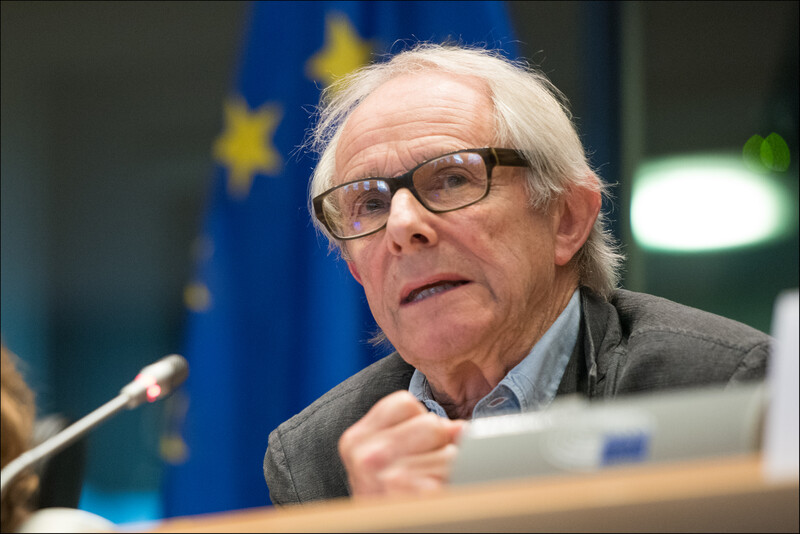 Show Racism the Red Card has capitulated to demands it drop Ken Loach as a judge in its schools competition, after an Israel lobby intimidation campaign said to have threatened its "very existence."

However the charity, which works against racism in football, emphasized that Loach remains "a member of our Hall of Fame, in tribute to the work he has done over many years in combating racism and his support is greatly appreciated."

Earlier this month the charity announced that it was standing by its appointment of the socialist filmmaker as a judge of their annual schools competition, alongside children's poet and author Michael Rosen.

But in a new statement on Wednesday, the charity said that they and Loach "have together agreed that Ken will not act as a judge" for this year's competition.

Loach's production company Sixteen Films said in a statement that the anti-racist charity had been "subjected to an aggressive and abusive campaign" threatening its funding.

Sixteen Films said that this had been "an aggressive campaign to persuade trade unions, government departments, football clubs and politicians to cease funding or otherwise supporting the charity and its work."

This has included behind the scenes pressure "including from government" and pressure on football clubs with links to the charity. "Threats were also made to its charitable status," Sixteen Films said.

Loach and Rosen had first been appointed in February.

The charity soon came under attack from Israel lobby groups, including the Board of Deputies of British Jews and the Jewish Labour Movement.

Loach has long been a supporter of the Palestinian cause.

His production company said on Wednesday that allegations against Loach rely on "attempts to redefine anti-Semitism so as to conflate it with criticism of Zionism and of Israel's treatment of the Palestinians."

After the charity announced it was standing by Loach earlier this month, the campaign against it intensified, and "threatened to wreck not only the competition and Ken Loach's reputation, but the charity's very existence," Sixteen Films said.

"Members of the charity's staff were insulted and threatened, and 83-year-old Ken Loach and members of his family were subjected to personal abuse online," they said.

But the Board has not been placated by the new decision to drop Loach.

On Twitter, it posted more demands on Monday, including that Loach should have no further involvement in the charity, and that it now apologize "to the Jewish community."

Wednesday's statement from the charity seems to rule that out, saying of Loach that, "We do not believe that he is an anti-Semite or that he supports anti-Semitic views." It accused Loach of a "mistake" in replying to an email from former GMB union member Peter Gregson, who it accused of anti-Semitism.
"Misplaced accusations of anti-Semitism"
Show Racism the Red Card's decision earlier this month to stand by Loach and Rosen despite the attacks, had come after a massive show of support for the pair from more than 200 prominent figures in sport, the arts, academia and the law.
"We believe that demands for Ken Loach's removal as a competition judge reflect political differences, including over Israel-Palestine," stated a letter of support to the charity. "Misplaced accusations of anti-Semitism against Ken Loach risk degrading the real threat of anti-Semitism and other forms of racism."
The letter was signed by football legend Eric Cantona, former Manchester United manager Alex Ferguson, the UK Labour Party's outgoing shadow finance minister John McDonnell, civil rights lawyers Geoffrey Bindman and Michael Mansfield, former government minister Clare Short, British-Palestinian campaigners Ghada Karmi and Ben Jamal, Israeli academics Ilan Pappe and Avi Shlaim and many others.
The charity's statement announcing its decision to stand by Loach and Rosen has now been deleted from their website.
You can read a full copy below.
Loach and the charity's outward display of unity on Wednesday comes in contrast to how matters stood earlier in the week.
On Monday, a cryptic Show Racism the Red Card statement said that "following new information, the Board of Trustees have decided not to endorse the Executive decision" to appoint Ken Loach as a judge.
The one-line statement pointed to division at the top of the charity on the issue. It was deleted on Wednesday following release of the new statement, but can still be read in some online archives.
The "new information" referred to in Monday's deleted statement seems to relate to Gregson.
New expressions of support for Ken Loach came in on Thursday, including from the Palestine Solidarity Campaign, and from Yanis Varoufakis, the former Greek finance minister.
Updated after publication.
Tags