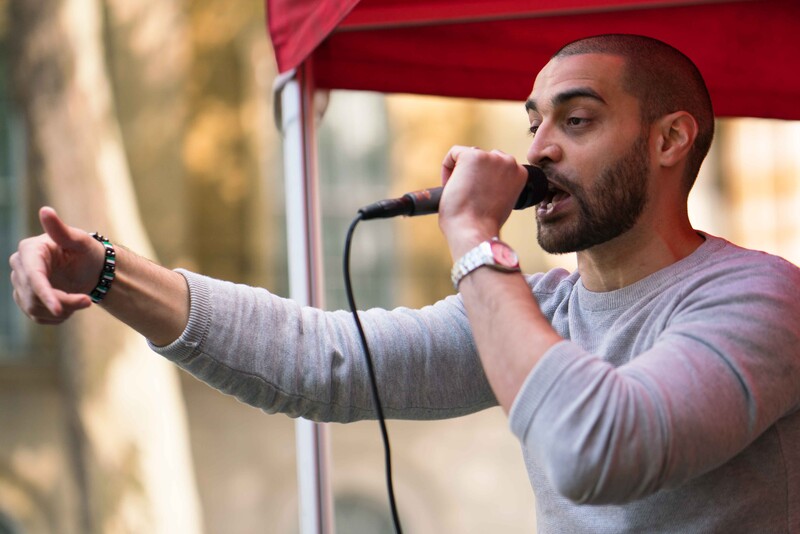 A petition telling Spotify to ignore the Israel lobby and keep Lowkey on its platform was signed by 4,000 people within the first three hours of its launch on Wednesday.

As of this writing the petition has been signed by just over 7,000 people.

British pro-Israel lobby group group We Believe in Israel launched a campaign last week to have the rapper and Palestine solidarity campaigner deleted by the streaming giant.

But huge names from the worlds of music, arts, culture and now journalism, activism and academia have backed Lowkey against the Israel lobby, calling their campaign "unacceptable censorship."

Since the open letter to Spotify began circulating earlier this week, even more stars have backed the UK rapper.

Among them are Jordanian princess and UNESCO goodwill ambassador Dana Firas, philosopher Cornel West and Nkosi Zwelivelile "Mandla" Mandela – grandson of South African freedom fighter Nelson Mandela and a politician in his own right.

"Lowkey has become the target of a coordinated smear campaign to demonize, defame and deplatform him," they write. "The campaign against Lowkey is designed to silence Palestinians and their supporters … As a relentless advocate for Palestinian human rights, he is a target for many who would rather his message not be heard."

On Monday, The Electronic Intifada reported that the open letter to Spotify had been signed by rapper Wretch 32, model Anwar Hadid, Pink Floyd co-founder Roger Waters and several other stars.

But now with the petition going public, it shows that musicians Akala, Brian Eno, Immortal Technique, Peter Gabriel and Sonic Youth co-founder Thurston Moore are backing Lowkey against the Israel lobby too.

Actors Mark Ruffalo, Liam Cunningham, Maxine Peake, Miriam Margolyes and Julie Christie are also among the signatories.

Filmmakers Mike Leigh and Ken Loach and filmmaker and journalist John Pilger have signed, as well as author and activist Naomi Klein, journalists and activists Mohammed and Muna El-Kurd and British Palestinian activist Leanne Mohamad.

Palestinian politician Hanan Ashrawi, former South African politicians Ronnie Kasrils and Andrew Feinstein and former Labour politician Chris Williamson have all endorsed Lowkey's petition.

Academics signing include scholar and activist Noam Chomsky, Avi Shlaim of the University of Oxford, Ilan Pappé of Exeter university, former Bristol university professor David Miller and Palestinian historian Nur Masalha.

Journalists on the initial list of signatories include: Glenn Greenwald, Aaron Maté, Katie Halper, Yasha Levine, Ben Norton, Peter Beinart, Mark Ames, Max Blumenthal and Chris Hedges, as well as The Electronic Intifada's own Nora Barrows-Friedman and Asa Winstanley.

Supporters of Lowkey can sign the petition hosted at Change.org.

Also on Wednesday, We Believe in Israel claimed to have collected 1,000 signatures in support of their petition to have "anti-Israel hate" removed by Spotify.

But The Electronic Intifada was unable to verify this number. The petition is hosted on their own website and there appears to be no way to check their claims.

Even if their number is correct, Lowkey's counter-petition received almost double the amount of signatures within the first hour of the petition going live than We Believe in Israel claims to have collected in the first week of their campaign to censor pro-Palestinian music.
Tags