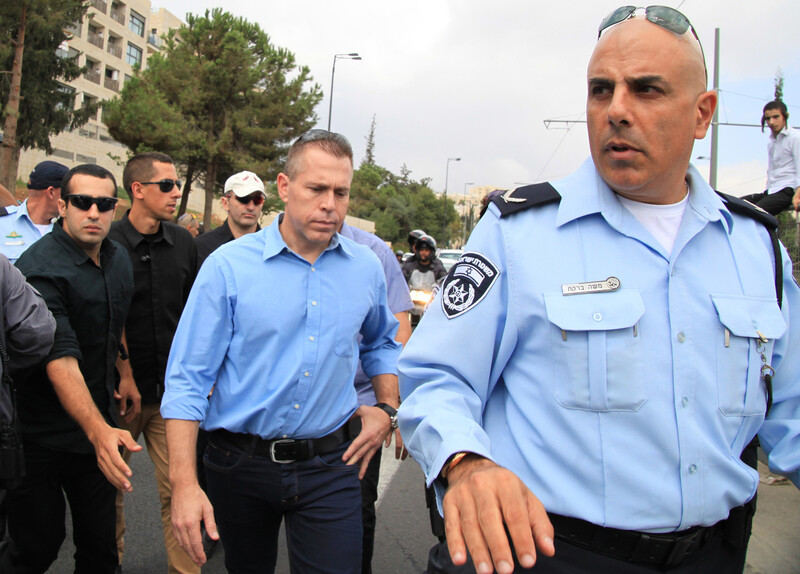 Human rights activists are challenging Israeli blacklists of supporters of the boycott, divestment and sanctions movement for Palestinian rights, or BDS.
Lawyer Eitay Mack and several other Israeli activists last week filed a freedom of information petition with the Jerusalem district court demanding that two government departments disclose how they create the blacklists.
The lists are used to prevent overseas BDS activists from entering territories controlled by Israel, including the occupied West Bank.
The court action comes after a freedom of information request, filed by Mack last month, was rebuffed by the ministries.
Astonishingly, they justified the refusal based on the "privacy" of the BDS activists. In an email sent to The Electronic Intifada, Mack called this "a new world record in cynicism and hypocrisy."
He explained that unless Israeli authorities admit to "illegally compiling personal non-public data on international activists and groups, while using, for example, invasive monitoring and spying software" then disclosure would lead to no privacy violation.
The freedom of information request was sent to the interior ministry and the Population and Immigration Authority last month, after press reports that five members of a US interfaith delegation had been banned from entering Israel because of their support for BDS.
Rabbi Alissa Wise told The Electronic Intifada that Lufthansa airline staff had read out a blacklist of people on their delegation who would not be allowed to fly to Tel Aviv.
Hacking emails
An airline employee told Wise and four others that the Israeli government had insisted they not be allowed onboard.
Israel has previously banned individuals it accuses of supporting BDS from entering.
But in March, it formalized the policy with a new law, which it soon began to implement.
Wise, deputy director of pro-BDS group Jewish Voice for Peace, also told The Electronic Intifada that the blacklist Lufthansa read to them included two individuals who had canceled their participation in the delegation months prior, and who had never bought tickets for the flight.
Wise thinks the only way Israel could have got hold of those two names was through illicit means, such as hacking or intercepting the group's emails.
In an email sent to The Electronic Intifada, Mack said his freedom of information request asks the Israeli ministries to disclose "the criteria and procedures" they use to add people to these blacklists, as well as how they transfer these lists to authorities outside Israel.
You can read the full request in Hebrew here, and the full court petition here.
Tel Aviv newspaper Haaretz reported the day after the ban on Wise and her colleagues that the interior ministry and the strategic affairs ministry issued a statement confirming they had been behind the ban.
"These were prominent activists who continuously advocate for a boycott," the ministries said.
Strategic affairs is the ministry charged with leading Israel's "war" against BDS.
"Battlefront"
In September 2016, Mack and his colleagues filed a similar freedom of information request asking the strategic affairs ministry and the foreign ministry to reveal which overseas groups and individuals they were supporting in the effort to thwart the BDS movement.
But in June they replied claiming that they had no working relations with such foreign entities – an assertion Mack considers not to be credible and which appears to be contradicted by other statements.
In July, the Israeli parliament passed the first reading of a new law drafted by the strategic affairs ministry, which will exempt it from freedom of information laws, on the basis that BDS is a "battlefront like any other."
The banning of Wise and her colleagues marks the first known occasion an Israeli blacklist has been passed onto another country based on the new anti-BDS law. It also marks the first known occasion a Jewish person has been banned from entering under the new law.
The delegation had been planning to fly to Tel Aviv, after a layover in Germany. But the Lufthansa staff at Dulles International Airport near Washington, DC, had been given the blacklist by Israel in advance.
According to Mack, although this case involved US citizens and a German company, "there is a risk that the state of Israel has also delivered 'blacklists' to non-democratic states that persecute human rights and opposition activists."
Mack cites Israel's past support for oppressive regimes in Latin America and Africa as precedents.
Rivalries
The Ministry of Strategic Affairs was founded in 2006, and was initially focused on Iran, leading Israel's sometimes-covert campaign against that country's nuclear energy program.
In October 2015, now led by Gilad Erdan, a member of Israeli Prime Minister Benjamin Netanyahu's Likud party, the ministry's focus was shifted to fighting BDS.
This reallocation of authority and funds has led to tensions with other government departments, who are reportedly jealous of being sidelined by Netanyahu. Erdan is a long-standing ally of Netanyahu, having served him as an advisor in the prime minister's office in the 1990s.
According to Haaretz investigative journalist Uri Blau, Israel's "security cabinet" gave the strategic affairs ministry responsibility to "guide, coordinate and integrate" activities of ministers, government and "civil entities in Israel and abroad" as part of "the struggle against attempts to delegitimize Israel and the boycott movement."
In May 2016, an Israeli governmental report criticized Netanyahu's transfer of anti-BDS powers and funding away from the foreign ministry.
Strategic affairs "lacks the foreign ministry's inherent advantages, including … [its] unmediated access to the battlefield and to collaboration with sympathetic groups and organizations abroad," the report said.
Exposure could "harm the battle"
In September 2016, a leak to Haaretz exposed the depths of the feud between the two ministries.
A cable from the Israeli embassy in London to the foreign ministry reportedly complained about Erdan's ministry.
It accused them of "operating" British Jewish organizations behind the embassy's back in a way that could put them in violation of UK law.
Justifying the new law exempting his ministry from freedom of information, Erdan last month made reference to "bodies around the world" fighting BDS who "do not want to expose their connection with the state."
He explained that "most of the ministry's actions are not of the ministry" directly, but via such front groups. "We must protect the information whose exposure could harm the battle," he insisted.
Israel is known to operate around the world via front organizations which claim to be grassroots "civil rights" or political groups.
Examples include the Mossad-linked "lawfare" organization Shurat HaDin, which attacks Palestine solidarity groups with egregious litigation. In the UK, the Israeli embassy maintains close ties to Labour Friends of Israel and the Jewish Labour Movement. The Union of Jewish Students has also received funding from the embassy, according to Al Jazeera's undercover investigation of the Israel lobby earlier this year.
According to Blau, "the ministry spends tens of millions of shekels on cooperative efforts with the Histadrut labor federation, the Jewish Agency and various nongovernmental organizations in training representatives of the 'true pluralistic face' of Israel in various forums."
This strategy of using apparently liberal or progressive organizations as a way to improve Israel's image is in line with a secret report which was obtained by The Electronic Intifada in April.
Front groups
The report, by leading Israeli think tank the Reut Institute and the Israel lobby group the Anti-Defamation League, called for a "broad tent" approach in which "liberal and progressive pro-Israel groups" are deployed to engage with "soft critics of Israel."
It argued that "the pro-Israel community must be united in this fight" and "benefits from its diversity."
The report carried an endorsement from the director general of Erdan's anti-BDS ministry.
In August 2015 Israel's military intelligence agency Aman revealed to Haaretz that it had established a "delegitimization department" to spy on BDS activists overseas.
Was it this agency which furnished the information leading to Rabbi Wise and her friends being barred from Palestine by Israeli occupation authorities?
According to Mack, compilation of the blacklists of international activists could "be used for the covert compilation of 'blacklists' of Israeli human rights activists who are in touch" with them.
When Aman revealed to Haaretz it was "monitoring" BDS activists around the world, it emphasized "that it does not collect information on Israeli citizens. That is the job of the Shin Bet" – Israel's secret police.
In March, it was revealed that Erdan wanted to start compiling a "database" of Israeli citizens who support BDS. But the attorney general and other Israeli officials accused his ministry of overstepping its legal authority.
If Erdan's ministry is using these blacklists to covertly "monitor" Israeli activists too, it seems he may be in violation even of Israeli law.
Tags