Last week the Jewish Labour Movement announced that Guardian columnist Owen Jones will be the big name speaker at an event the group is holding on 2 April.
Jones will lecture on "left anti-Semitism, the Middle East and the Labour Party."
The Jewish Labour Movement scoring Jones appears to be a high-profile instance of a new push endorsed by Israel's government to ensure that Palestine solidarity "instigators" are "singled out" from so-called "soft critics" of Israel.
According to The Jewish Daily Forward, the strategy – jointly developed by the Reut Institute and the Anti-Defamation League (ADL) – "calls for a big tent approach that accepts progressive critics of Israel" while also demanding "an all-out assault on leading critics of Israel, sometimes using covert means."
"The instigators must be singled out from the other groups, and handled uncompromisingly, publicly or covertly," the Reut-ADL report states, according to The Forward, which obtained a copy on condition it not publish the entire document.
The Jewish Labour Movement, a pro-Israel organization within the UK's main opposition Labour Party, appears to be on board with this strategy.
Al Jazeera's recent undercover documentary The Lobby revealed the Jewish Labour Movement's close ties to the Israeli embassy, as well as its campaign against BDS, the boycott, divestment and sanctions movement.
Splitting the left
Following the announcement that Jones would headline the Jewish Labour Movement event, Nazareth-based journalist Jonathan Cook criticized the Guardian columnist for promoting a group "shown to be acting as a front for the Israeli government's efforts" in Labour.

Jones replied with a blog post calling his critics conspiracy theorists and reaffirming that he was "very glad" to speak at this pro-Israel group's event.

"I am a passionate opponent of anti-Semitism in all its forms, overt or subtle. It has to be fought, relentlessly, wherever it appears, including on the left," Jones asserted – an implication that his critics might condone or tolerate anti-Semitism.

Whether Jones realizes it or not, he is facilitating the strategy of isolating Palestine solidarity campaigners by performing the role of "soft critic" of Israel.

Any division in Labour ranks over Jones' decision will likely be seen by Jewish Labour Movement leaders as a success.

Indeed, undercover footage revealed by Al Jazeera last month shows Jewish Labour Movement chair Jeremy Newmark boasting in front of the Israeli ambassador that his group had "created a bit of division within Momentum" by convincing a close ally of Labour leader Jeremy Corbyn to speak at one of its events on "an openly Zionist JLM platform."

Momentum is the left-wing faction in Labour established to support Corbyn.

At the private meeting between pro-Israel activists and Israeli ambassador Mark Regev at the Labour Party conference in September, Newmark also claimed that he had "intelligence" that Momentum's "political directors" had "passed a vote of censure on Clive Lewis, just for coming to our meeting and speaking."

Member of Parliament Clive Lewis was at the time shadow defense secretary and considered a rising star in the Labour Party.

Over the course of 2016, Corbyn, a veteran campaigner for Palestinian rights, faced a manufactured "anti-Semitism crisis," that coincided with efforts to force him out as party leader.

Whipped up by right-wing figures in the party, along with internal pro-Israel groups such as Labour Friends of Israel, as well as by Jewish Labour Movement chair Jeremy Newmark, the allegations included exaggerated and, in some cases, wholly fabricated claims about anti-Semitism by party members.

Al Jazeera documentary The Lobby showed how a Labour Friends of Israel leader concocted a false allegation of anti-Semitic comments against a party member at last year's Labour conference.
Failing strategy
A key part of the strategy pushed by Israel and its surrogates is to smear supporters of justice for Palestinians as anti-Semites.
In this context, the Jewish Labour Movement has promoted a discredited definition of anti-Semitism that conflates criticism of Israel and Zionism with anti-Semitism.
But the Reut-ADL report concludes that multi-million dollar efforts to combat BDS have "largely failed," according to The Forward. The newspaper says that the report's authors consider that the BDS movement "has grown twentyfold since 2010." But they lament that anti-BDS "results remain elusive."
The new Reut-ADL plan echoes reports in Israeli media last September that Israel's strategic affairs ministry has been waging a "classified," "under the radar" campaign of "black ops" against the BDS movement.
Amid reports of this covert campaign, a Palestinian human rights lawyer in The Hague has received anonymous death threats that are being investigated by Dutch police. The lawyer, from the human rights group Al-Haq, has been working with the International Criminal Court as it probes possible war crimes committed by Israel against Palestinians.
There have also been sophisticated cyber attacks against websites associated with the Palestine solidarity movement.
The ADL has a documented history of infiltrating and sabotaging US solidarity campaigns with Palestine, as well as campaigns against the South African apartheid regime.
Backed by Israel
Co-opting progressive figures, or "soft critics" of Israel, such as Clive Lewis and Owen Jones, is a key element of the Reut-ADL strategy – the proverbial carrot, to accompany the stick.

The Reut-ADL report appears to have been a year in the making, although its roots lie further back.

An influential Reut strategy in 2010 called on Israeli spy agencies to "sabotage" and focus on "attacking catalysts" in global centers of Palestine solidarity.

In a 2010 PowerPoint presentation, Reut's founder Gidi Grinstein termed such cities as London, Madrid and the San Francisco bay area "hubs" of "delegitimization" which aim to "promote one man, one vote" in all of historic Palestine – as opposed to the current reality of a "Jewish state" alongside an Israeli occupation regime in the West Bank and Gaza Strip.

Grinstein, who revealed the new Reut-ADL strategy earlier this month, had said in his 2010 presentation that it was imperative to prevent the "implosion" or political collapse of Israel in a manner similar to the fall of the South African apartheid regime.

That strategy also called for "driving [a] wedge between soft and hard critics" of Israel and other Palestine solidarity activists Reut terms "delegitimizers" – mainly due to their support for BDS.

The Jewish Labour Movement's Newmark said in 2010 that the Israel lobby group of which he was then chief executive had "contributed heavily to the compilation of the Reut report."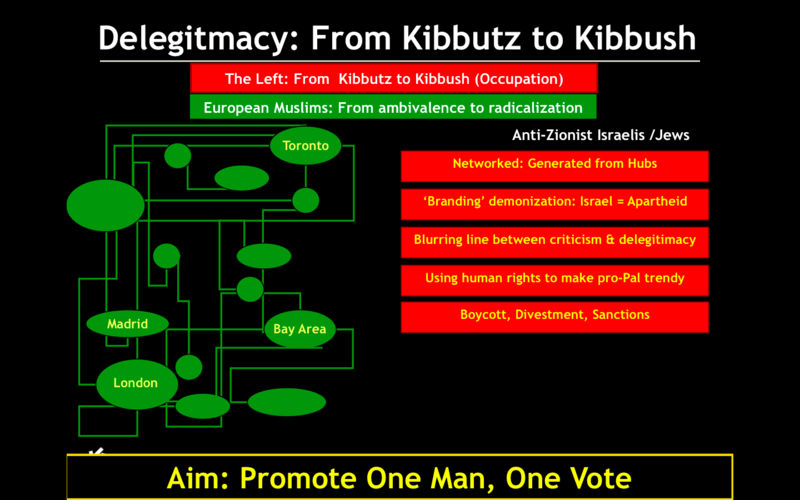 The 2017 Reut-ADL strategy places a renewed emphasis on embracing the so-called soft critics in order to isolate them from "instigators" and "delegitimizers" who call for effective measures to hold Israel accountable or who question Zionism, Israel's state ideology.
Reut Institute and ADL leaders have boasted that their report has the backing of Israel's strategic affairs ministry, which is spearheading the country's anti-BDS effort. The JTA news agency calls this endorsement "an important signal that even a right-wing government favors the big tent."
Enter Owen Jones
In his defense of his planned lecture for the Jewish Labour Movement, Owen Jones offers a message that is a fit with the Reut-ADL strategy.

Jones reaffirms his criticism of Israel's "occupation of Palestine" and writes that he believes "in a just peace for both Arabs and Jews, providing security and peaceful coexistence. That process involves dialogue."

But Jones says nothing about BDS or any other method to hold Israel to account. He did not reply on Twitter to questions from The Electronic Intifada's Ali Abunimah asking if he supported a boycott of Israel.

In substance, Jones' position is nearly identical to that of Labour Friends of Israel and the Jewish Labour Movement, which both ostensibly advocate a "two-state solution" but oppose all practical efforts to support Palestinian rights.

Indeed, the false accusation of anti-Semitism against the Labour Party member documented in the Al Jazeera film was conjured up because the member had challenged Labour Friends of Israel chair Joan Ryan over what her group proposed to do in order to stop Israeli settlements.

Labour Friends of Israel has campaigned even against boycotts of firms – such as G4S – that are directly involved in Israeli settlements and the abuse of Palestinians, including children, in military detention in the occupied West Bank.

Lawmakers affiliated with Labour Friends of Israel wrote to Labour leader Corbyn asserting that such boycotts "seek to delegitimize Israel and do nothing to further the cause of peace."

Yet last month, Ryan introduced a bill in Parliament proposing an international fund to promote "coexistence" and "dialogue" between Israelis and Palestinians – language identical to that deployed by Owen Jones.

Such "dialogue" is promoted to deflect pressure from Israel and leave the status quo that the BDS movement seeks to change – Israeli occupation, settler-colonialism and apartheid – intact.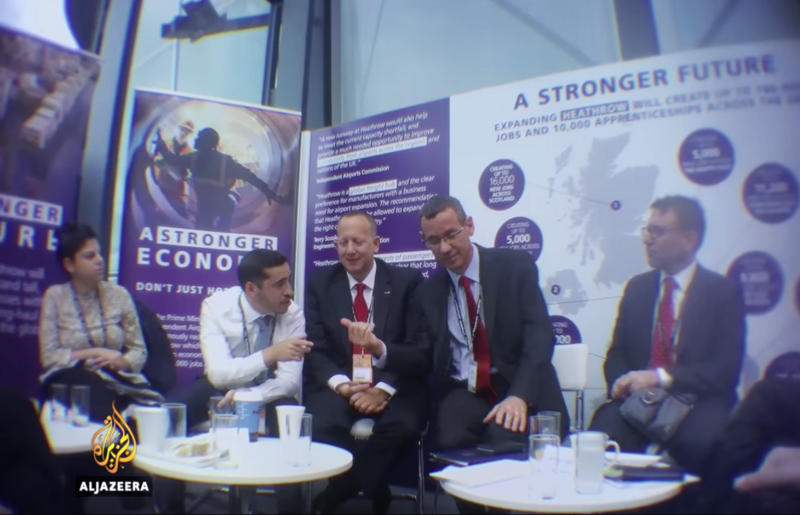 The undercover footage of the private meeting at the Labour Conference shows Jeremy Newmark sitting next to Shai Masot, the Israeli embassy's disgraced senior political officer.
Masot was forced to leave the UK last month after the Al Jazeera documentary's revelations made headlines. He had been caught plotting to "take down" a senior government minister.
The documentary also showed him claiming credit for incubating a "Young Labour Friends of Israel" group.
After The Lobby aired, Jeremy Corbyn called for an investigation into Israel's undue influence on British democracy.
In January, the chair of a powerful parliamentary committee announced that he would include the Shai Masot affair in a new Middle East inquiry.
Meanwhile, Israel lobby groups can chalk up a success with the recruitment of Owen Jones in their effort to split supporters of Palestinian rights.
Tags