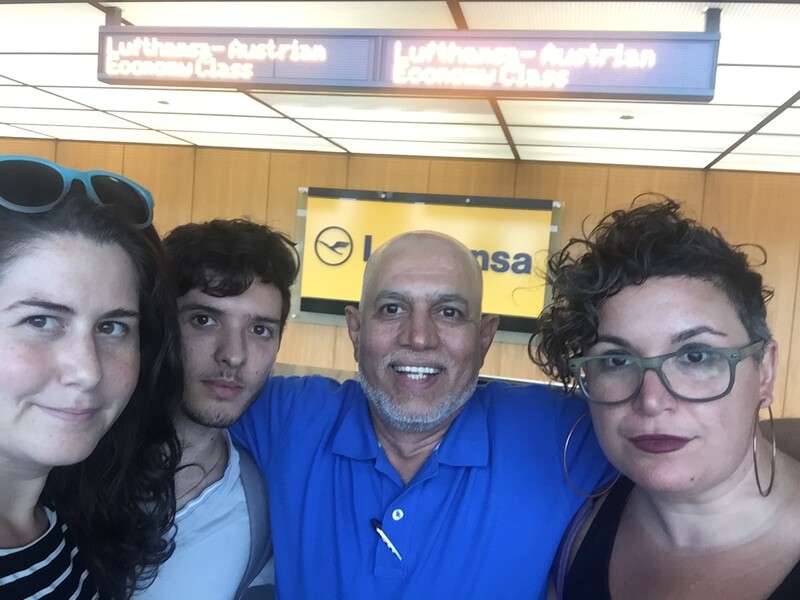 A rabbi who was denied boarding on a flight to Israel because of her support for Palestinian rights says there is evidence Israel spied on the group she was traveling with.
Alissa Wise of Jewish Voice for Peace told The Electronic Intifada that "there's no doubt that they were surveilling our email."
Wise was one of five members of an interfaith delegation banned from flying to Israel on Monday for her support for BDS, the boycott, divestment and sanctions movement.
Along with leaders from American Muslims for Palestine and the Presbyterian Peace Fellowship, Wise was barred by Lufthansa staff from boarding a flight from Dulles International Airport near Washington, DC.
An airline employee told the group that the Israeli government had instructed them not to allow the five to board.
Israel has previously banned activists, accusing them of supporting BDS. But in March, Israel formalized the policy and began to implement it even more aggressively.
But the list of banned delegates that the Lufthansa staff read out to Wise is evidence of Israeli spying, she told The Electronic Intifada on Wednesday.
Five of the delegates were banned from entering, but the list read out by Lufthansa staff had two extra names – individuals who would not have been on the flight manifests.
Suspicious
Wise said that the sixth person had changed her plans because she had had to drop her daughter off at a Jewish summer camp. She flew out on a separate flight elsewhere, and was able to enter.
The seventh person was a Muslim delegate "who actually canceled coming back in March and we never issued her a ticket," Wise said. "So it's weird."
Wise added that "there was no other way they could have had that name" other than spying on the emails of either Jewish Voice for Peace, American Muslims for Palestine or the Presbyterian Peace Fellowship.
"It's very suspicious," Wise said. "We never released the names of the delegates publicly anywhere."
The bar on Jewish critics of Israeli policy from entering came as the Israeli parliament is moving to pass a new law that will allow it to conduct its war against the BDS movement in complete secrecy.
The strategic affairs ministry, headed by Gilad Erdan, has asked for its activities combating BDS to be exempted from Israel's freedom of information laws.
The prospective law change seems to be a reaction to Israeli human rights activists' attempts to shed light on Israel's covert operations against BDS.
Last September, Israeli attorney Eitay Mack and several activists filed a freedom of information request with the strategic affairs ministry and the foreign ministry.
They asked the ministries to reveal their financial support to foreign organizations, individuals, journalists or bloggers assisting Israel in its battle against BDS and other forms of Palestine solidarity – what it calls "delegitimization."
"Battlefront"
But in responses to the requests that came months later, the ministries denied any such relationships. However, Erdan has admitted that his ministry exercises influence through foreign entities.
Ma'an News Agency, a Palestinian outlet, reported last week that Erdan justified the proposed law by claiming that BDS was a "battlefront like any other."
"One of the principles for success is keeping our methods of action secret," Erdan said earlier this month. "Since most of the ministry's actions are not of the ministry, but through bodies around the world who do not want to expose their connection with the state, we must protect the information whose exposure could harm the battle."
According to an official press release, the law would add Erdan's ministry to "the list of bodies whose activities are an exception to the Freedom of Information Law" – putting it in the same category as Israel's Mossad and Shin Bet spying and assassination agencies.
The Tel Aviv newspaper Haaretz reported at the time the law was drafted in May that the ministry argued in official notes that "successful management of the campaign [against BDS] requires that it be kept under maximum ambiguity."
"We want most of the ministry's work to be classified," the strategic affairs ministry's director general told an Israeli parliamentary committee in September.
Sima Vaknin-Gil added, "There are many sensitivities, and I can't even explain in an open forum why there are such sensitivities … a major part of what we do stays under the radar."
Death threats and hacking
Vaknin-Gil told Israeli lawmakers she wanted to "build a community of warriors" – echoing similar comments she made to an anti-BDS conference in New York earlier the same year.
Since the strategic affairs ministry was given the lead on Israel's war against BDS in October 2015, actions targeting the Palestine solidarity movement have grown more extreme.
Israel may be funding "infiltrators" to launch "provocations" against pro-Palestine student demonstrators in the UK, one pro-Israel journalist stated in January.
The covert campaign against human rights activists has escalated to the point of "black-ops," veteran Israeli security correspondent Yossi Melman revealed last year.
Melman said these "special operations" include "defamation campaigns, harassment and threats to the lives of activists" as well as "infringing on and violating their privacy."
Human rights defenders who investigate Israel's violations of Palestinian rights have been targeted with smears, email hacking and death threats.
France-headquatered human rights federation FIDH reported this month that the well respected Palestinian rights monitors Al-Haq and Al Mezan had been the victim of email hacks.
In the context of Israeli black-ops, Melman noted death threats received by Nada Kiswanson, an Al-Haq attorney, who has been collecting evidence of Israeli war crimes in Gaza to submit to the International Criminal Court.
Authorities in the Netherlands, where the court is based, are investigating the threats.
Tags