More than twenty activists occupied the London offices of Airbus on Friday to protest the aerospace company's military cooperation with Israel.

"Staff were unable to arrive for work and senior executives agreed to meet the campaigners in a bid to end the occupation of the second floor office on the Strand," says a statement from London Palestine Action. "The occupation lasted more than an hour, whilst others distributed leaflets and spoke to the public outside the offices."

The video shows activists inside Airbus' offices and at a certain point police are called.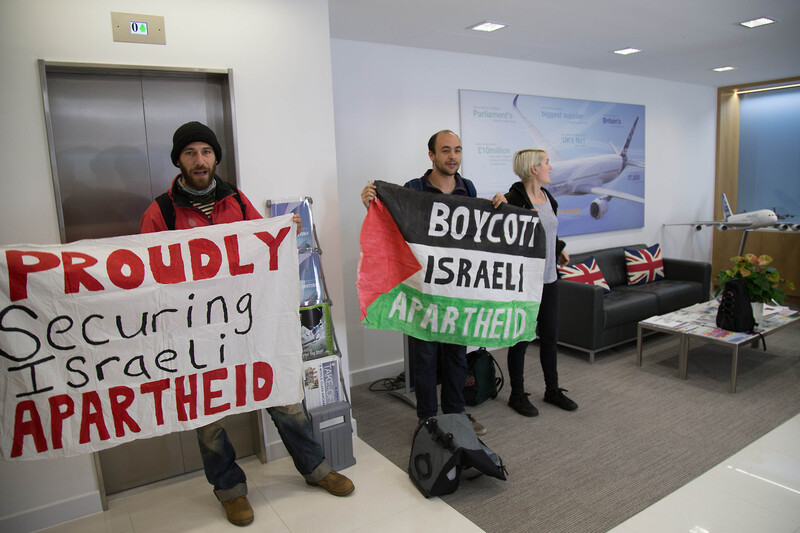 "Airbus writes on its website that 'contributing to the wellbeing of the communities in which it works is an ethical imperative,' but there is nothing ethical about profiting from Israel's war crimes against the Palestinian people," London Palestine Action states.
"Airbus has close ties with Israel Aerospace Industries, which is an Israeli state-owned company that is a key supplier of drones to the Israeli military. Drones were widely used in attacks on civilians during the recent Israeli attack on Gaza in which more than 2,100 Palestinians were killed," the statement adds.
Airbus and Israel Aerospace Industries are currently working together to build a drone based on the Heron model extensively used in Israeli war crimes against Palestinians.
Among the companies' other collaborations, London Palestine Action notes, are an "early warning system" for warplanes and a "semi-robotic pilot controlled vehicle" called Taxibot.
"Their collaboration also extends to several EU-funded scientific research projects. This year, they've announced their latest joint venture that will see them supplying the German military with drones until 2020," the release states.
As The Electronic Intifada's David Cronin revealed, EU officials have falsely portrayed grants to Israeli weapons makers including Elbit and Israel Aerospace Industries as being "civilian in nature."
London Palestine Action calls itself "a network of people in London taking creative action against Israeli apartheid through boycotts, divestment and sanctions (BDS) campaigning and other solidarity actions."
During last summer's Israeli attack on Gaza, members of the group occupied the Cabinet Office, one of the key UK government buildings.
The group also succeeded in shutting down the UK subsidiary of Elbit until activists were forcibly removed by police.
A copy of London Palestine Action's leaflet is below.
Tags