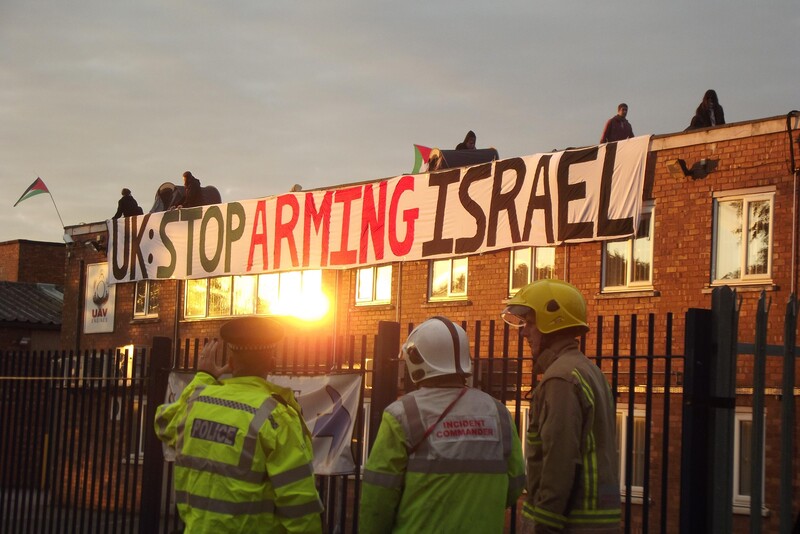 Update, 7 August
After putting the factory out of business for two days, all activists were removed by police yesterday afternoon and arrested. In a press statement, one of them said: "We will continue to build pressure for a comprehensive arms embargo on Israel."

Activist Ewa Jasiewicz told me this afternoon that eight of the nine have now been charged with aggravated trespass and released on bail. They face a hearing at a magistrates court on 20 August.

Meanwhile, pressure for an arms embargo continues to mount even at some of the highest levels of government.

Oliver Sprague, campaign manager of Amnesty International UK's arms program said: "no UK-based company should currently be supplying the Israeli military with any arms or equipment. Before these protests escalate, Downing Street should announce an immediate suspension of any further arms to Israel."

Charity War on Want also gave support to the action. Director John Hilary said: "We fully support the Birmingham demonstrators … War on Want has called for a two-way arms embargo against Israel for many years … Now is the time to intensify pressure for an immediate suspension of the arms trade between the UK and Israel."
Original article
A groups of nine activists today shut down a factory, one of two UK subsidiaries of Israeli arms firm Elbit.

UAV Engines Limited, in Shenstone, Lichfield (40 minutes north of Birmingham), makes drone engines. According to the Campaign Against the Arms Trade, these have been exported to Israel.

At 5am this morning, the group shut the main gates to the factory and scaled the eight-meter wall. The group are now camped on the roof, intending to close the factory for as long as possible, and have enough supplies to last a week, they say.

Speaking from the rooftop over the phone to The Electronic Intifada today, London Palestine Action activist Ewa Jasiewicz said they had successfully shut down the factory: it is completely closed, and the car park empty.

She said they had water, sunblock and locks to ensure the police could not remove them. Their response to anyone asking when they will leave the rooftop is "when is this company leaving" Lichfield, she said.

She was in good spirits and said so far the police were merely "tormenting us with constant chatter." The group have been locking themselves down when necessary.

Local police have shut down the street outside.

"The Palestinian people need more from us than Tweets, Facebook posts and and marches from A to B," Jasiewicz said.

In an online video feed that was live for a time today, Jasiewicz stated through a loudspeaker her hope that more people would take action against factories such as this one and like the EDO MBM factory in Brighton.

A campaign against the factory led by the Smash EDO group has run in Brighton for years. EDO is an arms component factory known to have links with Israel.

"Britain needs to impose an arms embargo on Israel," Jasiewicz said. "Crimes against humanity" are taking place in Gaza: "it's not enough to look in horror at the television … action speaks louder than words," she implored.

The shut-down of the factory was still ongoing at the time of initial publication. A local newspaper is running a live blog on their website.

You can also get the latest from the group's Twitter updates.
Military cooperation with Israel
In press release issued this morning by London Palestine Action, 26-year-old Sara Cooper, a teacher from south London and one of the rooftop group, said:
By allowing this factory to export engines for killer drones to Israel, the UK government is providing direct support and approval to Israel's massacres.

The UK government has blood on its hands and must end its support for Israel's crimes against humanity by ending all forms of military cooperation with Israel, starting by closing this factory …

Israel is only able to murder Palestinian civilians in cold blood and attack UN schools and hospitals because of the huge military cooperation it enjoys with companies and governments around the world. This factory is the clearest example of the vast military cooperation taking place between the UK and Israel …

Elbit Systems markets its drone technology as "battle tested," a sickening boast that their drones have been proven to be effective at killing Palestinians. The UK government is importing technology that has been developed during the course of Israel's crimes against humanity.
London Palestine Action have issued a further statement on their website.
Drone massacres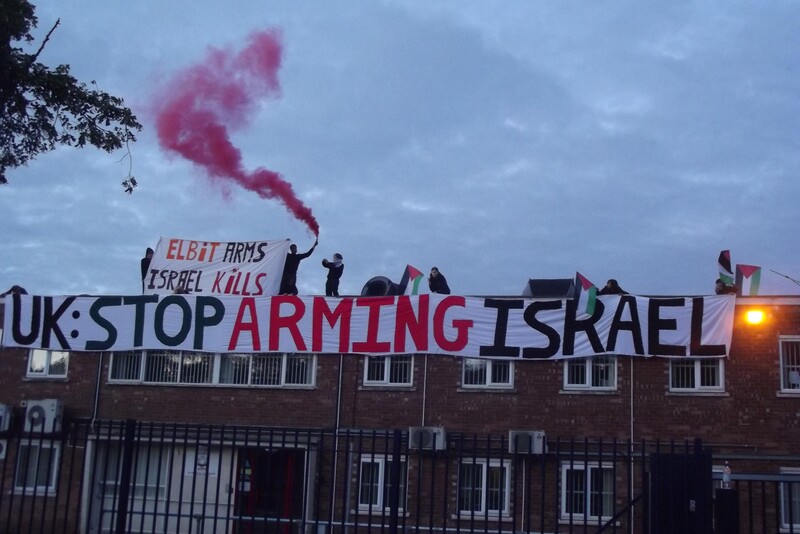 In 2009, Amnesty International pointed to evidence that engines from the factory were used in Israel's Hermes 450 drones that have been used to deliberately kill civilians during Israel's 2008-09 "Operation Cast Lead" massacre, during which more than 1,300 Palestinians were killed, mostly civilians.
On Saturday, the prime minister's office at Number 10 Downing Street announced a review of all existing arms export licenses to Israel.
The British arms trade with Israel is thought to be worth £8 billion ($13.4 billion).
However, one former civil servant that I spoke to today expressed skepticism that the review would lead to any concrete action.
A similar review in 2009 did lead to a limited revocation of some licenses to Israel after concluding the arms in question were used in the "Cast Lead" massacre.
This review, in contrast, is being led by Number 10 which, as my former Whitehall source put it, "is not [run by] civil servants any more but Etonians [graduates of the elite private school] on fixed term contracts."
Minister resigns over Gaza
Also today, foreign office minister Sayeeda Warsi resigned her position in protest at the government's stance on Israel's Gaza assault, calling it "morally indefensible."
Ed Miliband, the leader of the opposition Labor Party, said Warsi had acted with "principle and integrity" and urged Prime Minister David Cameron to rethink his position.
Miliband this weekend criticized Cameron for his failure to condemn Israel's "unacceptable and unjustifiable" killing of civilians in Gaza. Miliband still condemns Palestinian resistance factions for their defense of Gaza.
Moving beyond the national marches and rallies that have attracted tens of thousands from around the UK to protests in London every week, small action groups have increasingly started to take more direct and creative action.
The Electronic Intifada's contributor Hilary Aked recently took part in and reported on a sit-in at a government office in London.
The new group "Jews Against Genocide" demonstrated yesterday against the Board of Deputies of British Jews for its "uncritical support for Israel as it commits genocide against the Palestinian people in Gaza."
Tags