This video shows an Israeli soldier firing at Palestinian youths who are running away across a field. One of them, a 17-year-old boy, is hit and falls down. The Israeli soldier then strikes the boy on the head with the barrel of a gun as he lies on the ground, causing serious, potentially life-threatening injuries.

The youth, identified only as D.T. by the human rights group B'Tselem, suffered a fractured skull, bleeding inside his skull, a fractured rib and a bruised left lung. He required surgery and a prolonged stay in hospital where he was unconscious for five days.

B'Tselem said that the conduct of Israeli occupation forces in this incident "is particularly grave."

The shooting took place on 10 March, in the occupied West Bank village of Silwad, where youths had earlier been responding to the incursions of Israeli occupation forces by throwing stones.
Shot while running away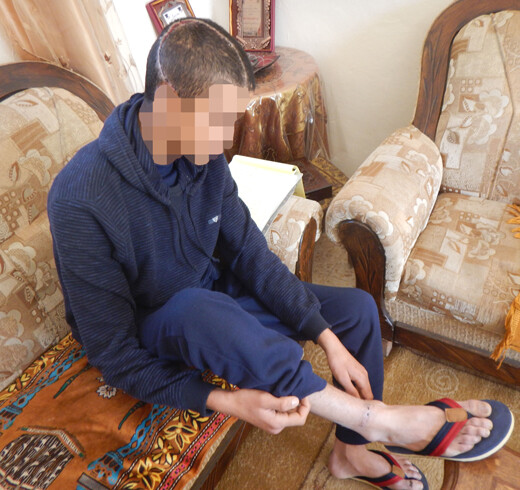 Video of the incident, captured by the security cameras of a local gas station, was published this week by B'Tselem.
"A Border Police officer fired a sponge bullet at D.T., who was running away from him and posed no danger to anyone," wrote B'Tselem. "Then, with D.T. lying on the ground, wounded and helpless, the officer hit him with the barrel of his gun, fracturing his skull and knocking him unconscious."
Along with live rounds designed to kill, Israel employs a number of supposedly "less lethal" weapons to suppress protest against its military occupation, including, 22-caliber rifles, rubber-coated metal bullets and foam-tipped or sponge bullets, which are composed of an aluminum base and a dense foam nose.
But these weapons have nonetheless continued to claim children's eyes and lives and to cause permanent disabilities.
Parents barred from visiting
B'Tselem said that it took another 15 minutes for the occupation forces to evacuate the boy to hospital "where he underwent head surgery" and was "treated as a dangerous prisoner, guarded round-the-clock by security personnel who prevented his parents from going near him."
Israeli occupation authorities only gave his parents permits to go and see him for the first few days of his hospital stay and then cited "security" to ban his father altogether. During this traumatic period, the boy's parents were not allowed to enter his room and could only look at him through a window.
Through all of this, according to B'Tselem, "D.T., a 17-year-old boy, remained in hospital completely alone, away from his home and family and restrained to the bed for part of the time."
Routine violence and impunity
B'Tselem added: "While this account may be shocking, it is not all that uncommon: Firing unlawfully at a fleeing Palestinian youth, who posed no danger to anyone, and hitting him hard on the head – actions that could have resulted in disability or death; followed by disgraceful conduct during hospitalization in Israel, including placing restraints on an injured teenager and denying family visits are not a rare occurrence."
In January this year, Israeli soldiers shot and killed Qusay al-Amour, 17, in Tuqu, a village near the West Bank city of Bethlehem. Video from the scene shows Israeli soldiers violently dragging away the boy after he was shot.
In December 2016, Israeli occupation forces were filmed shooting and killing 17-year-old Ahmed Zeidani as he ran away, during a night raid on the West Bank village of Beit Rima.
And in April 2016, the Israeli army closed an investigation into Yisrael Shomer, a commander of its Binyamin Brigade, who in 2015 shot to death 17-year-old Muhammad al-Kasbeh while the Palestinian teenager was fleeing. The Israeli army decided that Shomer's videotaped slaying of al-Kasbeh had been nothing more than "a professional mistake."
B'Tselem described the closure of the case as "an integral part of the whitewash mechanism which is Israel's military investigative system."
The following month, B'Tselem announced it had stopped cooperating with the Israeli army unit that is supposed to investigate such abuses. The group said it no longer wanted to be a "fig leaf" for a system that guarantees impunity for perpetrators.
In the rare cases where an Israeli perpetrator is brought to trial, the penalty is normally a slap on the wrist.
B'Tselem reaffirmed in the case of D.T. that typically no one is held accountable, "guaranteeing that incidents of this sort will continue so long as the occupation does."
Tags