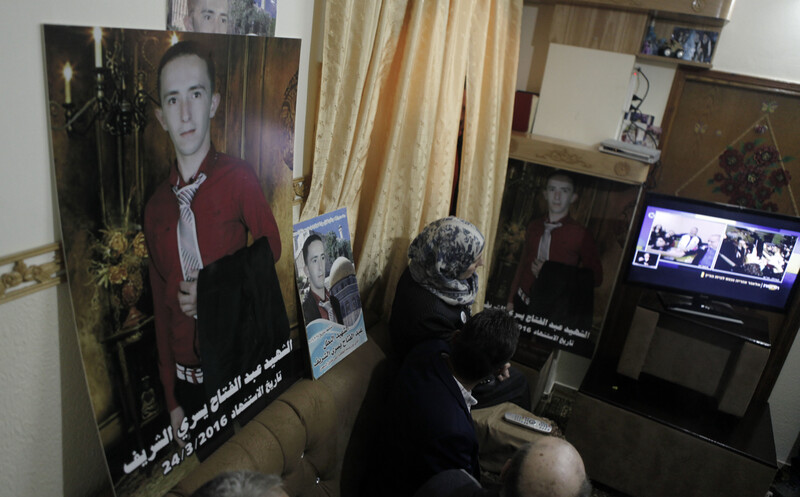 Elor Azarya, the Israeli army medic who shot dead injured Palestinian Abd al-Fattah Yusri al-Sharif last year in the occupied West Bank, was sentenced Tuesday to 18 months in prison, one year of probation and a demotion.
If not pardoned first, he may walk free after serving just a year in prison.
The light sentence was imposed even though judges found beyond any doubt that Azarya had acted in revenge.
"We are not surprised, from the onset we knew this was a show trial that will not do us justice," al-Sharif's family told media. "Even though the soldier was caught on video and it is clear that this is a cold-blooded execution, he was convicted only of manslaughter, not murder, and the prosecution asked for only a light sentence of three years."
"The sentence he received is less than a Palestinian child gets for throwing stones," the family added.
Azarya was indicted for manslaughter after he was caught on video shooting the head of the wounded and incapacitated al-Sharif lying in the street, killing him, on 24 March 2016.
Al-Sharif was shot dead along with Ramzi Aziz al-Qasrawi, both 21 years old. Israel alleges that they stabbed a soldier near the Tel Rumeida settlement in Hebron.
The killing of al-Qasrawi was not caught on video.
Israeli hero
Significant segments of Israeli society – egged on by right-wing politicians including education minister Naftali Bennett and defense minister Avigdor Lieberman – objected to any trial at all for Azarya and have celebrated him as a hero.
The trial court found "beyond all reasonable doubt" that Azarya had acted out of revenge rather than in self-defense.
But after obtaining a conviction, prosecutors asked for only three to five years imprisonment.
At the time of the verdict, Human Rights Watch said that senior Israeli officials have been "encouraging Israeli soldiers and police to kill Palestinians they suspect of attacking Israelis even when they are no longer a threat."
Prime Minister Benjamin Netanyahu quickly announced after the January conviction that Azarya should be pardoned.
He is accurately reading public sentiment, with Israelis reportedly supporting clemency by more than three to one.
Netanyahu, who is under investigation for corruption, is also trying to keep up with Bennett, a rival for the post of prime minister, who has repeatedly insisted Azarya be pardoned.
Impunity
The light sentence would appear to be another instance of the systematic impunity Israel affords its personnel who kill or injure Palestinians.

Last year, the Israeli human rights group B'Tselem announced it would no longer refer complaints of violence against Palestinians to Israel's military justice system.

"We will no longer aid a system that whitewashes investigations and serves as a fig leaf for the occupation," Hagai El-Ad, the group's director, explained.

Samir Zaqout of the Gaza-based Al-Mezan Center for Human Rights told Al Jazeera he was not surprised by the outcome.

"Palestinians don't expect any kind of justice from the Israeli legal system," Zaqout said. "The lives of Palestinians are judged as worthless."

Bill Fletcher, Jr., former president of TransAfrica Forum and a Palestine solidarity activist who was involved in the anti-apartheid movement, told The Electronic Intifada, "The sentencing of Elor Azarya reminds us that the value of Palestinian life is not the same as the value of Jewish citizens of Israel."

"An 18-month sentence is nothing more than a slap on the hand," Fletcher added. "It will do nothing to discourage further terrorist acts against Palestinians."

Rebecca Vilkomerson, executive director of Jewish Voice for Peace, similarly called the sentence a "slap on the wrist." She told The Electronic Intifada that this is "another example of the way in which the Israeli justice system is based on completely different standards depending on whether the victim and perpetrator are Jewish or Palestinian" – a reality she labeled "apartheid."

Highlighting the double standard, journalist Ben White contrasted Azarya's light sentence with the case of Ahmad Yasser Baraghithi, a Palestinian youth sentenced last year to eight years in prison on accusations of throwing stones and injuring an Israeli police officer in occupied East Jerusalem.

Al-Sharif's family members have previously said they intend to take their son's killing to the International Criminal Court, which is already examining a host of allegations of war crimes stemming from Israel's decades long occupation.
Tags