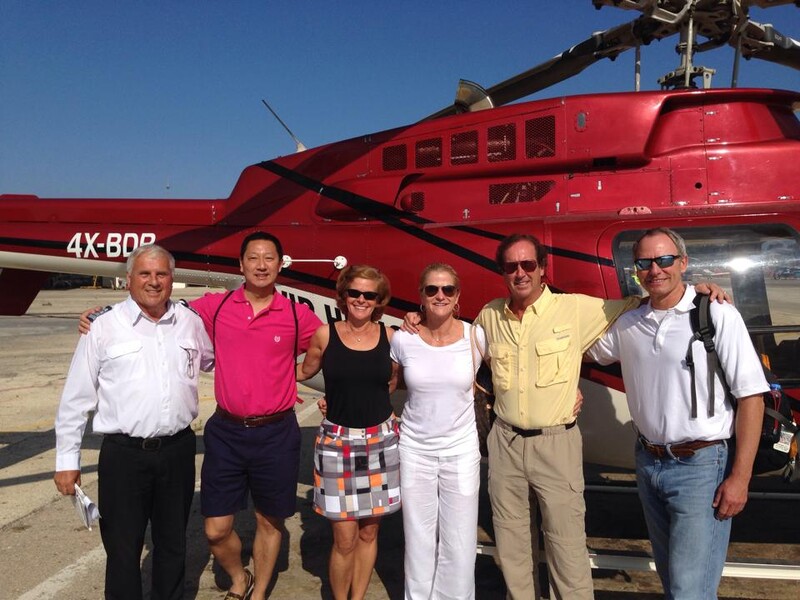 "Israel is an amazing place … So far we have visited Tel Aviv, Jerusalem and the West Bank." Those words were posted on Facebook last week by Santa Ono, president of the University of Cincinnati.

They may indicate that Ono is rather clueless about where he is (Jerusalem and the West Bank are not considered by any country to be part of "Israel"), or they may indicate that the Israel lobby junket on which he was traveling was having its intended obfuscatory effect.

Ono's travel was financed by the University of Cincinnati, a public institution.

From his arrival in the country on 12 May – he was traveling with a group of "civic leaders" from Cincinnati, Ohio – dozens of photos have been posted on Ono's personal Facebook and Twitter accounts and on the accounts of other participants.

Ono, a Canadian native and an accomplished researcher in eye diseases, has been celebrated for his bold use of social media, which in this case provides valuable insights into how Israel activists court US elites.

There are photos of Ono and colleagues going up in a helicopter to visit an Israeli military post in the occupied Golan Heights and then being wined and dined at the Golan Heights Winery on occupied Syrian territory – in other words, inside settlements that are illegal under international law.

There is a photo of Ono in the occupied West Bank – apparently at an Israeli settlement. Other images are from a visit to Ben-Gurion University, where the delegation went to discuss "bilateral academic cooperation."

The delegation went to the Holocaust memorial Yad Vashem and even met with Dan Shapiro, the US ambassador in Tel Aviv. And exhausted from their exertions, there are photos of Ono and his colleagues relaxing at the luxury King David Hotel in western Jerusalem.
Against academic boycott
Ono's junket can be seen as part of his continuing education by the Israel lobby, or perhaps a recognition of services rendered. Ono was one of several dozen US university presidents to condemn academic boycott.
"I do not support the American Studies Association boycott of universities and research institutions in Israel," Ono said. "Political issues notwithstanding, any such action runs counter to the intellectual freedom that lies at the very heart of the academy and the free exchange of ideas that build bridges across humanity."
Organized by Israel activists
The trip was organized by Cincinnati area pro-Israel philanthropists Julie and Steve Shifman and Bobby Fisher and his partner Arna, a former board member of the national campus Israel advocacy organization Hillel and the Israel lobby group AIPAC.
Among the participants were area various businessmen as well as Cincinnati USA Regional Chamber of Commerce CEO Brian Carley.
Based on his photos and social media postings, virtually every stop on Ono's itinerary appears part of an effort to shore up Israel's image amid mounting global criticism over its oppression and dispossession of millions of Palestinians.
Indeed the tour has been promoted and celebrated in The Times of Israel as part of Israel's effort to present itself to US elites as a forward-looking "Start-Up Nation."
Greenwashing or "techwashing" are Israeli strategies to market the country as an environmentally-friendly, high-tech haven to derail criticism of its atrocious human rights record.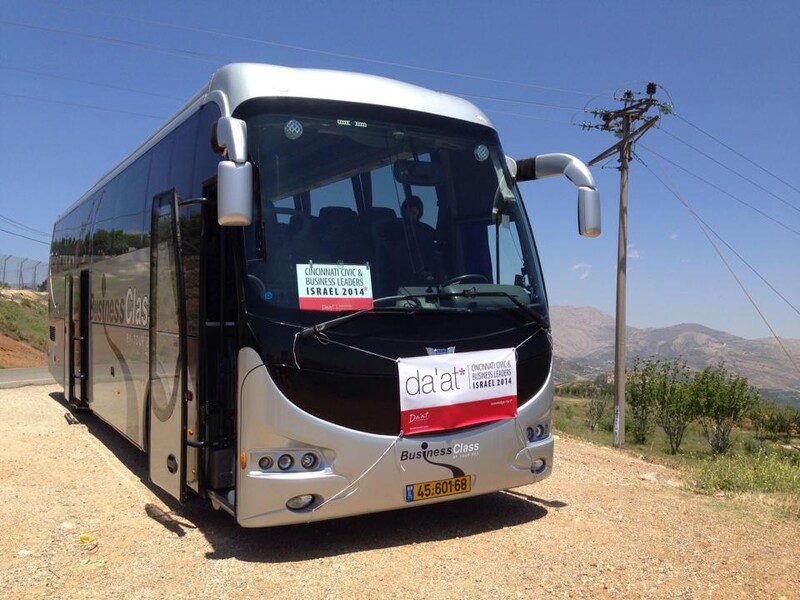 A photo posted by Ono of the tour bus the delegation used reveals that their itinerary on the ground was organized by Da'at, an Israeli company that specializes in organizing tours for pro-Israel organizations.
(A sample itinerary for a 10-day "Political & Security Briefing" tour on Da'at's website includes West Bank trips guided by settlers, numerous meetings with Israeli military personnel and visits to army bases and dinner with "Eitan Bronner of [T]he New York Times." This is presumably a reference to the newspaper's former Jerusalem bureau chief Ethan Bronner whose son notoriously served in the Israeli army.)
Inspired by the Israeli army
According to Shep Englander, chief executive of the Jewish Federation of Cincinnati who is also on the current trip, the participants, including Ono, would be bringing back to Cincinnati ideas "from the culture of the Israeli Defense Forces."
Englander did not specify if that included the Israeli army's "culture" of solitary confinement and torture and wanton killings of Palestinian children with total impunity.
The junket fits well into the 2010 strategy articulated by the Israeli think-tank the Reut Institute in 2010 and adopted by the Israeli government and major pro-Israel organizations in the US for how to fight back against so-called "delegitimizers" of Israel.
As well as counseling "sabotage" and "attack" against the Palestine solidarity movement, the Reut Institute called for pro-Israel groups to focus on "maintain[ing] thousands of personal relationships with political, cultural, media and security-related elites and influentials" around the world, and "harnessing Jewish and Israeli diaspora communities" for this purpose.
Thus the Israel lobby's courting of Ono can be seen as a model for how pro-Israel groups aim to shore up support and tamp down criticism by fostering such relationships with institutional leaders.
Funded by public university
Englander claims that the "25 Cincinnatians with whom I arrived in Israel … came as individuals and paid their own way."
But when I asked the University of Cincinnati who sponsored Ono's trip, university spokesperson Marianne Kunnen-Jones wrote to me that the university is paying Ono's expenses.
Where are the Palestinians?
I also asked Ono's office if he was going to meet any Palestinians or visit Palestinian institutions in order to obtain a more complete view of the situation.

I was particularly interested in whether Ono would visit Palestinian universities so he could learn first hand how Israeli occupation and movement and travel restrictions stifled the academic and intellectual freedoms of Palestinian students and educators.

"The trip to Israel was organized by a group of Cincinnati alums, business leaders and civic leaders. It is a professional trip. The group is meeting with educational, business and civic leaders," the university's Kunnen-Jones replied on 15 May.

"President Ono indicates that today there was a meeting with Palestinian businessmen and a former Minister in the West Bank. President Ono is always interested in getting all sides of a story."

In a particularly ironic moment, Ono wrote, "Looking forward to going to the West Bank with Linda Gradstein, long time Middle East correspondent from NPR … To understand the Palestinian perspective."

From what has been revealed, it appears Ono made a brief foray into Ramallah – typical of such Israeli-guided tours – where he might have met Palestinian tycoons and present or former Palestinian Authority figures, but would have had no face-to-face contact with ordinary Palestinians, especially those hardest hit by Israel's abuses.
Nakba Day killings
Ono's visit to Ramallah happened to take place on Nakba Day – when Palestinians commemorate the ethnic cleansing of hundreds of their villages by Zionist forces in 1948 – and involved what he called "a momentary scare when we drove past fires and rock throwing youths near a security check point in the West Bank."
"A group of masked teens approached our bus with rocks. One rock hit one of our bus windows and we all ducked behind our seats. Very sadly, two Palestinian teenagers were killed north of that check point."
The two teens, Muhammad al-Thahir and Nadim Nuwara, both from Ramallah-area villages, were shot dead in cold blood like hunted animals by Israeli occupation forces, as a shocking CCTV video released by Defence for Children International–Palestine Section has now revealed.
Following the killings, Amnesty International condemned Israel's "continuing recklessness in their use of force against Palestinian protesters."
"Israeli forces have repeatedly resorted to extreme violence to respond to Palestinian protests against Israel's occupation, discriminatory policies, confiscation of land and construction of unlawful settlements," Amnesty's Middle East director Philip Luther added.
Ono is unlikely to have been given that perspective by the Israeli military personnel and PR operatives guiding the tour, and his "momentary scare" does not seem to have inspired much contemplation about the nature of the relationship between Israelis and Palestinians.
A couple of hours later, Ono posted a status and some photos apparently taken from the luxury King David Hotel in western Jerusalem: "It is amazing to see Jerusalem for the first time. Today I stood outside the room where Jesus had his last supper. Very moving."
Millions of Palestinians, including Christians, are excluded from Jerusalem by Israel's racist ID card regime and would be unable to share his sense of wonder.
Nor is Ono likely to have seen Jerusalem as its Palestinians residents experience it – a Jerusalem of systematic house demolition and forced displacement and a Jerusalem where Israeli occupation forces raid homes during the night to arrest Palestinian four-year-olds.
For the head of a university that aspires to be one of the country's leading research institutions, President Santa Ono does not seem terribly curious.
Tags