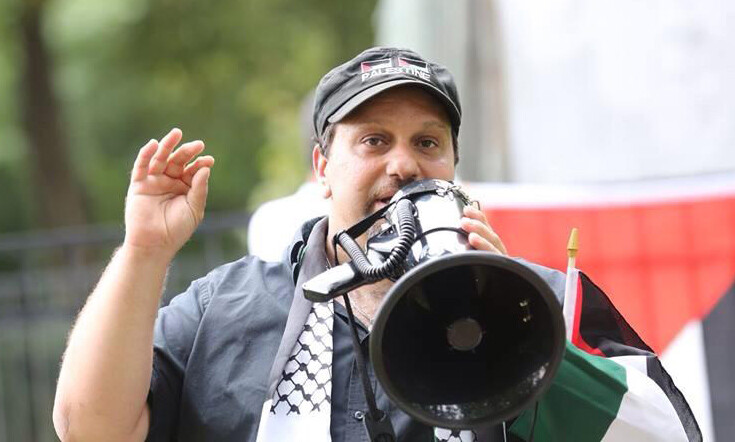 Abbas Hamideh, an activist with Al-Awda – The Palestine Right of Return Coalition in Cleveland, Ohio, was on his way home from work yesterday when his wife called to tell him two FBI agents were waiting for him.
"I was pretty shocked," Hamideh told The Electronic Intifada. "I thought maybe she was joking, like a prank. So I texted her and said, are you serious?"
Hamideh said he immediately posted this information to his Facebook page, which generated much concern from friends.
"When I got home they were actually sitting there having tea and enjoying it," Hamideh said.
The longtime organizer said he has been contacted by the FBI previously in relation to safety issues for planned public demonstrations, but normally he would speak to them in a public place.
"I thought it was a bit creepy to find them in my house," Hamideh said. "I didn't feel comfortable about it but they were already there, because my wife had let them in."
This time too the agents said they were coming to talk to Hamideh about a protest Al-Awda has called for this Sunday against a game between the Cleveland Cavaliers NBA basketball team and Israel's Maccabi Electra Tel Aviv.
"They told me they just wanted to know is this going to be another peaceful rally, because they understand this is what Al-Awda does," Hamideh said. "Obviously I told them, yes, it's going to be a peaceful rally."
Hamideh said he told them he had notified the Cleveland police department of the location as his group typically does when a large event is planned.
The Jewish Federation of Cleveland is promoting the exhibition game as an opportunity to "show your solidarity with Israel."
It also attacked the planned protest and blamed Palestinians in Gaza for their own deaths during Israel's summer assault that killed more than 2,100 people, including more than 500 children.
"Once again, this Palestinian group refuses to protest in the right place," Jewish Federation of Cleveland president Steve Hoffman told Cleveland.com.
"They should be protesting the terrorist leadership of Hamas that started the war this summer, prolonged the war this summer, and, in doing so, caused the death of its own innocent civilians," he added.
FBI responds
Special Agent Vicki D. Anderson, spokesperson for the FBI Cleveland division, confirmed the visit to Hamideh's home.
She told The Electronic Intifada that the agents had "a very pleasant visit and drank tea with everyone and it wasn't something they wouldn't have done if it was an Israeli group staging this protest."
Anderson insisted "it's not in any way an intimidation thing," but rather was "proactive outreach" to say "if someone in your group is taking your message and perversing it, then here's who to call."
Asked if anyone had reported the planned protest to the FBI, Anderson said, "We can't comment. We're obviously aware when any gathering is occurring in our territory."
She said that "we look online and we see where people post things about public events so we're not caught unawares."
When asked if the visit to Hamideh had occurred because Al-Awda is a Palestinian and Arab-American related organization, Anderson replied "Absolutely not."
She said that during the recent Gay Games that were hosted in Cleveland the FBI had carried out similar "outreach" efforts.
"Obviously the FBI does not have an issue with anyone protesting," Anderson said. "We respect freedom of speech."
Given that the Jewish Federation of Cleveland had criticized the Al-Awda protest, The Electronic Intifada asked if FBI agents had visited it as well.
"I don't know. I can't get into specifics," Anderson said. "We do know the Jewish Federation. I'm not at liberty to release those details."
Hot tea, chilling effect
The visit to Hamideh prior to a planned public protest is especially notable in light of persistent efforts by the Anti-Defamation League and other anti-Palestinian groups to paint Palestine solidarity protests as potentially violent, criminal and inherently threatening to Jews.
Hamideh acknowledged that the FBI might have a legitimate interest in ensuring public safety. But he also said that such visits have a chilling effect on the community.
"It makes activists uncomfortable. Because here's two agents sitting in my house. If I had been home I would not have let them in," he said.
"I think the impact is if you let them get to you, and if people hear about this, it creates a fear. You know, 'Abbas is active, and the FBI is on his tail.'"
"I felt there was kind of a deceiving tactic that they went to my door and they went through my wife," Hamideh said.
"I'm sure to a certain extent they do have concerns about safety issues," he added. "But I think it's also to create some fear in the community [saying] that 'if you're vocal, we're monitoring you.'"
Hamideh said there were widespread concerns in the community about the FBI trying to recruit people as informants. He said that while he was prepared to speak to public authorities about safety issues, he would not go beyond that.
"But if it gets too personal and if they start asking questions about other people, I put a stop to that right away," he said.
Hamideh stressed that no one is required to talk to law enforcement.
Following his own experience, Hamideh's advice to activists is "don't let this intimidate you. When we get these types of visits we know we're doing the right thing and the Zionists are making noise about it."
Above all, he advises, know your rights.
Know your rights
The National Lawyers Guild has published a pamphlet called "You have the right to remain silent: A know your rights guide for law enforcement encounters."
It is designed to be "a practical resource for activists and others when dealing with law enforcement."
If the FBI or the police come to your door, NLG advises:
Do not invite the agents or police into your home. Do not answer any questions. Tell the agent that you do not wish to talk with him or her. You can state that your lawyer will contact them on your behalf. You can do this by stepping outside and pulling the door behind you so that the interior of your home or office is not visible, getting their contact information or business cards and then returning inside. They should cease questioning after this. If the agent or officer gives a reason for contacting you, take notes and give the information to your attorney. Anything you say, no matter how seemingly harmless or insignificant, may be used against you or others in the future. Lying to or misleading a federal agent is a crime. The more you speak, the more opportunity for federal law enforcement to find something you said (even if not intentionally) false and assert that you lied to a federal officer.
This is exactly the advice followed by a member of the Palestinian American community when he was visited recently by FBI agents in Chicago.
Palestine Solidarity Legal Support and the Center for Constitutional Rights have also published a "Legal and Tactical Guide for Palestinian Human Rights Advocacy in the US."
In 2012, youths with Chicago's Arab American Action Network produced this video as "a humorous look at an important topic in our community – the rights that we believe too many of us do not fully understand when approached by the FBI":
Tags