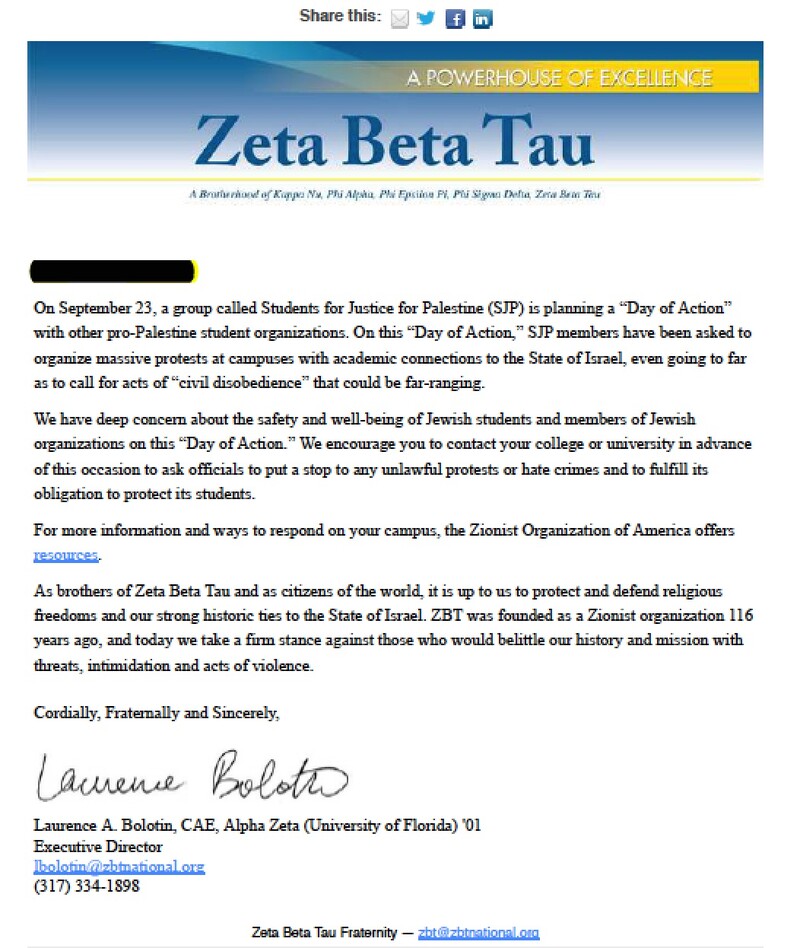 A fraternity with dozens of chapters on campuses across the United States has sent an email to its members insinuating that actions by Palestine solidarity activists planned for today may include violence against Jews.
The email from Zeta Beta Tau (ZBT), which describes itself as "the world's first Jewish fraternity," appears to be the latest attempt by a pro-Israel organization to stoke tensions between Jewish and other students in an effort to discredit criticism of Israel following the recent massacre in Gaza.
"On September 23, a group called Students for Justice in Palestine (SJP) is planning a 'Day of Action' with other pro-Palestine student groups," the email from Laurence A. Bolotin, ZBT's executive director, states.
"On this 'Day of Action,' SJP members have been asked to organize massive protests at campuses with academic connections to the State of Israel, even going to far [sic] as to call for acts of 'civil disobedience' that could be far-ranging," the email continues.
The Electronic Intifada received a copy of the email from a ZBT member who asked to remain anonymous because he feared that he or his family would be vulnerable to harassment and bullying if his identity was exposed (ZBT is an all-male organization).
The student said he was alarmed by the organization's "fearmongering" among members of ZBT as well as its attempts to suppress dissenting opinions about Israel.
ZBT's Bolotin did not immediately respond to an email requesting to speak to him.
AMP day of action
The ZBT email appears to be referring to the "International Day of Action on College Campuses" to "Free Palestine and End the Siege on Gaza" called for by the group American Muslims for Palestine (AMP), which is not the same as SJP.
Among the slogans AMP proposes are "No to Academic Complicity with Israeli Occupation," "No to Targeting Faculty for Speaking Against Israeli Crimes," and "No Campus Police Training or Cooperation with Israeli Security."
AMP also urges students to oppose "university coordination and strategizing" with such groups as the Anti-Defamation League, the Zionist Organization of America, StandWithUS and the Israeli consulate "to limit students' pro-Palestine constitutionally protected activities."
In light of this call, "We have deep concern about the safety and well-being of Jewish students and members of Jewish organizations on this 'Day of Action,'" the ZBT email states.
Bolotin urges members to contact the Zionist Organization of America – a notoriously extreme anti-Palestinian group – for "more information and ways to respond on your campus."
"As brothers of Zeta Beta Tau," Bolotin writes, "it is up to us to protect and defend religious freedoms and our strong historic ties to the State of Israel."
"Acts of violence"
Bolotin's email notes that "ZBT was founded as a Zionist organization 116 years ago, and we take a firm stance against those who would belittle our history and mission with threats, intimidation and acts of violence."
It is ZBT, however, that glorifies Israeli violence against Palestinians.
ZBT's insinuations that students supporting Palestinian rights are inherently violent, and the deliberate and provocative conflation of protesting Israel and its crimes with anti-Semitism appear to come right out of the playbook of the Anti-Defamation League (ADL).
The ADL, one of the most vocal anti-Palestinian groups in the United States, last week sent an email to California campus leaders making similar insinuations against AMP and urging what amounts to a preemptive crackdown on speech and activities calling attention to Israel's crimes.
Indeed, ZBT appears to indoctrinate its members that being Jewish and giving political support to Israel are one and the same thing. Under the "Jewish heritage programming" section of its website, the fraternity lists partnerships and advocacy opportunities with, among other Israel lobby groups, AIPAC and the Israel on Campus Coalition.
In 2010, ZBT granted "honorary membership" to the leaders of several of the pro-Israel organizations it partners with, including the Israel Campus Coalition.
Supporting attack on Gaza
This summer, ZBT members demonstrated their support for Israel's assault on Gaza during their national convention in Washington, DC which coincided with the attack.
ZBT chapters have also hosted events honoring graduates who have volunteered as "Lone Soldiers" in the Israeli army, participating directly in occupation of Palestinians and the 2006 invasion on Lebanon. "Lone soldiers" are people who serve in the Israeli military, even though they have no family members living in Israel.
Next month, the ZBT chapter at Brooklyn College is holding a "Letters for Lone Soldiers" event where members will gather at the Hillel building to write "letters to soldiers in the Israeli Defense Force." Hillel is a nationwide network of campus centers for Jewish students, but the organization enforces a strict policy that excludes Jewish students who dissent from support of Israel.
"In the tough time that the state of Israel is going through supporting their troops with letters is a great way to give thanks," an event announcement on Facebook states.
Such activities raise questions about the role organizations like ZBT and Hillel play in radicalizing American youths on college campuses who may then go on to take up arms in a foreign sectarian army engaged in a "holy war" on Palestinians.
Indeed, the militarization of US campus anti-Palestinian activism appears to be in full swing. The Israeli government-backed Jewish Agency is currently sending dozens of Israeli army soldiers to US campuses – so called "Israel Fellows" – on deployments to "empower student leadership and create Israel-engaged campuses."
History of violence in ZBT
Ironically and tragically, ZBT, like other fraternities, has a long history of internal violence and bullying called "hazing" – an undeniable fact that lends credibility to the fears for his safety of the student who exposed the email.
ZBT chapters have been sanctioned or closed down at several campuses in recent years due to violence.
In 2002, Alfred University in New York State abolished fraternities and sororities altogether after Benjamin Klein, a 21-year-old student, committed suicide after enduring torture by two members of ZBT.
According to the university, two ZBT members pleaded guilty to beating Klein in the head while he was bound and gagged.
Three days later, Klein took an overdose and his "bruised and cut body was found … in a creek behind their fraternity house."
As students return to campus this fall, ZBT is urging its members to "make a personal commitment against hazing, abuse, degradation or humiliation of others."
ZBT should set an example by ending its institutional backing for Israel's abuse, degradation, humiliation and worse of millions of Palestinians.
Tags