The European Christian fight for anti-Semitism was always a fight to grant Christians superior rights to Jews and to institutionalize that superiority as racial and religious supremacy.
In response, the European Jewish fight against anti-Semitism was and remains a fight against the reduction of the rights of Jews (if not their elimination altogether in the case of the Nazis), against the project to render European Jews an inferior species of citizens, and against white European Christian supremacy.
This has been a historical fight that multitudes of non-Jews have joined on both sides. However, ultimately it was European Jewish fighters against anti-Semitism and their gentile allies who won this key battle against inequality, oppression, racial and religious discrimination and genocide.
The European Jewish and Protestant fight (the latter preceded the former by three centuries) for Zionism, in contrast, has been and remains a fight to grant European Jews more rights than non-Jews (and non-European Jews) on a religious, ethnic and racial basis.
This superiority would be granted especially vis-à-vis Palestinian citizens of the Jewish settler-colony (if not eliminating their rights altogether as many Zionist Jews call for), as well as eliminating the rights of the Palestinians in the territories Israel occupied and colonized since 1967 and those it expelled and exiled since 1948 outside the borders of their homeland.
Multitudes of Jews and non-Jews have also joined this historical fight for racism, discrimination and colonialism. The Palestinians and their Jewish and non-Jewish allies refuse to give up and continue to resist Zionism's insistence that European (and other) Jews must have superior and supremacist colonial, racial and religious rights in Palestine.
The Jewish fight for Zionism (which has never included and still does not include all Jews) is the exact opposite of the Jewish fight against anti-Semitism (which also never included all Jews); the former is a fight for European Jewish supremacy while the latter is against European Aryan and Christian supremacy.
This in a nutshell exposes the outright Zionist lie that claims that the struggle against anti-Semitism and the struggle for Zionism are one and the same.
Recruiting Jews to kill Palestinians
This is important to consider when we examine the international Zionist Jewish brigades that have volunteered to join the Israeli colonial army with much eagerness to kill Arabs and Palestinians. This has been a successful project in light of the mobilizational Zionist and Israeli Jewish propaganda in the last seven decades among the Jewish communities of the United States, France, the United Kingdom, Canada, Russia and Argentina, to name the most prominent Jewish communities outside Israel.
This propaganda campaign aimed at transforming members of these communities from fighters against white Christian supremacy into fighters for European Jewish racial and colonial supremacy.
The dissemination of racist Israeli Jewish culture internationally goes hand-in-hand with Zionism's pan-Jewishism, whereby, just as anti-Semitism speaks against all Jews, Zionism claims to speak for all of them — and reassures Jews that Israel is their country and that they should move to colonize it, failing which it would function as a spare country awaiting their arrival on a need to colonize basis.
That the major North American and European organizations that claim to speak for Jews have endorsed Israel's right to speak for them and have been the major conduits for the hateful racist Israeli Jewish propaganda against the Palestinian people makes them fully complicit in the ongoing slaughter and oppression of the Palestinians. This is especially so given that they openly support anti-Palestinian Israeli colonial policies and urge their respective governments and media to do the same. (We must keep in mind these organizations and their wealthy leaders are not elected by members of the Jewish communities but appoint themselves as their representatives and speak for them in these organizations' newspapers, which constitute what is referred to as the "Jewish" press.)
This is not to say that members of the Jewish communities are not pro-Israel and fervently anti-Palestinian, which they are in their majority, but it is to say that polls have shown them to be less murderous and hateful than the organizations claiming to represent them.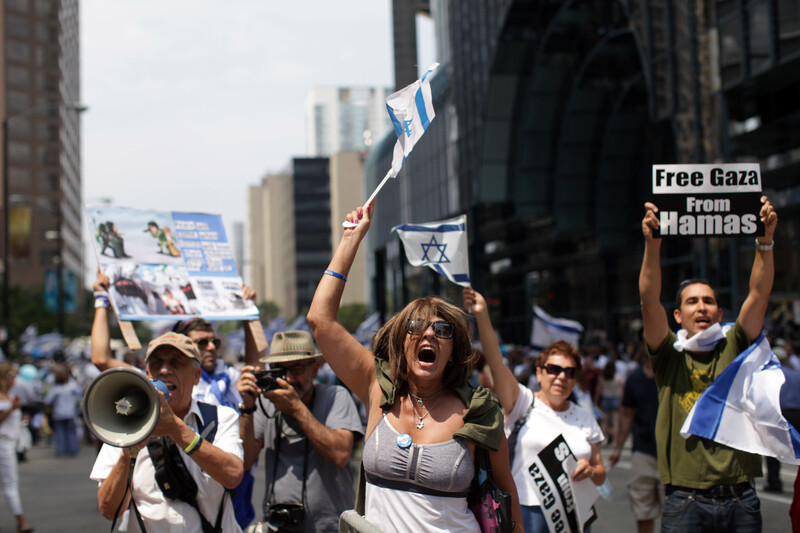 Thus, Israel has created a hegemonic racist Jewish culture that does not only dominate Israeli Jewish communities but also Jewish communities in Europe and its settler colonial extensions (in the Americas, in Australia and in South Africa). This, however, was never sufficiently successful to produce millions of Jewish volunteers for Israel's colonial cause (no matter how much European and American Jews support Zionism and Israel, few would want to fight or die for it). But it did create the conditions for thousands of young Jewish (mostly male) fighters for European racial supremacy to join the Israeli colonial army seeking to prove the superiority of European Jewishness (and a concomitant European Jewish manliness) by slaughtering Palestinians.
The Israeli colonial army advertises several programs to accommodate international Jewish volunteers for the oppression of the Palestinians. It provides them with the option to serve in the Israeli army in "full combat and support roles," namely in its "Mahal" program, to fulfill their commitment to the Zionist cause of European Jewish supremacy without necessarily having to become Israeli citizens.
There is also the smaller "Marva" program in which young teenage Jewish recruits for Zionist Jewish supremacy can participate "in this immersive army program, serving alongside fellows from countries around the world."
Israel's killing machine proudly declares that "over 300 Jewish teens from all around the world volunteer to serve" in the Israeli colonial army annually as part of the four thousand "Jewish and non-Jewish" volunteers who "fly to Israel and volunteer in the IDF [Israeli military] for several weeks." These may not be impressive numbers, but there are more.
One of the programs engineered to recruit Jewish youth for racial and religious supremacy is the "Garin Tzabar" project. Garin Tzabar means "cactus seed," or "Sabra seed," in reference to Palestine-born Israeli Jews, hence the importance of this program as a reproductive and masculinist project aimed at populating the Jewish settler-colony with more Zionist Jews committed to the superiority of European (and other) Jews over Palestinians.
Garin Tzabar, according to the Israeli colonial army, has "already helped over 1,500 teens from all around the world join the IDF and approximately 70 percent of the immigrants have stayed in Israel after their service."
Garin Tzabar is not the only volunteer program. There are others like the "Sar-El" program, which claims that it has brought between 1983 and 2011 "more than a hundred thousand volunteers to Israel … 
Staying in Israel for several weeks, the participants share a true IDF experience on IDF bases" (Israel refers to these European and American volunteers for Jewish racial supremacy as "lone soldiers").
The Israeli military claimed that in 2012, "5,500 lone soldiers" were serving in its colonial forces whereas today it claims to have 4,600 volunteers, one-third of whom are Americans.
In the ongoing barbaric slaughter of Gaza Palestinians, two of the Palestinian baby-killing Jewish soldiers (as I've written previously, targeting and killing Palestinian children is an old Zionist tradition) who were killed by the Palestinian resistance were American Jewish volunteers for Jewish racial and colonial supremacy.
They quickly became heroes for the American press, "Jewish" and "gentile" alike. Indeed an article appeared in The Washington Post to show how these baby-killers are different from Muslim foreign fighters who volunteered to overthrow the Afghani communist government and more recently several Arab governments ("'Foreign Fighters' for Israel," David Malet, 22 July 2014). Few, however, mention the White European and American Christian mercenary foreign fighters who have served tyrannies around the word since the Second World War.
Colonial recruitment
These Israeli volunteer programs build on the legacy of the four thousand Jewish volunteers who came to fight the Zionist colonial war of 1948 that captured Palestine and expelled its population and established the European Jewish-supremacist settler-colony. Known as Mahal, the main volunteer program included American Jews as prominent and important members assisting in Israel's colonial conquest.
They included Mickey Marcus, an American Jewish US Army colonel who became Israel's first brigadier general. Marcus' Second World War experience was instrumental in breaking the 1948 "siege of Jerusalem."
Other important Jewish volunteers included the Canadian officer Ben Dunkelman and US pilot Milton Rubenfeld, as well as British Jewish Major Wellesley Aron who helped in the recruitment of American Jews for Zionism's colonial war. European and American Christian Zionist mercenaries also helped, especially in the Zionist air force. These colonial volunteers fighting for racism, especially from the UK, constituted almost two-thirds of the settler-colony's air force during the 1948 war.
David Ben-Gurion, the Jewish settler-colony's first prime minister, was so thankful to them that he stated that "the Mahal [volunteer] Forces were the Diaspora's most important contribution to the survival of the State of Israel." Indeed they were: 123 of them died in that colonial war.
Jews in the struggle against Israeli racism
But unlike Jews inside Israel, Jewish communities in Europe, North and South America, and even in Australia, live in cultures that are not fully controlled by Zionist propaganda and therefore are not fully under the sway of the racist culture that Israel seeks to impose on them. It is this that explains how an increasing number of prominent members in the Jewish communities of the US and the UK, among intellectuals and academics, are in the forefront of the struggle against Israeli Jewish racism and colonialism (in contrast with apartheid South Africa which had a substantial number of white anti-racist activists and intellectuals, only a few Israeli Jewish intellectuals have been able over the decades to escape Israeli racist brainwashing — a feat unto itself).
Today many American Jewish luminaries in academe oppose Israeli policies unreservedly. Whereas once Noam Chomsky was a lone Jewish academic voice critical of Israel, he is today joined by scores of Jewish academics and intellectuals in opposing Israeli policies (of course these Jewish academics along with anti-Zionist gentile academics remain a minority and are outflanked by the much larger Jewish and gentile academics who are militant enemies of Palestinians, Arabs and Muslims).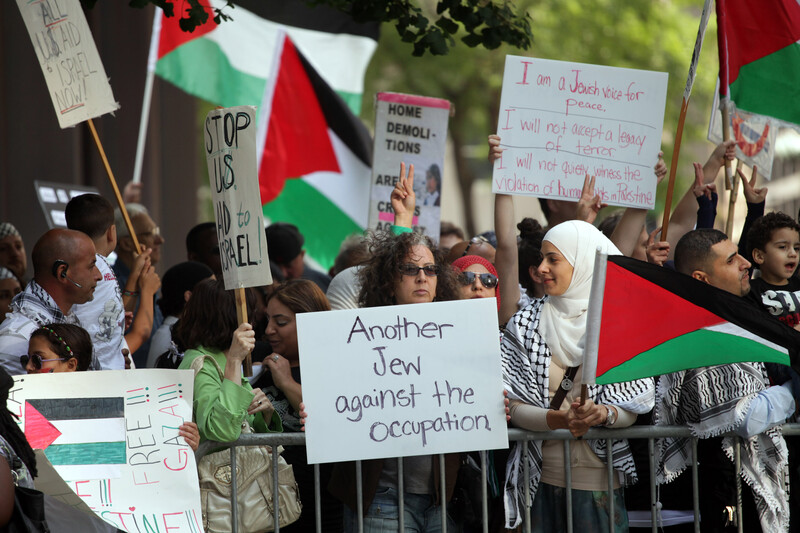 Some, like the prominent American Jewish philosopher Judith Butler, have surpassed Chomsky in their opposition to Zionist and Israeli racism and colonialism, and are vocal supporters of the boycott, divestment and sanctions (BDS) movement and call for a one-state solution, both of which Chomsky does not support. In fact, a few Palestinian-American academics have also opposed both of these important positions or remained "neutral" on them (some used the rhetorical strategy, of "on the one hand this and on the other hand that"). Though in the last year some, fearing being left outside the leftist mainstream which has adopted these positions, have decided to show a belated "courage" in adopting these positions more than a decade after everyone else has.
And this is not limited to Jewish intellectuals but extends also to Jewish activists, especially groups like Jewish Voice for Peace (which, among many of its anti-racist activities, played an important role in helping Palestinians and others persuade the Presbyterian Church USA to divest from companies profiting from the Israeli occupation), and the countless Jewish students joining, and in a good number of cases, leading groups like Students for Justice in Palestine based on their commitment to fight racism and colonialism, values that are the diametrical opposite of Zionist colonial racism and fascist tribalism.
It is these Jewish fighters against Zionism and Israeli colonialism and racism that are continuing the Jewish fight against anti-Semitism but who remain unsung heroes in the American "Jewish" and "gentile" press that prefers to celebrate baby-killing Zionist Jewish volunteers for Israeli Jewish supremacy instead.
These Jewish fighters against racism have joined the Palestinian people and their international allies (Jewish and gentile alike) in fighting this ongoing historical battle against the forces of racial supremacy and colonial conquest. They understand well, as the Palestinian national movement has always understood, that the fight for Palestinian rights and liberation from the Jewish settler-colony is the latest phase of the historic fight against anti-Semitism and that the fight for Zionism is part of the war for European racial supremacy and colonialism.
The carnage that Israeli Jewish soldiers and international Zionist Jewish brigades of baby-killers are committing in Gaza (and the West Bank, including East Jerusalem, let alone against Palestinian citizens of Israel) is but the starkest reminder of this unshakeable conviction.
Joseph Massad is professor of modern Arab politics and intellectual history at Columbia University. He is author of the forthcoming Islam in Liberalism.
Tags