He's back.
Only months after he was supposedly "reprimanded" for his conduct on social media, Israeli army Golani Brigade soldier Osher Maman is again publicly disseminating racist and violent material including outright calls to murder Palestinians.
This comes as Israel has launched yet another effort to control its soldiers' often embarrassing online image.
Maman's latest antics include the posting the above image to his account on the photosharing website Instagram. It shows a man – apparently Maman himself attempting to disguise his identity – holding the flag of the racist anti-Palestinian organization Kach (also known as Kahane Chai).
Kach is banned even in Israel and is considered a "terrorist" organization by the United States, Canada and the European Union. The flag is also used by the Kahanist anti-Arab group the Jewish Defense League (JDL).
In comments accompanying the photo, Maman indicates his awareness and approval of the symbol, identifying it as belonging to the JDL.
Stoned, naked, (and still) armed and dangerous
Last February, in "Stoned, naked, armed and dangerous: more disturbing images from an Israeli soldier's Instagram," I exposed Maman – a troubled Florida youth who tried to turn his life around by joining the Israeli army – posting pictures of himself naked, using drugs and misusing weapons.
Maman also expressed deeply racist and even genocidal views towards Palestinians and Arabs, tweeting at one point, "Just took an Arab out… Whataa feeling."
This led the Israeli army to "reprimand" him. Yet Maman's recidivism indicates at the very least that despite its efforts to stop soldiers posting embarrassing material revealing their true feelings about the Palestinians they rule by military force, the Israeli army is unable or unwilling to do so.
Call to murder
On 13 November, Maman also shared the above image on his Facebook page which includes outright incitement to murder Palestinians. In Hebrew it states:
Soldier! Stones and Molotov cocktails can kill you! Do you feel a threat to your life? Raise your weapon and give the murderer a bullet in the head. You may go to prison, but at least you'll be alive.
In addition to inciting killings of Palestinians, this message gives the false impression that Israeli soldiers are likely to pay a price for murder. There's little evidence of that, as Israeli soldiers who murder Palestinians enjoy near total impunity.
Maman shared this image from a Facebook group with the Hebrew name "I'm Jewish and proud," in which other racist and violent material is passed around by people presenting as soldiers, members of the Israeli police, or their supporters.
For example, another item posted in that group (though not shared by Maman) is this photo apparently showing a group of Israeli soldiers burning Palestinian flags. It received almost 4,000 "Likes" and dozens of approving, frequently racist, comments.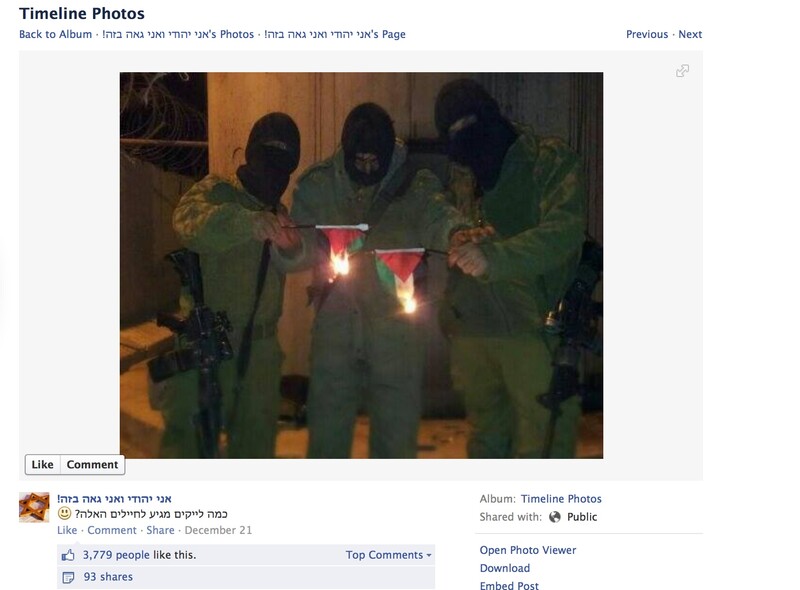 Failed efforts to control social media use
Last February's revelations about Maman, as well as a number of other embarrassing incidents exposed by The Electronic Intifada, led the Israeli army to launch a campaign to convince its members to stop posting damaging material to social media accounts.
It included a YouTube video telling soldiers "Always remember: You are the face of the IDF. So improve your appearance - online!"
"The IDF is glad to invite you to get connected, share, love, tweet, respond, and show the pretty face of the IDF," the video adds.
The message did not get through to Maman and to many other Israeli army members who continue to reveal their true sentiments online.
"Selfie squad"
This week The Guardian reported that "Having suffered a PR battering from viral video clips showing its soldiers in an unflattering light, the Israel Defence Forces are firing back with a combat camera unit trained to show their version of the story."
Dubbed the "selfie squad" by the newspaper, the soldiers in this special unit are trained to "film, edit and broadcast from the battlefield."
It is clear that the purpose is PR and propaganda. "My main mission is to film. I think the job of anyone recording what happens is much more important than any fighter," one member of the unit told The Guardian.
"There are lots of cameras on the other side. They show us apparently acting in an unfair way to civilians, to our enemies. We are here to explain and to document for the entire world that we don't use force for bad."
Welcoming propaganda
Bizarrely Israeli human rights group B'Tselem reportedly "welcomed the new unit."

"More documentation is a very positive thing," B'Tselem spokeswoman Sarit Michaeli said. "There are a lot of arguments about the facts of various incidents. The problem is that the army doesn't release this footage and when it does, it releases very heavily edited sequences."

But as Michaeli surely knows, the problem is rarely a lack of evidence. Even when there is plenty of evidence and documentation of incidents, the problem is systematic impunity and lack of accountability.

Israeli top brass are deluded if they think that they can successfully present their occupation troops as anything other than what they are: foot soldiers in a systematic colonization effort which requires enormous amounts of violence and humiliation in an attempt to suppress Palestinian resistance to land theft for the benefit of Jewish settlers.

Rather than helping Israel's image, the army's attempt to co-opt and control its soldiers' social media use will only generate the suspicion that every artifact created online by army-age Israeli youth is part of an official hasbara – propaganda – war.

While, say, French or American youths can make "selfies" without worrying that their images are going to be taken to represent their nation, young Jewish Israelis will no longer have this option. Their images are now politicized, militarized and instrumentalized by their army.   As for troubled and homicidally inclined Florida youth Osher Maman, he and others like him may be off message, but they are too often the true, and not-so-pretty face of the "IDF."
A record of online hatred
Some of The Electronic Intifada's most-read posts documented the torrent of violent hatred spewed online by Maman and his comrades in arms:
Tags