Since The Electronic Intifada revealed the shocking Instagram photos posted by Israeli soldiers Mor Ostrovski and Osher Maman, even more disturbing images have come to light. Some of the ones below were found by Israeli blogger "Zeatu" and others by The Electronic Intifada.
Images from "ybaruch"
Instagram user "ybaruch" describes himself as "Retired Operations Sergeant at the Israeli army, now just a student" and gives his age as 21. He says that all the 144 images images posted to his account are his. Many of the images in his account indicate that "ybaruch" took part in frequent night raids and armed attacks on Palestinian communities in the occupied West Bank.
Although it is impossible to know the location of the incident in the photo above, the Palestinian Centre for Human Rights records that during the week of 5-11 July 2012, Israeli occupation forces carried out "at least 63 military incursions into Palestinian communities in the West Bank. During these incursions, [Israeli occupation forces] arrested 26 Palestinians, including 7 children." The blindfolded and bound man in the image may have been one of those captured.
This image is particularly disturbing. Palestinians face long delays at the hundreds of Israeli military checkpoints throughout the occupied West Bank, often held, humiliated or turned back by teenage Israeli soldiers. Playing a "card game" with Palestinian ID's shows the power Israeli soldiers exercise over Palestinians and the contempt in which the soldiers hold those over whom they rule.
This image shows occupation soldiers prying open the door of a house in the occupied West Bank city of Tulkarm. Israeli occupation forces carry out hundreds of night raids every year, seizing Palestinians from their beds.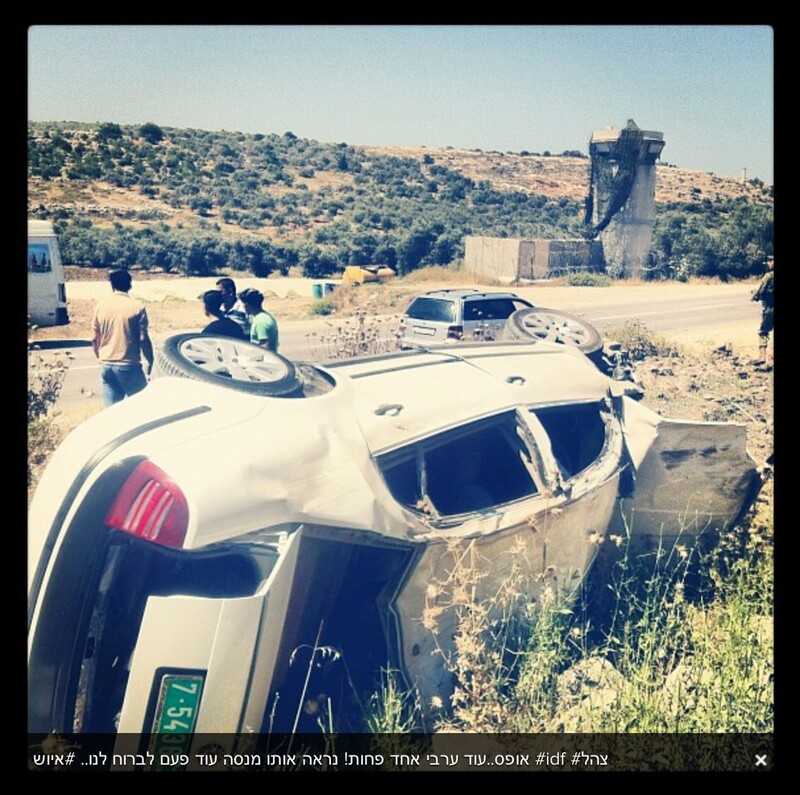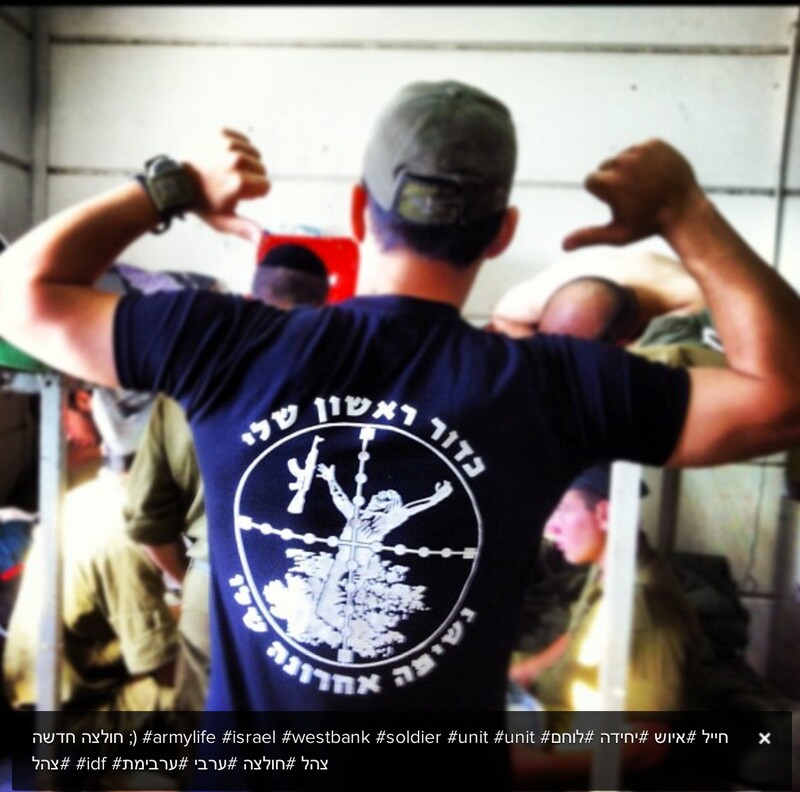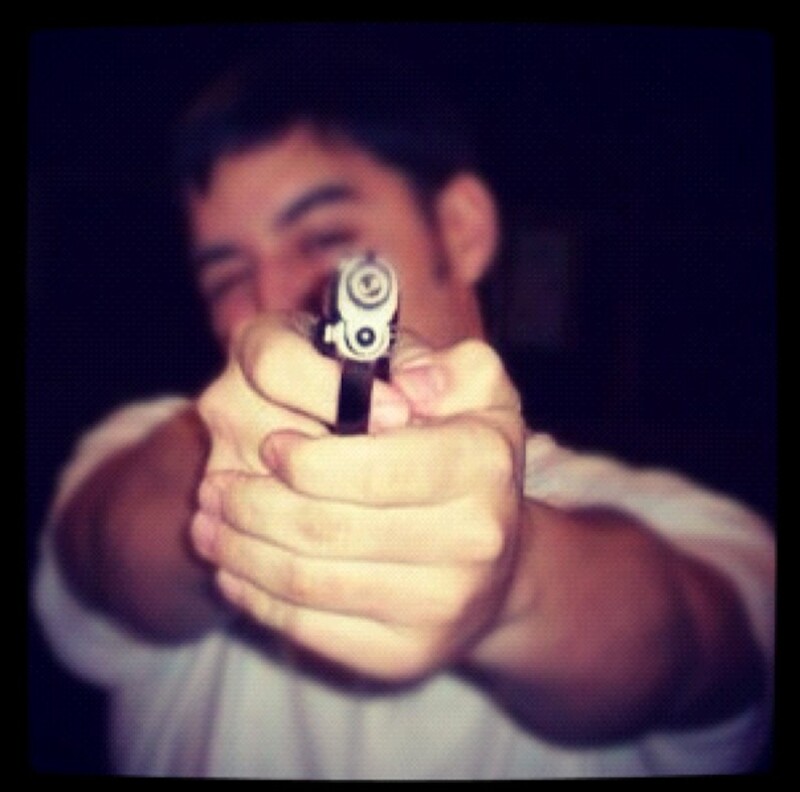 Images from Eliya Hatan
Israeli soldier and Instagram user Eliya Hatan gives his age as 19, and according to his Facebook page he is a member of the Kfir Brigade. The image at the top of this post comes from Eliya Hatan's account. It shows two Palestinian men, perhaps laborers, seen through a gunsight and recalls the notorious photo of the child in the sniper's gunsight posted by Mor Ostrovski.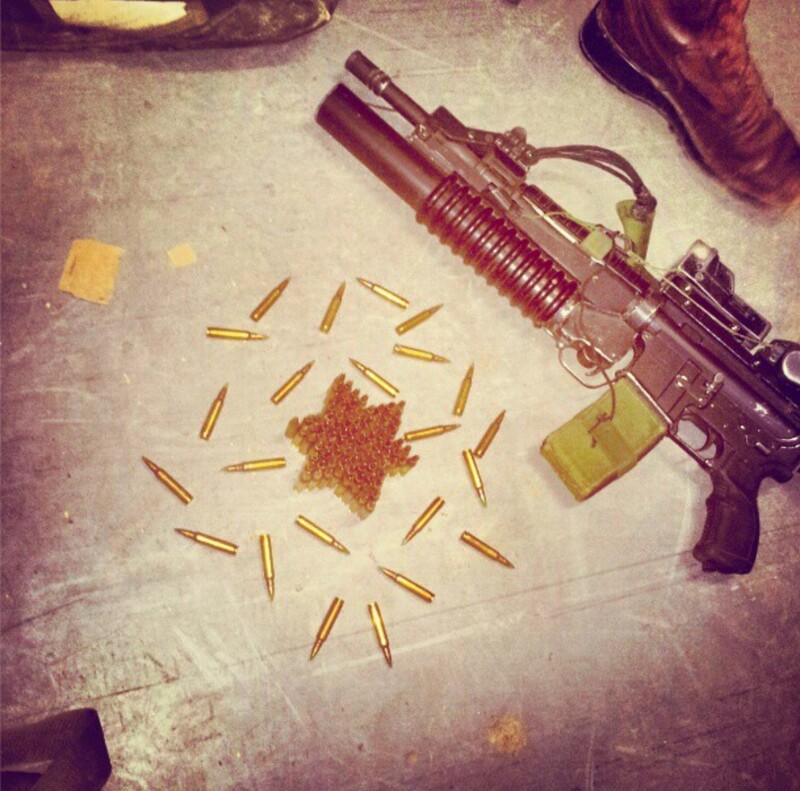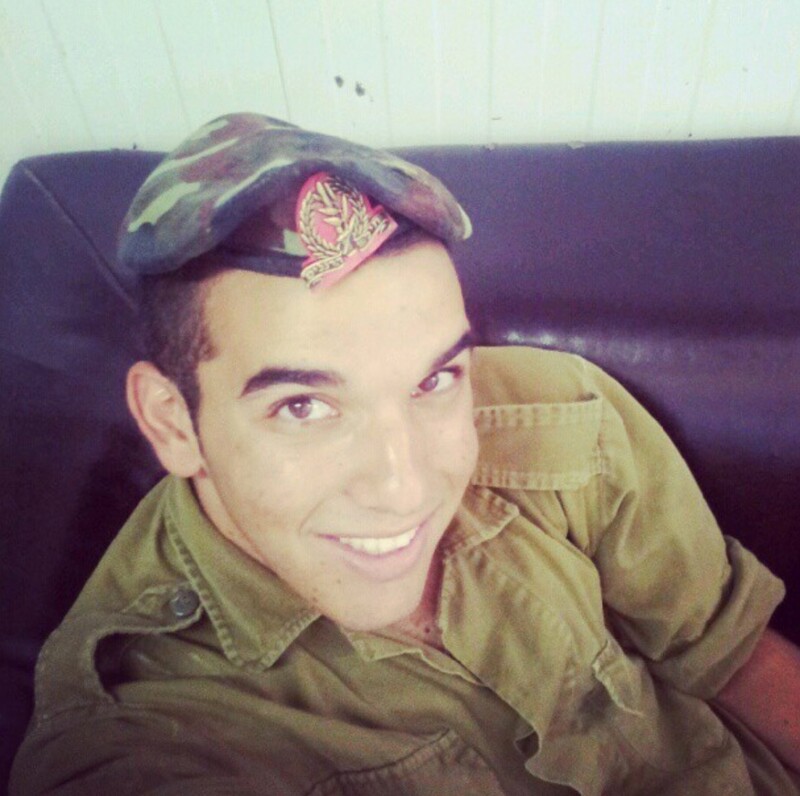 Images from "dk_1988_"
Instagram user "dk_1988_" gives his age as 24. Several of the 105 images posted to his account indicate that he is a member of the Israeli "Border Guard" a paramilitary unit responsible for regular violence against Palestinian civilians under occupation.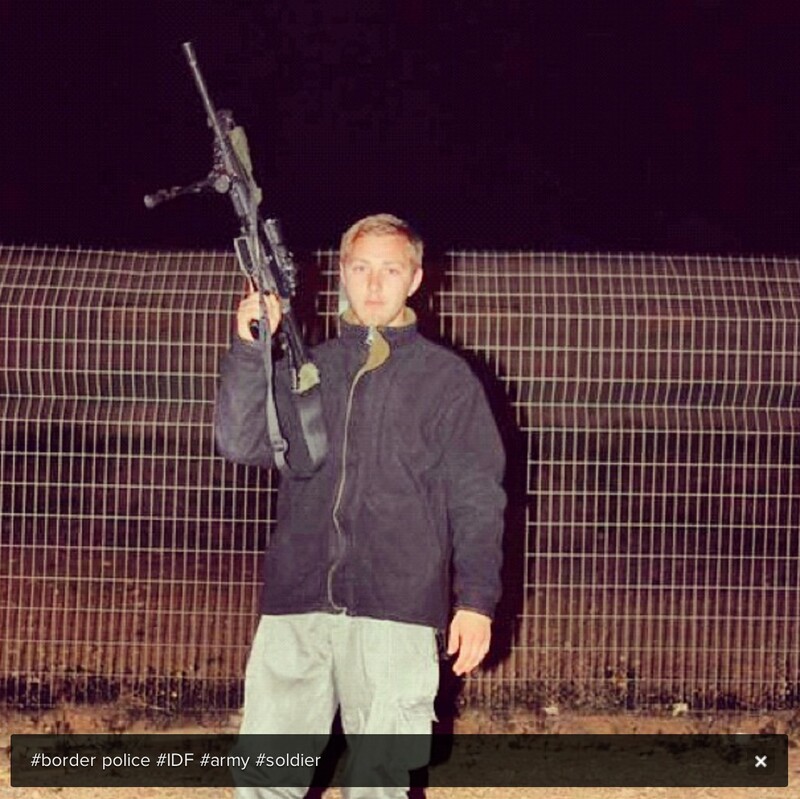 Images from Ofir Binder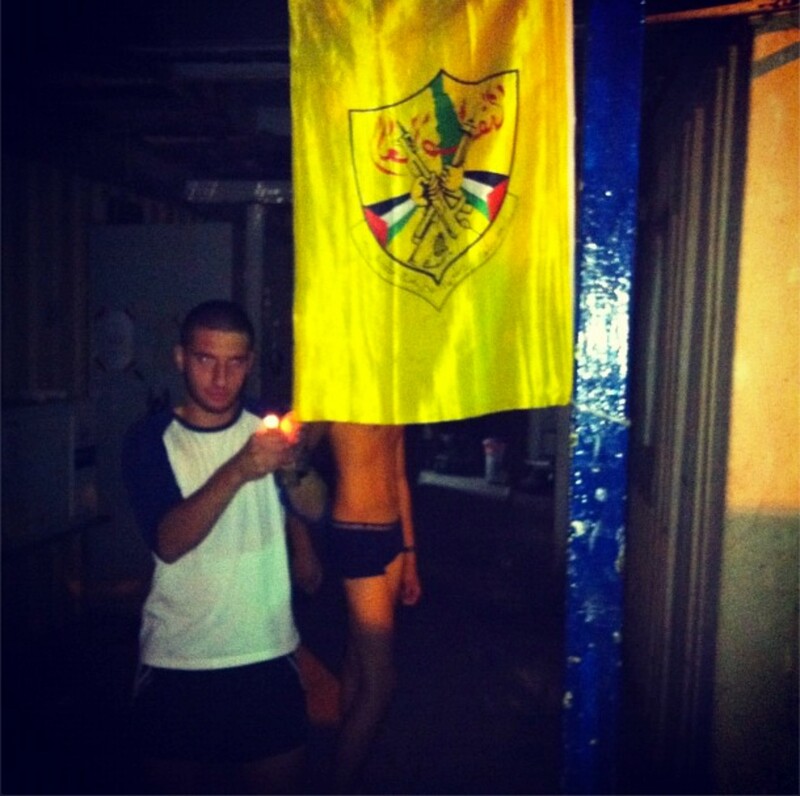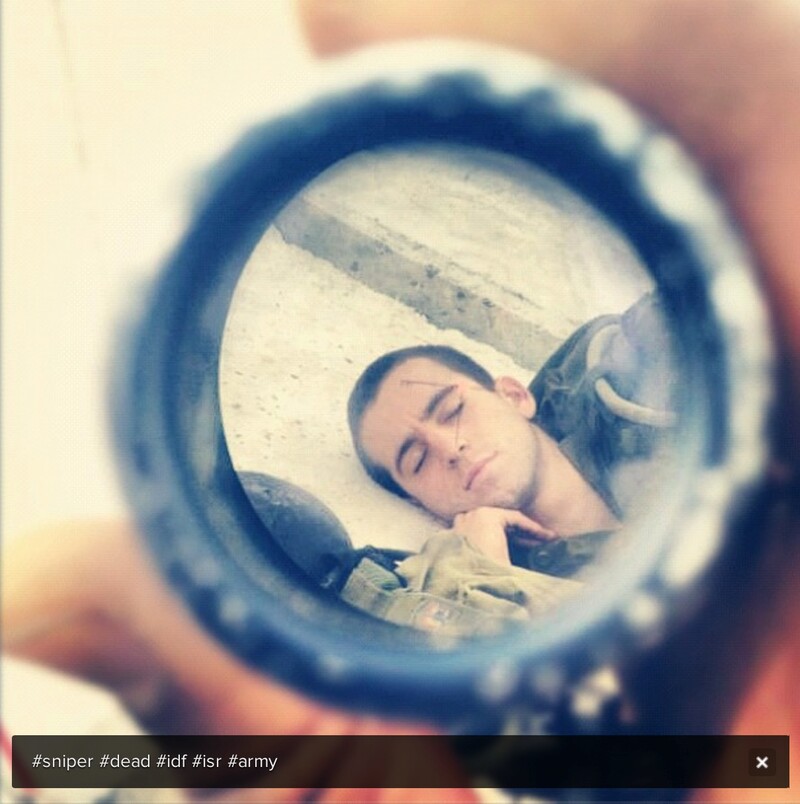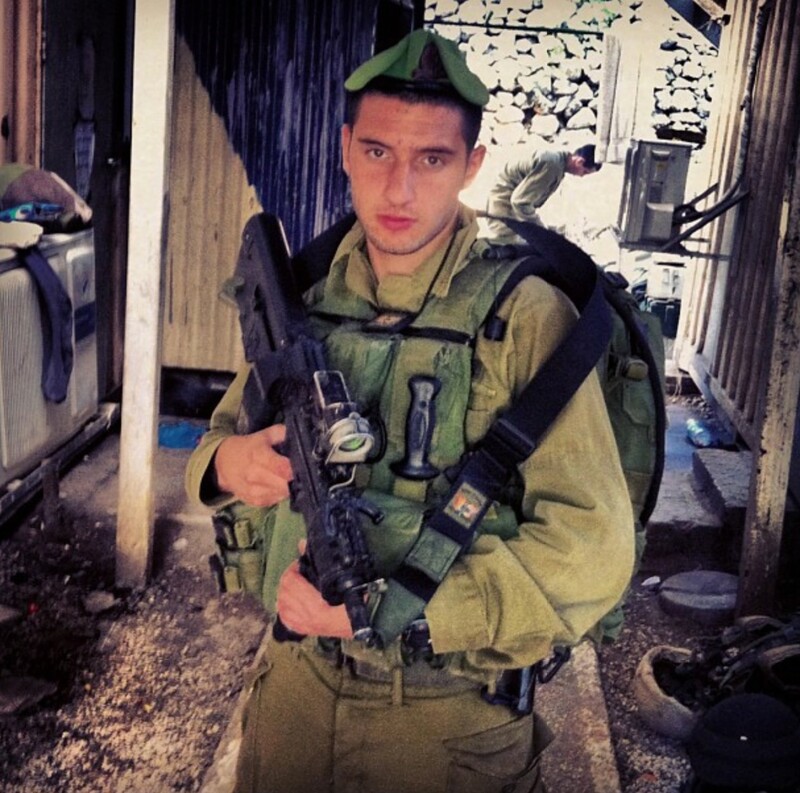 Tags