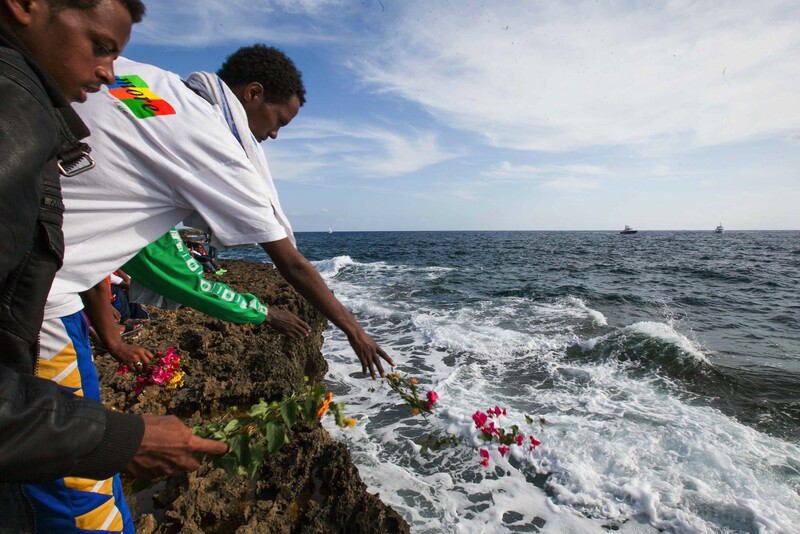 "Egypt is the main supporter of the Palestinian cause, as well as the Palestinian people's rights, so we believe their government will continue supporting us in every way" a Palestinian Authority "diplomatic source" said on the eve of Mahmoud Abbas' present visit to Egypt.
Abbas, de facto leader of the Ramallah-based Palestinian Authority, is holding meetings with leaders of the Egyptian military regime that overthrew elected President Mohammad Morsi in a 3 July coup.
But Palestinian refugees from Syria suffering horrifying abuses at the hands of the Egyptian coup regime might not recognize the rosy description of Egypt's role offered by the PA diplomat.
Horrifying abuses
On Sunday, Human Rights Watch released a report, "Egypt: Syria Refugees Detained, Coerced to Return," detailing the systematic abuses of Palestinian and Syrian refugees in Egypt:
Egypt has detained over 1,500 refugees from Syria, including at least 400 Palestinians and 250 children as young as two months old, for weeks and sometimes months. Security officials have acknowledged that the refugees will be held indefinitely until they leave the country.

Palestinian refugees from Syria are especially vulnerable because Egyptian policy prevents them from seeking protection from the Office of the UN High Commissioner for Human Rights (UNHCR), contrary to UNHCR's mandate under the 1951 Refugee Convention. Egyptian authorities tell detained Palestinians that their only alternative to indefinite detention is to go to Lebanon, where they are only permitted to legally enter on a 48-hour transit visa, or to return to war-torn Syria.

"Egypt is leaving hundreds of Palestinians from Syria with no protection from Syria's killing fields except indefinite detention in miserable conditions," said Joe Stork, deputy Middle East and North Africa director. "Egypt should immediately release those being held and allow UNHCR to give them the protection they are due under international law."
"Like the Titanic"
The report goes on to detail several instances of the life-and-death choices Palestinians face in Egypt, including embarking on rickety boats in the hope of reaching a country that would give them shelter.
A Palestinian father who had set sail with his 3-year-old son, a brother, and 4-year-old niece, told Human Rights Watch that, "We faced a tough choice: go on the boat and risk our lives for dignity or return to Syria to die."
Dozens of Palestinians and Syrians have died or gone missing on such journeys, including in two sinkings near the shores of Italy in October. Many whose bodies were recovered were buried in nameless graves.
In another incident on 17 September, Egyptian forces opened fire on a boat carrying some 200 refugees, killing two: Fadwa Ali, a Palestinian refugee from Syria, and Omar Dalool, a Syrian man traveling with his pregnant wife and young daughter.
A survivor of the 11 October sinking gave this harrowing account to Human Rights Watch:
A young woman from the Damascus area with a 7-month-old son said, "I don't know how to swim, so, when the boat flipped, I held the person next to me and told him not to let go. It was just like the Titanic, a movie I used to watch all the time. We used to say insh'Allah [God willing] it will not happen to us, but now we have become Titanic part 2."
"We could not stay in Syria. I could not send the children to school, because [both sides] ask which side you support and, if you answer wrongly, they will kill you … bullets showered down, there were planes that dropped bombs," said a mother of two who also survived the 11 October sinking.
Other survivors said they watched helplessly as other passengers "including the elderly and children, drown[ed] in front of their eyes."
Plight of thousands
According to Human Rights Watch, some 300,000 Syrians are in Egypt, of whom 125,000 have been registered as refugees by UNHCR. Shortly after the July coup, Egypt began requiring Syrians to gain visas and security clearance to enter the country.
An estimated 5,000 to 6,000 Palestinian refugees from Syria are also in Egypt. While UNRWA, the UN agency for Palestine refugees, does not operate in Egypt, the coup regime is prohibiting UNHCR from providing protection to the Palestinians, a violation of international law, according to Human Rights Watch.
Detained in squalor
While not granting them protection, Egypt is also punishing those who try to escape, as Human Rights Watch reports:
Egyptian authorities apprehended the majority of the 1,500 detained refugees from Syria at sea, in a harbor, or in some cases at locations near the coast on suspicion that they were preparing to leave illegally, according to lawyers who work with refugees and spoke to Human Rights Watch.

Refugees face charges of violating articles 2 and 3 of the Law of Entry and Residence of Aliens in the Territories of the United Arab Republic and their Departure (1960), which prohibits foreigners from entering or leaving Egypt without valid documentation and at other than official border crossings. The law was passed when Syrians and Egyptians were citizens of the United Arab Republic.
Even when prosecutors have dropped the charges, police have continued to hold the refugees in squalid, overcrowded police cells under orders from Egypt's National Security agency.
The human rights group documented the desperate conditions in which the refugees, including survivors of shipwrecks, are held.
In once instance – more than 24 hours after the 11 October sinking, Human Rights Watch found – dozens of women and children who survived were held, still wearing the "wet clothes they had nearly drowned in."
Children
Amid so many disturbing revelations, the plight of children is perhaps the most striking in the Human Rights Watch report:
Since August, Egyptian authorities have detained over 250 Syrian and Palestinian children, some very young, in overcrowded and unsanitary facilities without providing for their basic needs. Human Rights Watch documented cases of detained small children as young as 2 months old, held with family members in squalid conditions, without access to recreation or outdoor facilities.

Detainees do not have consistent access to basic children's provisions, including baby formula, diapers and nutritionally appropriate food. Detaining children solely because of their immigration status – or their parents' – violates the Convention on the Rights of the Child.
Call for action
Human Rights Watch urged Egypt to end these abuses and abide by its international legal obligation to protect refugees.
Yet hopes for international pressure on Egypt must be slim with the coup regime enjoying solid support and cover from the United States and its allies.
Last month, the Obama administration imposed purely cosmetic sanctions on Egypt, while reassuring it of solid political support.
The coup regime has also hired a high-power Washington lobby firm with close ties to Obama's Democratic Party and to the Israel lobby to burnish its image. It seems to be working.
Last week, US Secretary of State John Kerry made the extraordinary claim that the coup regime was sticking to its so-called "road map" to democracy.
"The road map is being carried out to the best of our perception," Kerry stated.
This week's Human Rights Watch report is an additional piece of evidence that nothing could be further from the truth.
Tags