A student referendum calling on Princeton University to divest from firms profiting from the Israeli occupation in Palestine has been defeated by a very narrow margin.

But campaigners are seeing the result as a major achievement as 965 undergraduates (47.5 percent) voted for the measure compared to 1,067 (52.5 percent) against.

"Though divestment did not pass this time around, we encourage you to take heart, for we won in many other ways," the campaign coalition Princeton Divests said on its website on Friday.

Graduate students are set to vote in a similar referendum on 29 April.

"Divestment has always been an uphill battle, and we knew from the outset that failure (in the strictly electoral sense) this time around was likely," the group adds. "From the very beginning, we saw this campaign as one step of many in laying the groundwork for change."

More than seventy tenured faculty at Princeton backed the campaign urging the university to pull investments from firms including RE/MAX, Caterpillar and Hewlett-Packard.

"One of our main goals was to educate and engage a wide variety of students on the injustice, suffering and human rights violations of Palestinians in the West Bank and Gaza," Princeton Divests said, "as well as on our university's ongoing contribution to this systematic oppression through investments."
History of struggle
Princeton has a long history of resisting divestment and eventually succumbing to such demands. The first campus protests calling for divestment from companies complicit in South African apartheid were held in 1959. But it took more than twenty years for the university to finally act.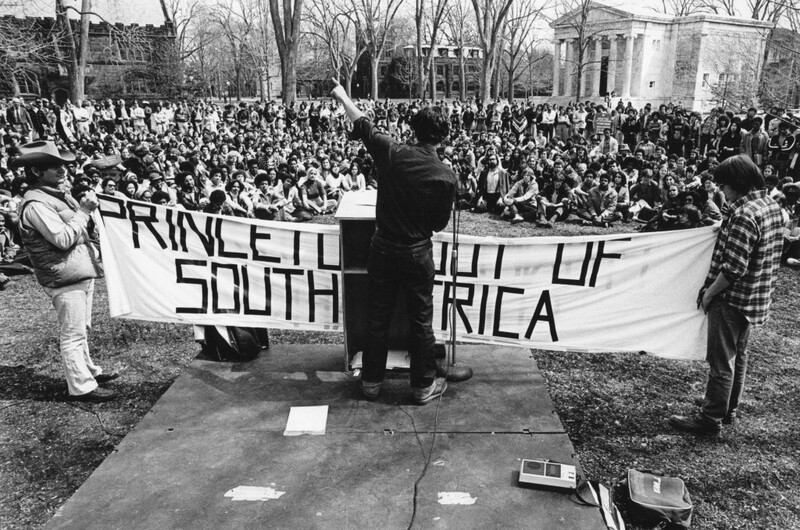 In 2006, with much less resistance, the university announced it would "divest from companies it believes are complicit in the genocide" in Sudan's Darfur region.
Broad support
Princeton Divests released the video at the top of this post as part of its effort to show the broad support for divestment among students.
It also held an 8 April forum featuring emeritus professor Cornel West, author Max Blumenthal and professors Robert Tignor, Molly Greene and Max Weiss.
In a contribution with many lessons for today's campaigners, alumnus Larry Hamm spoke about his experience campaigning for South Africa divestment as a student at Princeton in the 1970s.
"No just cause is ever popular in the beginning," Hamm observed, "If there is one, someone will have to tell me about it."
Watch the video of the forum:
Tags