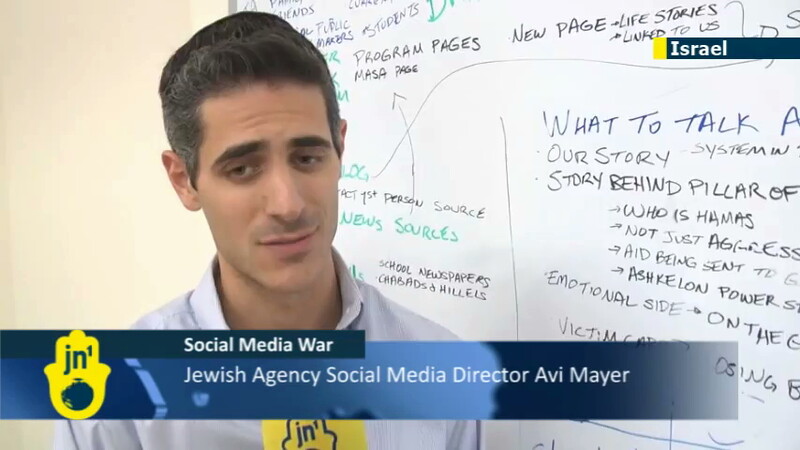 Last week Sigal Samuel, formerly of The Jerusalem Post and now assistant editor of Peter Beinart's blog Open Zion, alleged in an Open Zion post that a Hebrew University professor had been rebuffed by an Australian counterpart "just because he's Israeli."

As Ben White explained on The Electronic Intifada, this was a smear spread by anti-Palestinian groups and individuals in order to paint the campaign for boycott, divestment and sanctions (BDS) as racist.

In fact, Jake Lynch, director of the Center for Peace and Conflict Studies at Sydney University, turned down a proposal for an institutional partnership proposed by Hebrew University professor Dan Avnon.

After White and others pointed out the error via Twitter, Open Zion added the following correction to Samuel's post:
UPDATE: An earlier version of this post incorrectly stated that Avnon was rebuffed simply on the grounds that he is Israeli. In fact, he was rebuffed in accordance with the guidelines of the Palestinian Campaign for the Academic and Cultural Boycott of Israel. These guidelines advocate refraining from participation in "collaboration or joint projects with Israeli institutions," which Avnon's proposal represented. We regret the error.
Open Zion spreads Jewish Agency smear
It is admirable that Open Zion acknowledged and corrected its error. But one would have hoped that the editors would have learned their lesson to fact-check the Israeli propaganda they are fed before putting it up on their site.
On 14 December, Open Zion published a piece by Hannah Weisfeld, director of the UK Zionist group Yachad, headlined "When BDS And Anti-Semitism Meet," which states:
However, when anti-Semitism laces the discourse of critics of Israel and the BDS movement, we have every right to call it out and ask those who are active members of the BDS movement to do the same. Last week, the @londonbds twitter account tweeted a link to an article on the Press TV website that called for sanctions against Israel. It was not so much the sanctions against Israel that presented the problem. It was the reference to 'real historians like David Irving,' and the aspersions that the author cast on the Shoah by referring to the 'holocaust' and 'survivors' in inverted commas, as it they are questionable historical facts.
This, however, is another smear aimed at BDS activists, this time originally disseminated by Avi Mayer, the social media propaganda chief of Israel's sectarian colonization organization the Jewish Agency.
Avi Mayer the source of the smear
Mayer has been enthusiastically hawking the story that the tweet by Twitter user @LondonBDS, cited by Weisfeld on Open Zion, is evidence that London BDS Group (londonbdsgroup.com) – an activist group whose name explains its location and purpose – is "anti-Semitic."

Mayer laid all this out in a lengthy Storify in which he also tries to smear others, including the UK's Palestine Solidarity Campaign by association with @LondonBDS.

There's one problem. The Twitter account @LondonBDS and a website run by the same person are not affiliated with London BDS Group. As London BDS Group explains on its website londonbdsgroup.com:
Please note we are not connected with londonbds.org on the web or @londonbds on twitter, which are both run by a single individual. LondonBDSgroup launched its web, facebook and twitter presence in July 2012 after activists decided to break with the individual who had registered (and is the owner of) the londonbds.org and @londonbds identities.
Mayer knew this because he acknowledges in his Storify post that there are separate accounts but simply ignores or tries to explain away the implications of this inconvenient fact.
Weisfeld's distortions and omissions
Moreover on 7 December, a week before Weisfeld's Open Zion post, Palestine Solidarity Campaign issued a statement saying it was "shocked and disgusted that a twitter account @londonbds tweeted an article with clearly anti-Semitic content." The statement pointed out:
PSC has been informed that this is not the twitter account of London BDS group, whose account is @londonbdsgroup, but an apparently lone individual. We have reported this to twitter as hate speech.
Weisfeld did not bother to include any of this in her 12 December post but did have the chutzpah to write:
As much as the Jewish community needs to steer away from labelling all those who criticize Israel as anti-Semitic, surely it is the responsibility of the BDS movement to distance its criticism of Israel from the comments in this article?
Why didn't Open Zion fact-check?
It is understandable that Mayer would be uninterested in the facts – after all his job is to disseminate propaganda on behalf of Israel.
But what is shocking – in light of their earlier, acknowledged error – is that Open Zion's editors didn't bother to fact-check Weisfeld's post.
Anyone paying attention to Palestine solidarity groups might have been aware that London BDS Group has been operating its own Twitter account @londonbdsgroup for months.
Anyone not so knowledgeable should have taken the trouble to contact @LondonBDSGroup and/or @LondonBDS separately to clarify whether there was a relationship between them.
Anyone knowledgeable about Twitter would also be acutely aware that while useful, the social network is rife with sockpuppets and impersonation accounts, and therefore one must be particularly careful to fact-check before claiming that an account represents any particular group or individual.
Such caution, however, would not have suited the narrative that BDS activists are all a bunch of anti-Semites and holocaust deniers or their fellow travelers.
The facts in this case suggest a very different story: that a group of activists decided to break from an individual when they considered his or her judgment or activities to be incompatible with their values.
Open Zion needs to issue another correction.
Update 19 December: Hannah Weisfeld "stands corrected"
Hannah Weisfeld published another post on 18 December correcting errors that were pointed out above by The Electronic Intifada:
Last week, I wrote a piece here on Open Zion in which I referred to an article that was tweeted by the @londonBDS twitter account. I wrote, "Yet, as far as I'm aware, the BDS crowd has not condemned this." It was subsequently pointed out by a number of people that the Palestine Solidarity Campaign had in fact issued a statement about the article, which can be read here. I am more than happy to stand corrected on this particular issue—all it needed was for someone to bring to my attention something I had clearly missed.
While it is welcome that Weisfeld finally addressed this erroneous claim, her new post did not adequately address her reliance on Avi Mayer's deceptive and deliberate conflation of @LondonBDS – an account run by one person, and @LondonBDSgroup – an account belonging to a collective. I made these points in a comment under Weisfeld's post.
I hope that Weisfeld – and Open Zion's editors – have learned their lesson that it is wise to check and re-check every claim issued by Israel's notoriously unreliable hasbara outfits.
Tags