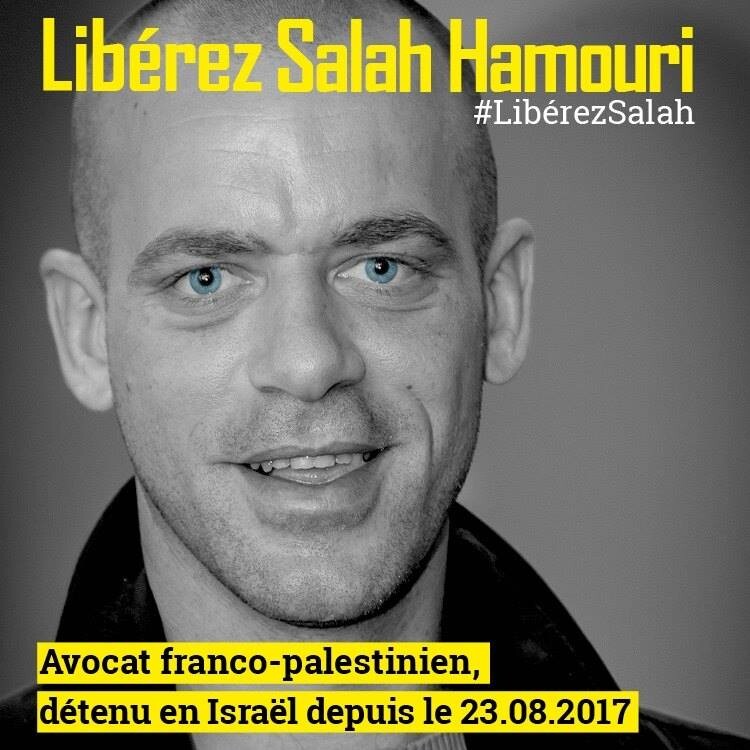 France has finally broken its silence about Israel's detention without charge of French citizen Salah Hamouri.
Hamouri, who works for the human rights group Addameer, was arrested by Israeli forces from his home in occupied East Jerusalem in August and ordered held for six months under so-called administrative detention.
That prompted outrage from French lawmakers and activists, and Hamouri's wife Elsa Lefort called on President Emmanuel Macron to act to secure her husband's release.
But until this week, French officials had made no public statement.
On Wednesday, the foreign ministry in Paris stated that it was "concerned by the situation of our compatriot Salah Hamouri" and that he was receiving "consular protection" from French diplomats in occupied East Jerusalem.
The foreign ministry said Israel's high court had heard an appeal against Hamouri's administrative detention on 22 October, but that "neither our compatriot nor his lawyers were informed of any charges."
"The systematic and abusive use of administrative detention undermines the right to a fair trial and the right to a defense," the foreign ministry added. "We demand that all the rights of Salah Hamouri be respected and hope for his release."
The French statement also demanded that Israel allow Hamouri's family to visit him.
He is one of more than 450 Palestinians currently in administrative detention. Among them too are Addameer media coordinator Hassan Safadi, and Khalida Jarrar, a prominent leftist lawmaker who serves on the organization's board.
Hamouri was previously jailed by Israel between 2005 and 2011 on charges which the French government acknowledged in 2011 were "not corroborated by any evidence."
"If Paris hopes for the freedom of Salah, we hope that Paris will fight to obtain it," Lefort wrote on Facebook on Wednesday in response to the French government's statement.
According to the newspaper L'Humanité, it was not until 9 October – a full 48 days after Hamouri's arrest – that a French diplomatic official finally met with Hamouri's wife, father-in-law and French lawyer.
During the two months of official silence, Hamouri's supporters have continued to mobilize to demand that Israel free him.
Tags