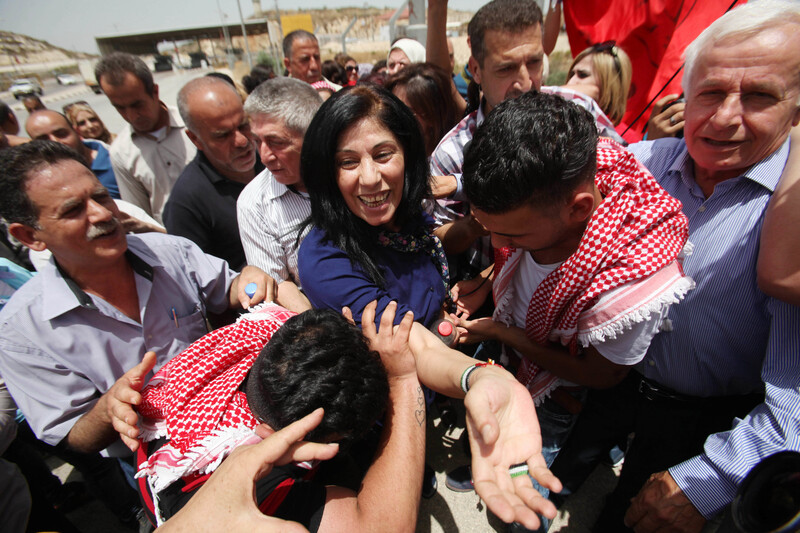 Just a year after being released from Israeli prison, the leftist Palestinian lawmaker Khalida Jarrar is once again behind Israeli bars.
Jarrar, a member of the Palestinian Legislative Council and a leader of the Popular Front for the Liberation of Palestine, was arrested last Sunday during a pre-dawn raid on her home in the occupied West Bank city of Ramallah.
Also seized during a series of raids that same night was Khitam Saafin, chairperson of the Union of Palestinian Women's Committees.
Israel alleges to have arrested Jarrar because she had increased her work with the PFLP "to an even greater extent" since her release in June 2016, denying she was targeted because of her parliamentary position.
Following her arrest in April 2015, Jarrar was hit with 12 charges related to her activism and advocacy for Palestinian political prisoners. She eventually took a plea deal which reduced the charges to membership in an illegal organization and incitement to violence.
Israel considers most Palestinian political parties "illegal."
Her lawyer, Mahmoud Hassan, explained at the time that Jarrar accepted the plea deal because she didn't "expect [to receive] any justice from the court of the occupation."
After the arrest of Jarrar and Saafin, the PFLP stated that the arrests "underline the futility" of the Palestinian Authority's fruitless negotiations and "security coordination" with Israel.
Jarrar spoke plainly against Palestinian Authority leader Mahmous Abbas' attempts to restart negotiations with Israel during a recent interview with The Washington Post.
"The track of direct negotiations has failed, and it brought no hope for the Palestinian people. In fact, the opposite happened," she said, adding that the West Bank "has more settlers than ever and that is one of the main obstacles to us establishing a state."
The Palestinian prisoners rights group Addameer, where Jarrar serves as a board member, stated that the arrest of the lawmaker "constitutes an attack against Palestinian political leaders and Palestinian civil society as a whole."
Jarrar joins 12 other Palestinian legislators being held in Israeli prison, most of whom are being held without charge or trial, according to Samidoun, a Palestinian prisoners advocacy group.
In late June, lawmaker Muhammad Badr was seized during an Israeli military raid on his home, during which soldiers confiscated his personal belongings, according to Samidoun.
Badr has spent a combined 11 years in Israeli prison. Mostly recently he was arrested in October 2013 and spent a year and half in prison without charge or trial.
Badr, like most of the other detained parliamentarians, is affiliated with Hamas.
According to Issa Qaraqe of the Palestinian Authority's prisoners affairs committee, Israel has detained approximately 70 lawmakers since 2002.
Meanwhile, Muhammad Allan, who embarked on a 65-day hunger strike in 2015, winning his release in November that year, is once again refusing food after his latest arrest in early June.
The 33-year-old lawyer is demanding his immediate release from Israeli prison, where he is once again being held without charge or trial.
Tags