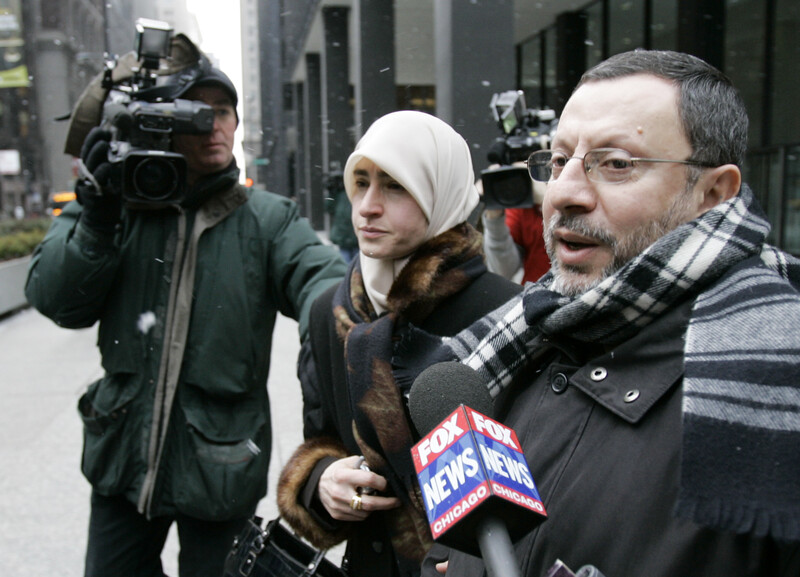 Jordan has unilaterally stopped cooperating with the Trump administration's deportations of Palestinians to Israel and the occupied West Bank.
This was revealed in an affidavit from Michael Bernacke, unit chief for "removal and international operations" at ICE, the US Immigration and Customs Enforcement agency.
A copy of the document, filed in the US Court of Appeals for the 4th Circuit on Tuesday, has been seen by The Electronic Intifada.
Bernacke's affidavit was attached to a government motion opposing a petition by Abdelhaleem Ashqar asking for an emergency stay of US efforts to deport him.
The affidavit states that the "Common procedure for ICE to remove Palestinians is to fly into Jordan, then transport the alien to the West Bank by transiting through Jordan, then with permission from the Government of Israel, the alien enters the West Bank."
The document adds that the US and Jordan had an "MOC" – a memorandum of coordination – governing these operations. It does not say when the MOC with Jordan was signed.
However, according to Bernacke, on 19 November last year, "representatives of the Government of Jordan informed ICE and US State Department personnel in Jordan that it was unilaterally terminating its MOC with ICE pertaining to Palestinian removals through or to Jordan."
"Thus, at that time, the Jordanian government's coordination with the US on all Palestinian removals through Jordan was temporarily suspended," the affidavit adds.
Bernacke asserts that the US began negotiating a new MOC with the Jordanian government "that will allow for resumption of Palestinian removals through Jordan."
Jordan also subsequently informed the US that it would not accept Ashqar even if the MOC were renewed.
As of the date of Bernacke's affidavit – 11 June 2019 – no agreement had been reached.
The affidavit does not shed light on why Jordan, normally a reliable ally of the United States and Israel, canceled the memorandum of coordination.
Deceptions and lies
The Electronic Intifada was the first to report last Friday that ICE deceived Ashqar into coming in for what he, his wife and his lawyer were told was a routine check-in on 4 June.
The family, who were celebrating their first Eid al-Fitr together in more than a decade, had been explicitly assured by ICE that it would be a brief visit and he would quickly be on his way home.
Instead, they ambushed Ashqar, shackled him and bundled him onto a government-chartered private jet to Tel Aviv while lying to his lawyer and waiting wife and son that he'd be out shortly.
In a dramatic turn of events, a federal judge in Virginia ordered the government not to turn Ashqar over to the Israelis. Although the plane landed in Tel Aviv, Ashqar was kept on board as it sat on the tarmac for more than a day while the legal battle unfolded in the US.
Asqhar was flown back to the US on 6 June and is now at an ICE detention facility in Bowling Green, Virginia.
Bernacke's affidavit asserts that the US government's intention was to deport Ashqar to the occupied West Bank and that he was simply being transferred via Israel.
Ashqar was born in 1958 in the West Bank town of Sayda, near Tulkarm, when the territory was under Jordanian rule. He traveled to the United States on a study visa in 1989 on a laissez-passer – a travel document issued by Israeli occupation authorities.
In 2007, the US put Ashqar on trial, along with co-defendant Muhammad Salah, for an alleged conspiracy to raise funds for Hamas.
During their trial, the US government introduced secret evidence provided by Israeli intelligence, and there was secret testimony from agents of Israel's Shin Bet secret police, whom the defendants were barred from cross-examining.
Despite this, the jury acquitted both men of all the charges related to "terrorism." Yet Ashqar was sent to prison for more than a decade anyway for obstruction of justice and criminal contempt because he refused to testify before US grand juries – an extraordinarily harsh sentence which Michael Deutsch, the human rights lawyer who defended Salah at the trial, has described as an "extreme injustice."
Ashqar, who was arrested and tortured by Israeli occupation forces while a student activist in the West Bank during the 1980s, refused to testify to the US grand juries as a matter of principle.
He believed that the US was trying to turn him into an informant against his own people and to extract information that would be passed on to Israeli intelligence.
Patrick Taurel, Ashqar's lawyer, has told the Associated Press that Ashqar has a credible fear of torture if he is sent back to Israel.
Uncertain fate
It was after concluding that it was impossible to deport Ashqar to or through Jordan that US officials decided to trick him into coming in to the ICE office in Fairfax, Virginia, last week so that they could bundle him onto the specially chartered plane to Tel Aviv without informing his lawyer or his family.
Though he was returned to the US, Ashqar's fate remains far from certain.
Unless there is a court order staying his removal, US officials may try to deport Ashqar again any day even while his lawyers work to prevent that outcome.
Regardless of the motive, the effect of Jordan's refusal to cooperate with deportations of Palestinians means that – at least for now – the US government's effort to further the extreme injustice against Ashqar and his family is being frustrated.
Tags