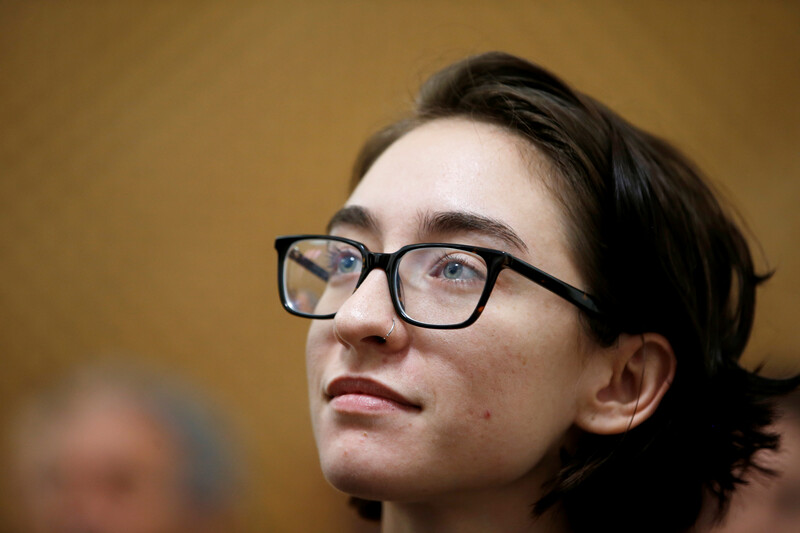 Israel's high court on Thursday overturned a government decision to bar entry to Lara Alqasem, a Palestinian American student enrolled to study at Hebrew University in violation of the Palestinian call for a boycott of Israeli institutions.
Alqasem had been in detention since 2 October, when she was denied entry at Ben Gurion airport.
Israel's strategic affairs minister Gilad Erdan said the decision to invalidate Alqasem's student visa was taken because she had been a member of the University of Florida chapter of Students for Justice in Palestine, a group that supports the boycott, divestment and sanctions (BDS) movement for Palestinian rights.
PACBI, the Palestinian Campaign for the Academic and Cultural Boycott of Israel, had earlier affirmed to The Electronic Intifada in response to an inquiry about Alqasem's case that: "Any international student, regardless of her/his identity, enrolling in a complicit Israeli university, like the Hebrew University, is violating the relevant BDS guidelines. We strongly advise against such enrollment and against any other connection to these complicit institutions."
Fig leaf
Following the high court decision, PACBI reasserted its position on Hebrew University as "deeply complicit in Israel's oppression of Palestinians, from building part of its campus on stolen Palestinian land to elite training of soldiers and justifying war crimes."

"Fig-leafing of Palestinians won't stop the growing boycott," PACBI added, in an apparent reference to celebrations by liberal Zionist groups at the high court's decision.

One of those groups, the US lsrael lobby organization J Street, welcomed the court's decision to grant entry to Alqasem as proof "of the continued vitality of pro-democratic forces in Israel."

J Street, which supports segregation in the form of the so-called two-state solution, staunchly opposes the BDS movement and rejects fundamental Palestinian rights, especially the right of Palestinian refugees to return home, solely on the racist basis that they are not Jews.

Tamar Zandberg, a lawmaker from the left-wing Zionist party Meretz, which also opposes the right of Palestinian refugees to return home on the same racist grounds, welcomed the ruling as an "important victory in the struggle to keep Israel a liberal democracy, free from thought police."
Not a BDS activist
J Street also claimed that Alqasem had been barred "because of her political beliefs" and commended her for "her courage and persistence in standing up to the Israeli government's outrageous attempts to ban and silence her."

Yet this is a gross mischaracterization, since Alqasem has insistently disavowed the beliefs she was accused of holding.

After a lower court upheld the decision to bar her entry, Alqasem appealed to the high court, successfully convincing the judges that she does not support a boycott of Israel or institutions like the Hebrew University that are complicit in its system of occupation, settler-colonialism and apartheid against millions of Palestinians, as well as Israel's regular massacres in Gaza.

"Despite the obstacles in her way the appellant insists on her right to study at the Hebrew University," Neal Hendel, one of the justices wrote in the court's ruling. "This conduct is not in keeping, in an understatement, with the thesis that the she's an undercover boycott activist."

"The interior ministry has openly admitted that it does not have any evidence of the appellant's engaging in boycott activity since April 2017, except for mysterious 'indications' whose essence hasn't been clarified and regarding which no evidence has been submitted," Hendel added.

The ruling characterized Alqasem's previous activism on behalf of Palestinian rights as minor and insignificant in the context of the BDS movement.

Yet the ruling affirmed that "the struggle against the BDS movement and others like it is a worthy cause."

"The state is permitted, not to say obliged, to protect itself from discrimination and the violent silencing of the political discourse. It may take steps against the boycott organizations and their activists," Hendel wrote. "In this case, preventing the appellant's entry does not advance the law's purpose and clearly deviates from the bounds of reasonability."

Anat Baron, another of the high court justices, also concluded of Alqasem that "clearly she doesn't now and hasn't for a long time engaged in boycotting Israel, not to mention engaging in 'active, continuing and substantial' work in this matter."

That had been the substance of the arguments delivered by Alqasem's lawyer Yotam Ben-Hillel, who, according to Haaretz, told the justices in a hearing earlier this week that his client "had explicitly stated at earlier proceedings in the case that she is not a BDS activist and would not call for an anti-Israel boycott while in Israel."
Erdan unhappy
While liberal supporters of Israel cheered the high court's decision as rescuing Israel's reputation, right-wing leaders were enraged. Interior minister Aryeh Deri called the ruling a "disgrace."
Gilad Erdan, whose strategic affairs ministry leads Israel's global campaign to thwart and sabotage the Palestine solidarity movement, railed against the court in a series of tweets.
Erdan claimed the justices "minimized the extremist and anti-Semitic nature of [Students for Justice in Palestine], the organization of which Alqasem served as president."
Clearly not happy with the repressive tools already at their disposal, Israeli leaders are considering even more draconian measures to stamp out opposition to the systematic oppression of Palestinians.
On Sunday, Israel's ministerial committee for legislation is expected to discuss a new bill that would impose prison sentences of up to seven years on activists convicted of promoting a boycott of Israel.
According to Haaretz, the vaguely worded proposal would apply to anyone who works to "undermine Israel's interests, its relations with any other country, organization or institution … or any interest they have in Israel."
Tags