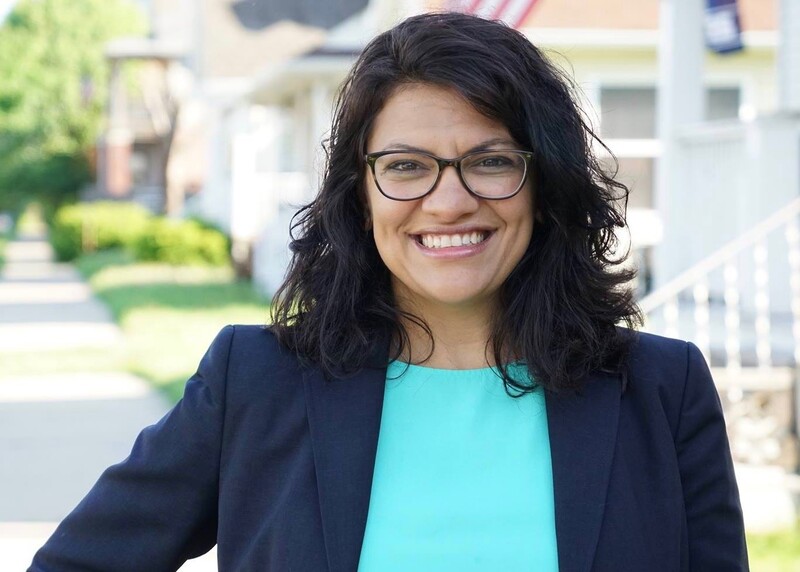 The Israel lobby group J Street has withdrawn its endorsement from Rashida Tlaib.

"After closely consulting with Rashida Tlaib's campaign to clarify her most current views on various aspects of the Israeli-Palestinian conflict, we have come to the unfortunate conclusion that a significant divergence in perspectives requires JStreetPAC to withdraw our endorsement of her candidacy," J Street announced on Friday.

JStreetPAC is the political action committee of J Street. It endorses and channels contributions to political candidates.

"JStreetPAC was created to demonstrate the wellspring of political support that exists for candidates who take pro-Israel, pro-peace positions, including support for a two-state solution," J Street said.

"We cannot endorse candidates who conclude that they can no longer publicly express unequivocal support for a two-state solution and other core principles to which our organization is dedicated."

The page JStreetPAC had established to collect donations for Tlaib was taken down on Friday, but an archived version was still visible online.

J Street had endorsed Tlaib on the basis that she supports "all current aid to Israel" – which necessarily means all military aid, the vast majority of US assistance – and a two-state solution.

J Street also requires candidates it endorses to oppose boycott, divestment and sanctions (BDS), the nonviolent Palestinian-led movement that aims to pressure Israel to respect Palestinian rights and international law.

Moreover, J Street rejects the right of Palestinians to return to lands and homes from which they were expelled by Israel solely on the racist grounds that they are not Jewish – although adhering to that view is not an explicit requirement to receive J Street's endorsement.

But following her primary victory in Michigan's 13th congressional district last week, this writer raised questions about Tlaib's acceptance of an endorsement from an Israel lobby group under political conditions that contradict support for Palestinian rights.

Amid mounting controversy, Tlaib at first evaded giving a clear explanation of the J Street endorsement, which she herself had reportedly "sought out."

But on Tuesday, Tlaib made a clear break with the Israel lobby group.

In an interview with In These Times, Tlaib expressed strong support for the right of activists to engage in BDS.

She also distanced herself from the two-state solution.

"One state. It has to be one state. Separate but equal does not work," she said, citing America's history of racial segregation that was challenged by the civil rights movement. "This whole idea of a two-state solution, it doesn't work."

Tlaib moreover said she would not support aid to Israel.

In an interview with Democracy Now on Thursday, Tlaib appeared to pull back a little bit, saying she was open to the "possibility for a two-state solution."

But she ultimately stuck to her position that a single state in which everyone was equal was more in keeping with democratic values and more likely to succeed.

"I prefer and lean towards one state," Tlaib said.

That was clearly not enough for J Street, which has parted ways with the candidate who is set to become the first Palestinian American woman in Congress, and to join Minnesota's Ilhan Omar as one of the first two Muslim women in the US legislature.

A request for comment has been sent to Tlaib's campaign.
Tags