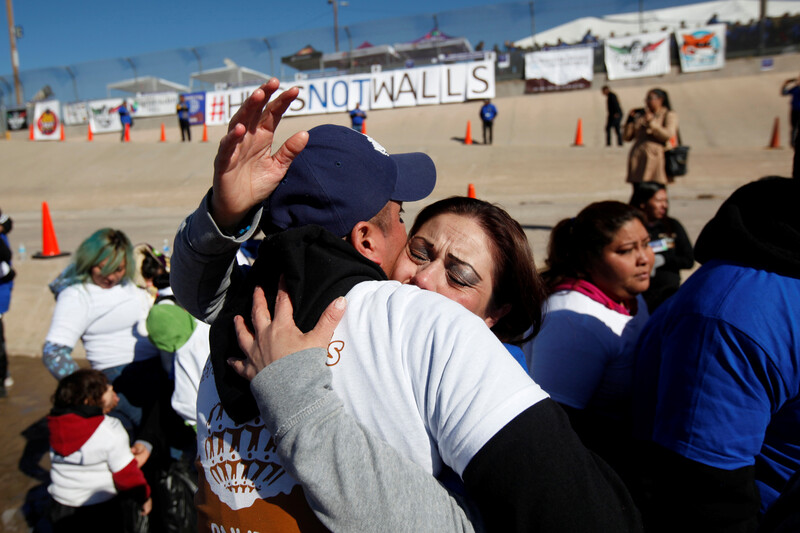 A firm that has helped isolate Gaza from the outside world is hoping for a windfall building President Donald Trump's wall on the US-Mexico border.
Ironically, the firm already does a lot of business with Mexico's own government.
Shares of Israel's Magal Security Systems, which also helped build Israel's illegal barrier in the occupied West Bank, surged following Trump's election victory last November.
During the campaign, Magal touted its experience caging Palestinians as the ideal credentials to build the wall that Trump repeatedly promised during his campaign and which has united Mexicans in opposition.
In recent decades, increasing US militarization of its southern border has torn apart communities on both sides, including indigenous communities that long predate the existence of the United States.
Gaza "has become a key sales prop for Magal's 'smart fences,'" the financial news agency Bloomberg reported in August.
Besieging Gaza
Two million Palestinians live in the besieged territory, cut off from the outside world by Israeli restrictions that are devastating their economy and depriving them of access to life-saving treatment.
Almost two dozen Palestinians have been killed near the boundary fence since late 2015, usually while demonstrating against the siege.
One of them was Abd al-Rahman Ahmad al-Dabbagh, 16, who was hit with an Israeli army flare that set his head on fire, last September.
Magal also operates in a number of Israeli settlements – illegal under international law – in the occupied West Bank, according to the research group Who Profits.
Like other firms that profit from Israeli occupation, colonization and human rights abuses, Magal CEO Saar Koursh touts his products as "battle-proven."
Since Trump took office last month, Magal has pushed for business building his wall.
In addition to helping besiege Gaza, Magal markets its role as a major contractor on Israel's separation barrier in the occupied West Bank that was declared illegal by the International Court of Justice in 2004.
According to The Financial Times, Magal's customers already include the US Department of Defense, the Secret Service and the Munich airport in Germany.
Mexico's military has also contracted with Magal.
Magal currently lists the Mexican government, police, prisons, banks, ports, power plants and municipalities among its clients.
It also provides security systems for NATO military camps. Last month, Magal won a contract with the African Cup of Nations Games soccer championship, something it has done previously.
Magal owns a Canadian subsidiary, Senstar, which recently acquired another Canadian firm, electronic surveillance company Aimetis.
Profiting from chaos
Magal has also been pitching to build a 425-mile barrier along Kenya's border with Somalia.
Somalia is one of the seven Muslim-majority countries whose citizens are targeted by Trump's executive order restricting entry to the United States.
Like most of the countries on that list, Somalia has been the target of intense US military involvement, including arms shipments that have helped fuel war.
Weapons the Obama administration sent to Ugandan and Burundian troops who are part of an African Union force propping up Somalia's US-backed government, have ended up in the hands of al-Shabab and other armed groups the fence is supposed to repel.
But for Magal CEO Koursh, such mayhem is a potential boon for profits. "The border business was down, but then came ISIS and the Syrian conflict," Koursh told Bloomberg, using an acronym for the group also known as ISIL or Islamic State. "The world is changing and borders are coming back big-time."
The business opportunities for Israeli firms may be one reason why Israeli Prime Minister Benjamin Netanyahu had no qualms sparking a diplomatic crisis with Mexico last week by warmly endorsing Trump's wall.
And Trump himself has cited Israel's walls as an inspiration.
Another Israeli arms maker, Elbit Systems, was already awarded a $145-million contract by the Obama administration for surveillance equipment along the US-Mexico frontier.
But what about Trump's pledge in his inauguration speech that from now on the US would "buy American and hire American"?
That is easily circumvented, as Israeli firms can bid for US contracts through American subsidiaries.
"We would join forces with a major US defense company that has experience with such projects worldwide," Magal's Koursh told Bloomberg.
Tags