Activists are celebrating a victory for Palestinian rights after a festival to promote Israel was canceled at the University of Lille in northern France last week.

Meanwhile, the French government is continuing its complicity with Israeli settlements in the occupied West Bank, which it claims to oppose.

The Escale en Israel – "a stop in Israel" – festival was supposed to run from 14-17 February, featuring lectures, music, films, wine tasting and cookery. It was sponsored by the university and several private firms.

Ostensibly run by students in the university's business program, the festival was also part of the Saison France-Israël 2018, a series of propaganda events supported by the Institut Français, the international cultural arm of the French government, in collaboration with Israel.

The Saison France-Israël – or France-Israel Season – aims to celebrate 70 years since the 1948 ethnic cleansing of Palestine to create a "Jewish state" on the ruins of the lives, villages and cities of Palestinians.

The local chapter of Association France Palestine Solidarité (AFPS) wrote to the president of the university calling for the cancelation of the Escale en Israel festival.

The group said that "while claiming to take place on cultural grounds," the festival would "obscure the crimes committed regularly by this colonial state in Jerusalem, the West Bank, Gaza or in Israel itself."

Two professors also wrote to the president, urging the university to cancel a festival aimed at "whitewashing Israel's policies of apartheid and colonization."

AFPS called for a protest on campus on the evening the festival was due to start.

Activists showed up carrying Palestinian flags and posters calling for the release of Ahed Tamimi, the teenager being subjected to a show trial by Israeli military authorities for slapping and shoving heavily armed occupation soldiers after one of them had shot her cousin in the head.

Others carried posters supporting Salah Hamouri, the Palestinian-French human rights defender who has been imprisoned by Israel without charge or trial since August.

Realizing they were facing determined opposition from human rights defenders, the festival organizers decided to call it quits.

"The protesters told us they were going to come and demonstrate at all our events, so we decided to stop," Gaëlle Robin, a marketing student who helped organize the pro-Israel festival, told media. "We didn't want to create more controversy about this."

BDS France, a campaign group that supports the boycott, divestment and sanctions campaign for Palestinian rights, called the cancellation a "nice victory against the normalization of Israeli apartheid."
Israeli embassy anger
Israel's ambassador in Paris, Aliza Bin Noun, declared her outrage and demanded condemnation from French leaders of the students and professors who stood up for Palestinian rights.

In an open letter to the University of Lille president, Bin Noun claimed that the BDS movement is illegal in France and that the cancellation "feeds incitement of violence and hatred of Israel."

Bin Noun's appeal to authority is understandable as there are indications that in France, as in other countries, younger people are much more open to Palestinian rights than state elites aligned with Israel.

Bin Noun knows this first hand: last March students at the prestigious university Sciences Po Rennes walked out en masse as the ambassador was giving a speech on their campus, chanting "Liberté pour la Palestine."
Insurer challenged
And in another sign that French campaigners are not being bullied into silence by the heavy hand of authorities, activists in more than a dozen cities protested earlier this month outside offices of France-based insurance giant AXA.

This is part of an ongoing campaign calling on the firm to divest from Israeli banks that are involved in Israel's illegal settlement construction on occupied Palestinian land.
France supports Israeli settlement business
While human rights defenders in France continue to challenge their country's complicity with Israel's regime of occupation and colonization, their leaders continue to deepen it.
This month, the French embassy in Tel Aviv teamed up once again with the Israeli supermarket firm Shufersal as part of "So French So Food," a week-long French government-backed "celebration" of gastronomy held in Israel.
Shufersal stores put up prominent displays of French products under signs boasting that the promotion was "in cooperation with the French embassy."
As during an identical promotion in 2016, these displays were also present in Shufersal stores in Israeli settlements in the occupied West Bank.
All of Israel's settlements are illegal under international law and France, like other European countries, claims to oppose them.
But this photo taken last week by an Israeli activist shows the French government-backed promotion taking place in the Shufersal store at 17 Tzvia ve Yitzhak Street in the Gilo settlement: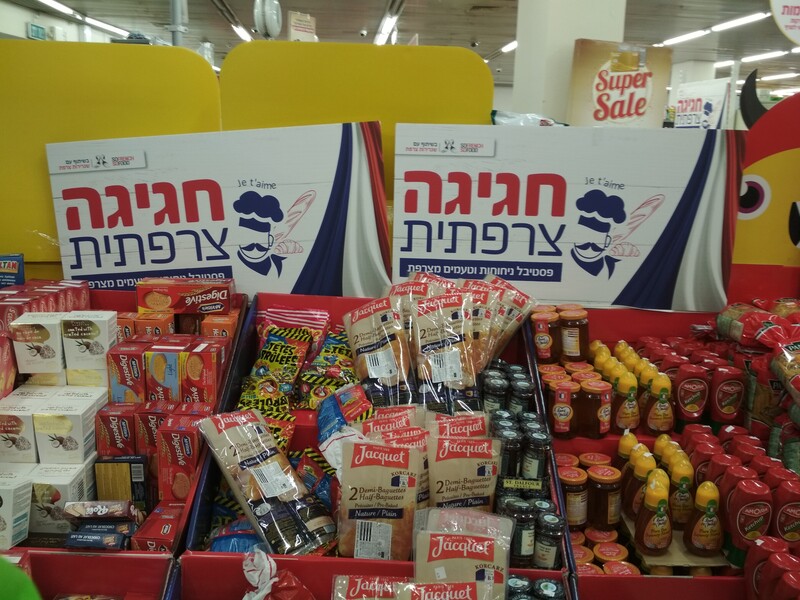 Shufersal has long been known as a settlement profiteer, and Israeli media have reported that it is among hundreds of firms likely to be listed in the UN database of companies doing business in the illegal settlements.
Shufersal has branches in settlements across the West Bank, including in occupied East Jerusalem, according to Who Profits, a group that researches companies complicit in Israel's military occupation and colonization.
It also sources and distributes settlement goods.
Dutch minister resigns
Late last year, the Dutch embassy in Tel Aviv formed a similar partnership with the settlement profiteer.
Questioned about it by lawmakers, Dutch foreign minister Halbe Zijlstra misled parliament by claiming that the promotion with Shufersal did not involve the settlements. Photographs showed otherwise.
A letter obtained by lawmakers further undermined Zijlstra's claims that the Netherlands embassy had discouraged Dutch companies from working in West Bank settlements when it asked them to take part in the Shufersal promotion.
Lawmakers have submitted follow-up questions, but Zijlstra will not be held accountable as foreign minister.
He resigned his post earlier this month after admitting he lied about attending a meeting with Vladimir Putin in 2006 in which Zijlstra claimed the Russian president had outlined a strategy for Russian expansion.
French officials seem just as determined as their Dutch counterparts to evade accountability.
Asked why France had teamed up with a major settlement profiteer once again, a French diplomatic source told The Electronic Intifada that the embassy's partnership with Shufersal "does not in any way constitute support for settlement activity."
The plain facts tell a very different story.
Tags