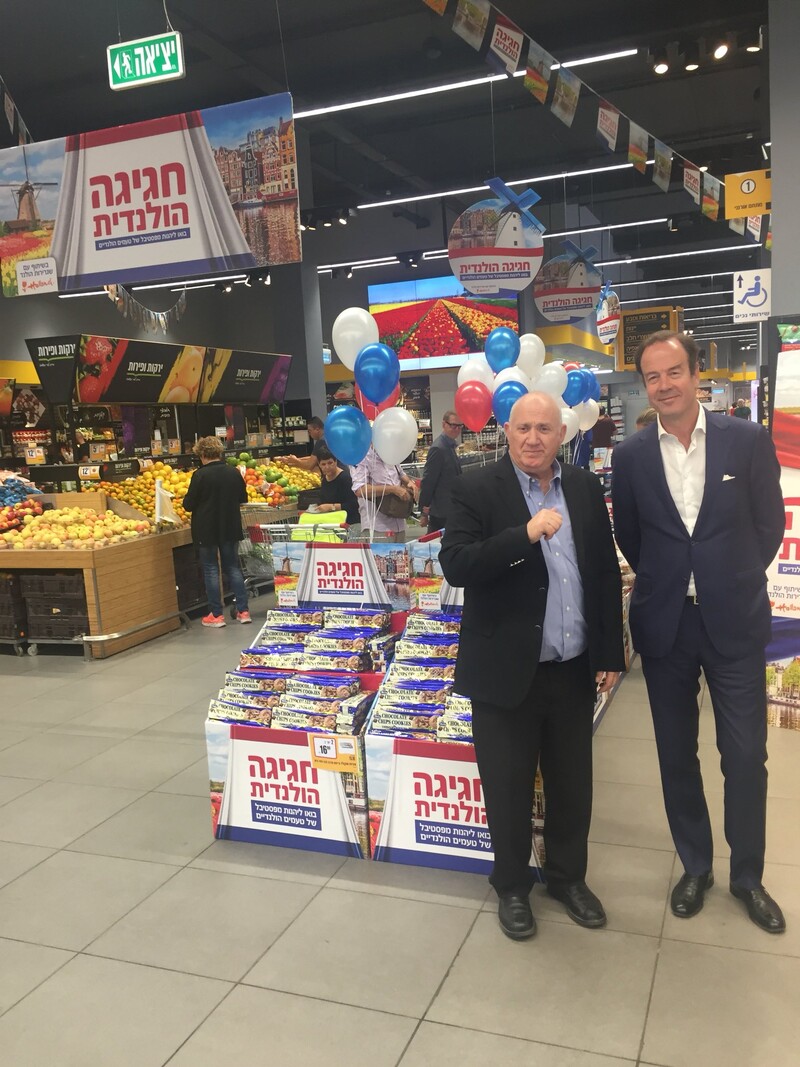 A letter obtained by lawmakers in the Netherlands undermines their government's claims that it discouraged Dutch companies from working in West Bank settlements when it asked them to take part in a promotion with an Israeli supermarket firm late last year.
The Netherlands embassy in Tel Aviv sponsored a Dutch Month with the settlement-profiteering Shufersal supermarket chain in November.
It featured famous Dutch brands like Calvé, Gouda's Glorie, Vos Banket, Merba, De Ruijter, Buiteman, Jeurgens and Daelmans, the maker of iconic syrup-filled confectionaries called stroopwafels.
Lawmakers and activists raised concerns when evidence emerged that the promotion – complete with signs saying that it was sponsored by the Netherlands embassy – was taking place in Shufersal branches in settlements, a clear violation of Dutch government policy.
Members of parliament questioned foreign minister Halbe Zijlstra over the role of the Dutch embassy in promoting trade in the settlements, which are illegal under international law.
In responses to parliament in December, Zijlstra offered flimsy excuses for what had happened.
He said that Gilles Beschoor Plug, the Dutch ambassador, was present at the official launch of the Dutch Month and also organized a reception for Shufersal staff at his residence.
Zijlstra argued that since these particular activities took place within the "1967 border" they did not violate the Dutch government's policy of discouraging activities related to Israeli settlements in the occupied West Bank.
The foreign minister said the embassy was aware of the Dutch government policy of discouraging business activities in and with Israeli settlements, and the embassy informed Dutch firms supplying goods for Shufersal's promotion about this policy.
According to Zijlstra, the Dutch embassy did not pay for any of the promotional placards or shopping bags associated with the promotion which might have been distributed in the settlements.
But in the context of holding settlement profiteers to account for their role in violating the rights of Palestinians in occupied territory, these details are irrelevant.
Silent on settlements
Zijlstra acknowledged last month that the embassy had worked with Shufersal in an attempt to find Dutch sponsors for the promotion – in other words the embassy was actively seeking Dutch firms to do business with a major settlement profiteer.
The diplomats wrote to four Dutch companies but "they were not interested in sponsoring," according to Zijlstra's answers to parliament. If companies would have shown interest, they would have been warned about the settlement trade discouragement policy, Zijlstra added.
To get to the bottom of the matter, lawmakers asked for a copy of the ambassador's letter to the potential sponsors.
Its contents further expose the flimsiness of Zijlstra's excuses.
The ambassador's letter made no mention of Shufersal's extensive operations in illegal settlements or of the Dutch policy of discouraging settlement business.
Moreover, the ambassador urged Dutch businesses to "actively support" the Dutch Month with financial sponsorship and "materially" by giving "special offers."
The letter touts Shufersal as Israel's largest supermarket chain and explicitly states that the Dutch products would be offered "in all its branches" as part of a major campaign promoted in national media.
The ambassador's letter confirms that the real Dutch policy is to actively encourage trade in settlements and with settlement firms, while telling parliament and the public that it is doing the opposite.
Profiting from settlements
Shufersal is among more than one hundred Israeli and international firms expected to be included in the UN database of companies doing business in Israel's illegal settlements.
It has branches in the industrial zone of Mishor Adumim, near Maaleh Adumim, as well as in Ariel, Gilo, Pisgat Zeev and Gush Etzion.
Its subsidiary Yesh Supermarkets has branches in other settlements across the West Bank, including in occupied East Jerusalem, according to Who Profits, a group that researches companies complicit in Israel's military occupation and colonization.
Shufersal also sells products sourced from other firms based in settlements in the West Bank and in Syria's Golan Heights.
Outlaw trade
The International Court of Justice and numerous UN resolutions have declared Israel's settlement construction illegal and a violation of the internationally recognized right to self-determination of the Palestinians.
International jurists and two major human rights organizations, Human Rights Watch and Amnesty International, have been clear that governments and firms cannot fulfill their human rights obligations if they facilitate or engage in any trade in or with the settlements.
Trading with settlements constitutes implicit recognition of an illegal situation and provides an economic lifeline for settlements, according to legal scholar Tom Moerenhout.
Governments, therefore, have a legal obligation to outlaw this trade.
Instead, the Netherlands – just like the European Union – seeks to boost profits from trade with Israel while paying only lip service to its legal obligation not to recognize and assist Israel's occupation, colonization and plunder of Palestinian land.
Tags