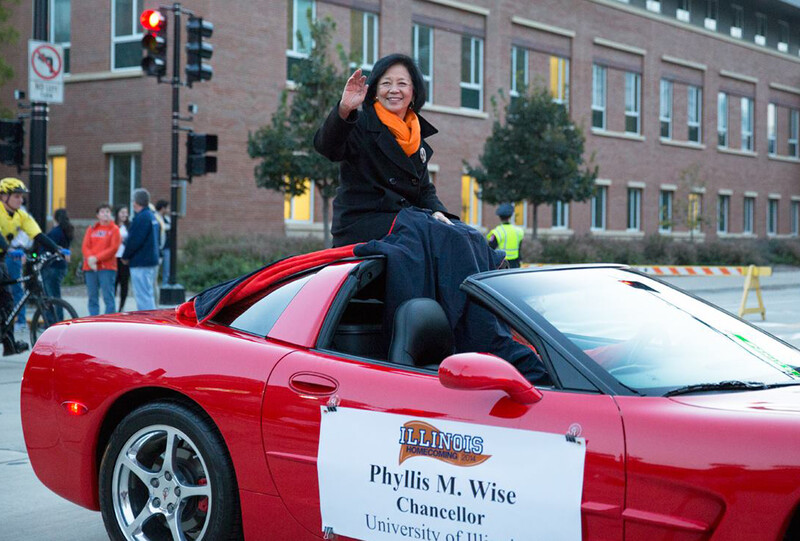 University of Illinois employees were formally warned by lawyers last September that they could face civil and criminal penalties for failing to preserve records related to the Steven Salaita case, The Electronic Intifada can reveal.
Last week, the university acknowledged that senior officials, including Urbana-Champaign Chancellor Phyllis Wise, had over the past year used private email addresses in an attempt to conceal their communications about the August 2014 decision to fire Salaita after he posted tweets critical of Israel.
Wise resigned suddenly on 6 August under a growing cloud over her conduct. The next day, the university released more than 1,000 pages of the previously hidden emails concerning the Salaita matter and other controversial university business.
As The Electronic Intifada reported, the emails indicate that Wise and others believed that using private addresses and other practices would allow their communications to evade disclosure.
Legal hold
In an 18 September 2014 email related to Salaita, Chancellor Wise wrote from her private account that university spokesperson Robin Kaler "has warned me and others not to use email since we are now in litigation phase. We are doing virtually nothing over our Illinois email addresses. I am even being careful with this email address and deleting after sending."
The very next day, university employees connected with the Salaita matter, undoubtedly including Wise and others participating in the secret email exchanges, received a warning called a legal hold from the university's external law firm Perkins Coie.
The Electronic Intifada has obtained a copy of the document, which is published in full below.
A legal hold is standard practice any time litigation is expected and its existence indicates that the outside counsel were being diligent.
Headlined in capitals, "Important legal notice for your immediate attention," it warns that "Failure to comply with this Notice could subject you and the University to civil and criminal penalties."
The document reveals that Salaita's lawyers informed the university's counsel on 16 September 2014 of their intention to file a lawsuit.
The detailed four-page memo warns emphatically: "Under no circumstances should you delete potentially relevant emails from your computer or from the network server."
The hold applies to "any documents you create or receive at any time prior to receiving notice that the legal hold has been terminated."
It includes among other things:
Documents related to or in any manner discussing Steven G. Salaita;
Documents related to statements on social media by Dr. Salaita in 2014, including any materials provided to the University by any third party commenting on any such statements by Dr. Salaita;
Documents relating to the decision not to recommend Dr. Salaita to the Board of Trustees for approval.
It also states that "we are required to preserve relevant documents wherever they are kept," including "on your work and home computers" and "in your email account (including your personal email account, if you have sent or received relevant documents using that account)."
When did Wise know?
Wise's email apparently admitting that she had deleted messages related to Salaita was sent one day before the hold notice went out, but after the university had been formally notified by Salaita's lawyers of possible litigation.
The same email indicates that Wise herself had already been informed that "we are now in litigation phase."
But it would be bizarre if Wise, the Urbana-Champaign (UIUC) campus' top executive, only learned of the imminent litigation from the university's spokesperson rather than being told directly by the lawyers as soon as they knew.
Wise's official schedule, obtained by Urbana attorney Andrew Scheinman under the Freedom of Information Act (FOIA), shows that Wise was in Urbana-Champaign all day on 16 September 2014. (On 17 September she traveled to Chicago to catch a flight to Portland, Oregon, for a meeting of the board of Nike Corporation. In 2011, Wise was paid $237,000 for sitting on Nike's board.)
Moreover, Wise would surely have been aware that a week earlier, on 9 September 2014, Salaita held a widely covered press conference at the University YMCA in Champaign where his attorneys announced his intention to sue.
There is no doubt that if Wise, or others, continued to conceal or destroy evidence after the hold was officially imposed, it could have serious adverse consequences for the university's legal defense against Salaita's ongoing lawsuit over his firing.
But according to Scheinman, who runs the investigative online publication Samizdat-Startups, Wise was likely advised of her duty to preserve evidence even earlier.
He notes that soon after a 24 July 2014 board meeting at which Salaita was discussed, the name of Scott Rice, the university's in-house counsel, begins appearing in Salaita-related emails previously released to him under FOIA. Everything in the emails is redacted except for Rice's name.
"This kind of redaction – nothing but the attorney's name – indicates UIUC is likely claiming attorney client privilege, which it would only do if they were discussing, e.g., a litigation matter such as likely litigation by Salaita," Scheinman told The Electronic Intifada.
The fact that Wise and other officials expected, or should have expected, litigation long before the formal legal hold was sent out suggests they already had a legal duty to preserve evidence during a period when Wise admitted to deleting emails.
"I would think Rice would have taken great pains to point out to Wise early on his – Rice's – duty to UIUC – his client – to prevent any UIUC employees including Wise from destroying documents," Scheinman said.
"My conclusion is that Wise was likely advised of possible or likely litigation as early as 25 July 2014," Scheinman added.
Indeed Wise herself admits to anticipating a lawsuit as early as 31 July 2014, the day before she sent a letter to Salaita telling him that his job had been rescinded.
"It will be the beginning of a lawsuit, I am sure I will be deposed no matter who sends the letter," Wise predicted in an email to Provost Ilesanmi Adesida. "You may need to get ready as well."
Windfall for Wise
On Wednesday, the board of trustees of the University of Illinois will vote on whether to approve Wise's golden parachute, a "negotiated" windfall of $400,000.
Though she will give up her $549,000 chancellor's salary, Wise will also get a faculty appointment that will still pay her $300,000 a year.
In an editorial, The Chicago Tribune criticized the massive sum promised to Wise, coming as it does after a "parade of scandals and the attempts to evade not only public scrutiny but state law through unsavory secrecy."
In a twist of irony, former board chair Christopher Kennedy, another key figure in Salaita's firing, also slammed the payment to Wise.
"I wouldn't give someone $400,000 to leave peaceably if they [did what she did]," Kennedy told the Tribune.
On Tuesday afternoon, the administration of Illinois Governor Bruce Rauner called on the university to reject the $400,000 payment to Wise.
According to the Tribune, the board's three-member executive committee – Chair Edward McMillan and members James Montgomery and Karen Hasara – will take the decision on behalf of the board.
It should be recalled that Montgomery was the only trustee to vote in favor of Salaita's appointment in September last year.
Tags