The board of trustees of the University of Illinois voted today to reject the appointment of Steven Salaita as dozens of student and faculty supporters of the professor packed the meeting room at the Urbana-Champaign campus.
Before and immediately after the vote, The Electronic Intifada questioned top university officials on video, including the president, chancellor, board chair and several trustees, about the apparent influence of pro-Israel donors on the decision to fire Salaita.
Salaita has expressed "disappointment" in the decision, stating, "I am speaking with my attorneys about my options."
Lone dissenter
A lone trustee, James D. Montgomery, voted in favor of Salaita's appointment.
Regarding Salaita's tweets, Montgomery, the only university official who did not evade questions, told The Electronic Intifada that it was "pretty clear that some of those opinions were justified and probably most of the people in this room would agree with the opinions in terms of the tragedy that is going on between Israel and Gaza."
It was Salaita's supposedly "uncivil" tweets that had provided the pretext for Chancellor Phyllis Wise's decision to recommend against Salaita's appointment.
Before they cast their votes, Montgomery told fellow trustees that he had been wrong to sign a statement several weeks ago backing Wise's decision.
He spoke movingly about his experience as an African American student at the University of Illinois in the 1950s, when protests against racial segregation in housing might have been viewed as "uncivil."
Major pro-Israel donor
As the other videos in this post show, President Robert Easter, Chancellor Wise, Board Chair Christopher Kennedy and trustees Patrick Fitzgerald and Ricardo Estrada displayed a lack of knowledge or refused to answer questions regarding Salaita's work and scholarship and the possible influence of major pro-Israel donors on Chancellor Wise's decision.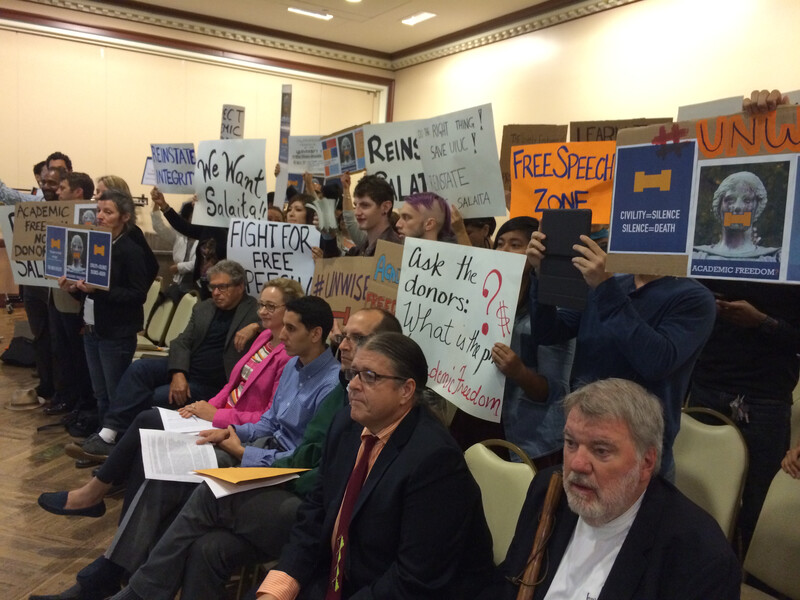 When President Easter (see video at the top of this page) was asked if Salaita's tweets were worse than Israel's killing of more than five hundred children in Gaza, a university official ended the interview, stating that this writer was "not acting like a reporter" by "challenging" Easter.
Easter also claimed to be unaware of the widely and prominently reported fact that Wise had changed her schedule in late July to meet with a major donor in Chicago who opposed Salaita's appointment.
As this video shows, Wise herself refused to confirm the name of the donor and refused to disclose what she discussed with him.
That donor is reported to be Steven N. Miller, a venture capitalist who is also on the board of the Jewish United Fund/Jewish Federation of Metropolitan Chicago, almost certainly the most influential and active pro-Israel advocacy organization in Illinois.
Rallying support
Before the vote, the board heard statements during a public comment period from several speakers supporting Salaita's appointment. These included Ahmad Hamdan, a UIUC senior and president of Students for Justice in Palestine, and Robert Warrior, chair of the American Indian Studies program, which hired Salaita. Their statements and reactions to today's vote are included below.
Two speakers during the public comment period opposed Salaita's appointment. They were former trustee David Downey and senior Josh Cooper. In the packed hall, The Electronic Intifada counted approximately five persons who applauded Cooper's statement.
As this video shows, students overwhelmingly reacted with anger to the vote, walking out of the board room while chanting "shame on you" and "this is just the beginning!"
The rallies calling for Salaita's reinstatement that preceded and followed the trustees' meeting were attended by hundreds.
They included a large number of union organizers and supporters – particularly from AFSCME, the public employees union representing many of the university's most essential and often lowest-paid service workers and the Graduate Employees Organization, the union for graduate student workers. The university currently refuses to bargain with the Campus Faculty Association, which represents full-time non-tenure-track faculty and there are ongoing efforts to form a union for tenure-track faculty.
Among the rally speakers were graduate students Rico Kleinstein Chenyek and Eman Ghanayem, two of the seven core organizers of the UI Reinstate Salaita campaign. The two called on peers to "continue to organize responsibly as our efforts escalate to the occupation of buildings, teaching boycotts and other forms of defiance."
Christopher Kennedy
Before the trustees' meeting, I found Board Chair Christopher Kennedy in a hallway and asked him about the role of pro-Israel donors and what he knew of Salaita's scholarship. Kennedy told me had had not watched Salaita's press conference which was held on Tuesday.
Unfortunately my camera was not running, but in this video shot right after the encounter, I told Chenyek what happened:
A short time later, I again ran into Kennedy, a wealthy businessman and son of late Senator Robert F. Kennedy – this time with my video camera running. He was less than "civil" when I tried to continue our conversation and ask him what role Israel played in the Salaita affair:
Ricardo Estrada
After the board vote, I asked board member Ricardo Estrada why he voted against Salaita and to explain why Salaita's views disqualified him from teaching at UIUC. I also asked whether he felt comfortable overruling the American Indian Studies program faculty who had hired Salaita:
Estrada, president and chief executive officer of the Chicago-area nonprofit Metropolitan Family Services, told me he would like to know why Chancellor Wise had met with a major donor about Salaita. But he could not explain why neither he nor the board had bothered to ask her.
Patrick Fitzgerald
As a feared and powerful federal prosecutor, Patrick Fitzgerald has put two Illinois governors in prison.
Yet he was unconvincing when he explained to the trustees why he would vote against Salaita. He said he would not vote to appoint anyone who indulged in "hate" speech, saying, for instance, that he would vote against someone who made "homophobic" comments. But Salaita has never been accused of homophobia.
So when I interviewed him after the meeting I asked him to explain the relevance of homophobia to this situation and to address Salaita's views directly. He proved to be an uncooperative witness.
American Indian Studies Chair Robert Warrior
Robert Warrior gave a powerful, but unheeded appeal to the board to reinstate Salaita:
With the rally on the quad in the background, Warrior called the board's action "unconscionable."
Eman Ghanayem
Eman Ghanayem, a Palestinian PhD candidate in English and American Indian Studies at UIUC, reacted to the board's vote against appointing Steven Salaita, calling it a "second occupation":
SJP President Ahmad Hamdan
SJP President and UIUC fourth-year chemistry major Ahmad Hamdan also made a strong appeal on behalf of students:
Hamdan spoke to The Electronic Intifada after the trustees' meeting expressing disappointment, but affirming that the struggle would go on:
Resources on Salaita case
Tags