Senator Bernie Sanders appears to be downplaying his ties to Emgage, the Muslim American organization under fire for its close ties to the Israel lobby and for endorsing and funding hardline pro-Israel candidates.
On 12 October, Sanders tweeted out that he would be holding a town hall with Muslim leaders the following evening.
Representatives Ilhan Omar and Rashida Tlaib, Minnesota Attorney General Keith Ellison and former Michigan gubernatorial candidate Abdul El-Sayed were given top billing.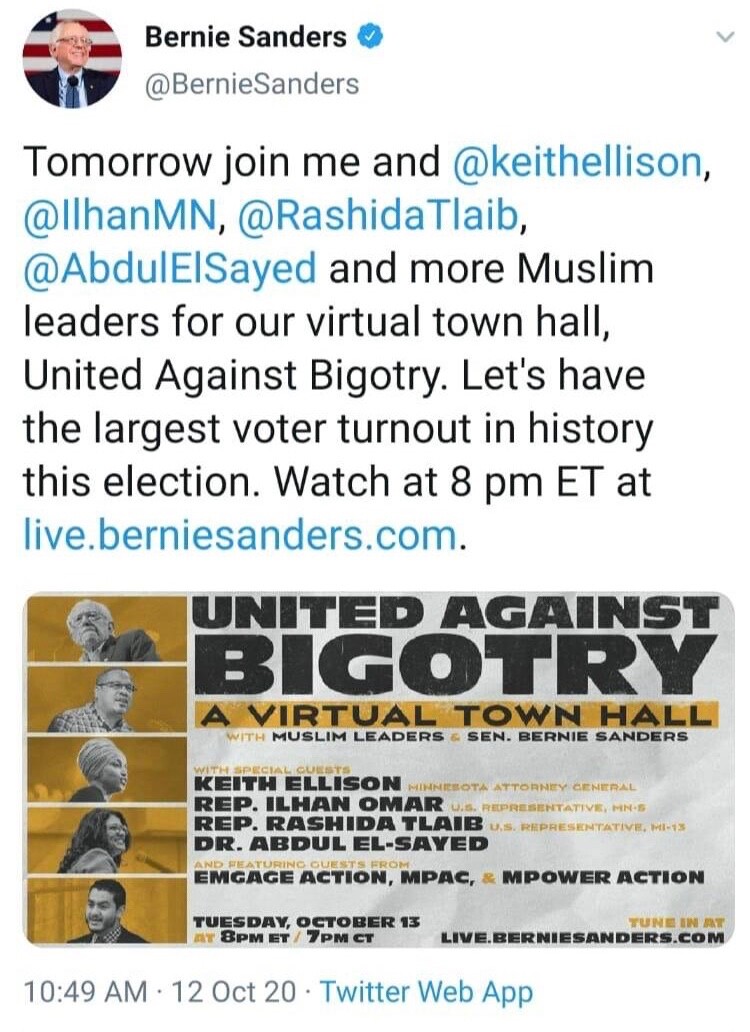 Sanders' tweet also announced that the event would feature "guests from Emgage Action, MPAC and MPower Action."
Emgage also promoted the event.
But amid pushback online Sanders deleted the 12 October tweet.
This also came after the US Council of Muslim Organizations, a coalition of more than 30 groups, last week dropped Emgage from its membership, after Emgage had refused requests to end relationships with pro-Israel and anti-Muslim groups.
Sanders' Twitter account still shows earlier and later tweets promoting the town hall.
But those tweets omit reference to Emgage, MPAC and MPower.
Quiet erasure
During the event itself on Tuesday night, there was no mention by name of any of the Muslim organizations previously billed as participating.

Speakers from all three groups did still take part but none were identified with their organizations.

They included brief comments from Kifah Shah of MPower Change, Iman Ali of MPAC and Nada al-Hanooti, the executive director of Emgage Michigan.

The event featured even more Emgage personnel, who posed questions: the group's deputy organizing director Aysha Ahmed and Farrukh Shamsi, an Emgage Texas board member and alum of the Muslim Leadership Initiative, a program run by an organization with close ties to the Israeli military.

The quiet erasure of Emgage's name is in sharp contrast to how Sanders previously embraced the organization.

During the Democratic primary campaign in February, Sanders called it "an honor to receive the endorsement" of Emgage's political action committee.

And in August 2019, Sanders tweeted that he was "looking forward to joining my friends at Emgage Action" at a Muslim community conference in Houston.

At Tuesday night's town hall, by contrast, Sanders did not acknowledge Emgage at all.

Sanders' political organization did not respond to a request for comment, so it is unclear if the names of the organizations were omitted from Tuesday's event in a hasty effort to sidestep the growing backlash against Emgage.
"You could smell the rage"
That backlash gained momentum with an in-depth investigation of the group published by Middle East Eye last week.

The writer Azad Essa, who began researching his piece in February, tweeted on Tuesday that Emgage "had a poor reputation among community organizers and activists" due to its "lack of grassroots presence in Muslim communities" and its "links with Zionist organizations and normalizing projects."

"For months, many leading activists and community organizers simply refused to talk about Emgage on the record," Essa added. "They were 'afraid.' Others suggested they were trying to give them 'a chance to change.'"

That all shifted in September, after The Electronic Intifada published an exposé of the ties Emgage leaders have maintained with hardline Israel lobby groups.

"This triggered a storm among Muslim activists," according to Essa.

"It gave life to their impression that Emgage was 'protecting' the Biden campaign from meaningful dialogue and engagement with the community. You could smell the rage."

The Electronic Intifada's reporting gave many activists "the impetus to set the record straight" and speak openly about Emgage's "tactics and nefarious links" that were "hurting the community," Essa said.

Notably, longtime Emgage board member Farooq Mitha was appointed as the Democratic presidential nominee's "Muslim engagement" adviser in March – making him in the eyes of critics a gatekeeper rather than a representative of community concerns.
Sarsour speaks out
MPower Change – the group that took part in the Sanders town hall along with Emgage and MPAC – is headed by Linda Sarsour, a prominent Palestinian American activist in the Democratic Party.
Sarsour came under renewed pressure after the US Council of Muslim Organizations excluded Emgage.
The Drop Emgage campaign, which has in recent weeks been endorsed by 250 Palestinian and Muslim activists, specifically urged MPower Change to cut its ties with Emgage.
Sarsour has for weeks kept silent about Emgage, ignoring repeated requests for comment from The Electronic Intifada.
On Tuesday, however, Sarsour broke her silence in a post on Facebook.
She said she had been too consumed by canvassing to defeat the "fascist" President Donald Trump to comment on a swirling controversy in the community she aims to represent.
Sarsour acknowledged that Emgage leaders "have made grave missteps" and the "critiques laid out by activists and organizers are valid."
But she stopped well short of breaking her organization's ties with Emgage – MPower Change is still listed as a partner in Emgage's "Million Muslim Votes" campaign.
Sarsour asserted that "Emgage is reckoning with the pasts of some of its leaders."
She also suggested that Emgage's many endorsements of candidates aligned with the Israel lobby group AIPAC may be because Emgage didn't have enough information about them – even though those candidates' strong support for Israel and opposition to the boycott, divestment and sanctions (BDS) movement is readily available public information.
Sarsour's response proved less than fully persuasive to some observers.
"I just don't understand how you can claim that you don't have time to talk about Emgage as you continue to work with and do events with them," journalist Laila al-Arian wrote. "That is clearly taking a stance."
Journalist Sana Saeed – who in 2014 drew broad attention to the Israeli Muslim Leadership Initiative that several Emgage leaders have participated in – challenged Sarsour to explain how "working with people who undermine the Muslim community, by working with those who support fascist policies, helps us against fascism."
Saeed added: "And what good are any principles or political ethics if we can drop them or bend them for vaguely defined opportunities?"
No "blacklist" of Israel lobby groups
Meanwhile on Tuesday, Emgage hit back against the US Council of Muslim Organizations, accusing it of engaging in "ideological cancel culture."

Emgage insisted that there should be no "public blacklist of organizations that we or any USCMO members would be prohibited to work with."

Emgage leaders, it would appear, reserve the absolute right to continue their open alliances with Israel lobby groups like the Anti-Defamation League and the American Jewish Committee, which have been at the forefront of efforts to silence and smear supporters of Palestinian rights.

Emgage deleted responses from its Facebook page refuting or challenging its statements, while leaving up comments praising the organization.

As of this writing, some newer comments challenging the factual accuracy of Emgage's statement were still visible.
Tags