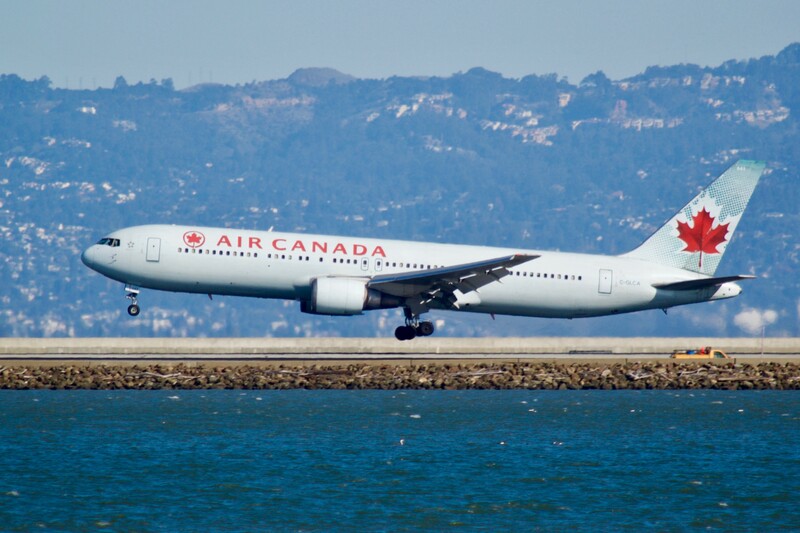 Air Canada has ended a maintenance contract with the arms maker Israel Aerospace Industries, activist groups have announced.
The Canadian BDS Coalition, which supports the Palestinian-led campaign for boycott, divestment and sanctions, said on Sunday it had been informed by Air Canada management "that the five-year, multi-million dollar contract with Israel Aerospace Industries Bedek Group for heavy maintenance on Air Canada Boeing 767 jets was terminated in 'early 2017,' with two years remaining."
The contract, signed in 2014, was reportedly worth tens of millions of dollars.
Air Canada told the activist groups that the work is being transferred to "another provider in North America," which it did not name.
In September, Illinois-based AAR announced that it had signed a five-year contract to maintain the Canadian airline's 34 Boeing 767s at its facility in Miami.
Air Canada provided activists with no reason for its termination of the Israeli contract.
But the coalition pointed out that Air Canada had released the information only "after our #AirCanadaComplicity campaign was taking off and receiving increasing support both from within Canada and internationally."
The campaign garnered support from trade unions and solidarity groups in Canada and around the world.
Air Canada said in its letter to activists that it still maintains one small contract with the Israeli company, to perform mandatory inspection of aircraft prior to the departure of regularly scheduled return flights to Canada. But if problems are found during those checks, repairs are performed by Air Canada's own personnel.
"The Canadian BDS Coalition is pleased that the largest and most significant element of Air Canada's involvement with Israel Aerospace Industries has been terminated," the activists said. "Given the recent publicity [Israel Aerospace Industries] has received in the international press in the last months, it is not surprising that any company would want to distance themselves from such a partner."
The Canadian BDS Coalition noted that Israel Aerospace Industries was recently named in media reports as one of more than 100 firms likely to appear on a UN list of companies that are profiting from Israel's occupation and illegal colonization of Palestinian land.
In September, the US government picked Elta North America, a subsidiary of Israel Aerospace Industries, to build a prototype of President Donald Trump's planned wall on the US-Mexico border.
Activists are now pushing Air Canada to stop serving Sabra brand hummus aboard its flights. Sabra is made by the Strauss group, which gives active support to the Israeli army.
Israel in Australia
Israeli weapons firms have been pushing into civil aviation in other countries as well.
Last month, activists in Australia welcomed a decision by the storied Royal Flying Doctor Service to pull out of a multi-million dollar joint venture with Elbit Systems, Israel's biggest arms maker.
Nonetheless, Australia remains a major market for Israeli arms companies including Elbit and missile maker Rafael, which just announced it is opening a subsidiary in Melbourne.
Rafael is hoping to capture a big slice of a multi-billion dollar spending spree by Australia to expand its military.
"We haven't had any substantial activity in Australia in recent years," Rafael executive vice-president Giora Katz told Israel's Globes business publication. "Now we're returning to this market in full force."
Last month Rafael announced a partnership with Australia's Bisalloy Steels to supply materials to be used in manufacturing weapons systems.
Punishing opinions
In another sign of Israel's distress over the effects of BDS, a cabinet committee on Sunday approved a draft law that allows Israeli companies to sue individual activists for up to $28,500 without having to prove any damages.
The new bill would expand Israel's 2011 anti-boycott law. Israel's high court upheld that law in 2015, but invalidated one provision which would have allowed anyone to sue for boycott-related damages without showing proof they were harmed.
If adopted, the law would effectively impose heavy financial penalties on individuals for expressing opinions contrary to the policies of the Israeli government.
The new legislation is backed by Gilad Erdan, Israel's strategic affairs minister who has been spearheading a campaign of censorship and repression against the BDS movement that has reportedly involved the use of clandestine "black ops."
Israel is spending hundreds of thousands of dollars for the services of a US law firm as part of what human rights activists see as an effort to take this campaign of repression global.
Tags