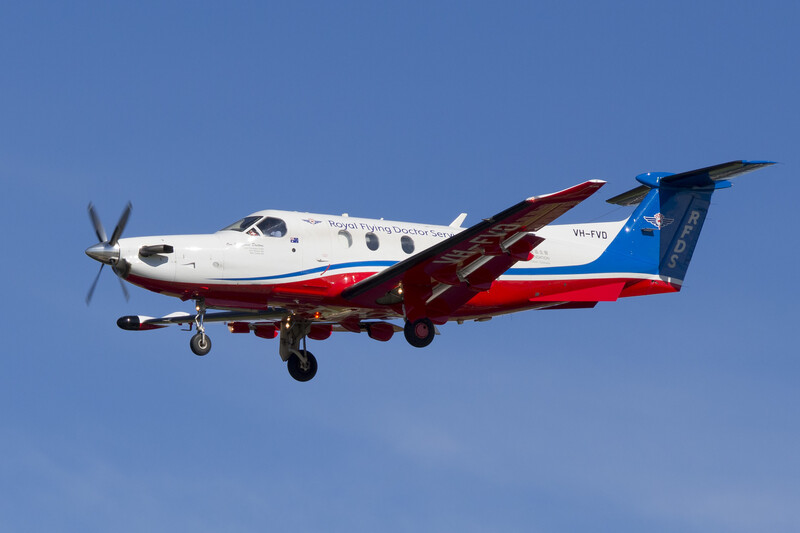 Palestine solidarity activists in Australia are welcoming a decision by the country's celebrated flying doctor service to abandon a partnership with Israeli arms maker Elbit Systems.
The Palestine Support Network Australia, a coalition of solidarity groups, announced late last month that the Royal Flying Doctor Service South Eastern Section had set aside a planned venture with Elbit.
Founded almost a century ago, the Royal Flying Doctor Service brings healthcare to the remotest parts of Australia, and is one of the country's most trusted organizations.
"The RFDS has stated that while Elbit Systems Australia was announced as a supplier of a flight simulator following an initial request for a tender process early in 2016, this has not eventuated," the Palestine Support Network Australia said.
The Palestine Support Network Australia said it had learned that the flying doctor service was considering alternate suppliers for a flight simulator system at its planned training base in Dubbo, New South Wales.
The group commended the flying doctor service "for its commitment to its guidelines of dedication and integrity in its mission to improve health outcomes and save lives, by refusing to enter into any association with Elbit Systems."
The activist network credited Australian public support for an 18-month campaign against the proposed partnership with Elbit.
"In particular, we thank the Australian politicians and doctors who voiced their concern directly to the RFDS and to those who signed the petition and postcards," the group said.
The campaign emphasized that Elbit, Israel's biggest arms maker, "is one of the world's most aggressive promoters of the use of drones in warfare as well as in population control and it is directly involved in Israeli military aggression against the Palestinian people in the occupied West Bank, East Jerusalem and Gaza."
"Stalled"
On Wednesday, The Australian Jewish News attempted to spin the story, reporting that the Royal Flying Doctor Service had "vehemently denied" that the boycott, divestment and sanctions campaign for Palestinian rights had played any part in its decisionmaking process.
According to The Australian Jewish News, the project stalled due to "delays in obtaining a federal government development grant for the Dubbo training center and in finding commercial partners for the project."
Last year, Australia's public broadcaster ABC reported that Elbit was due to "invest" about $8 million in the Dubbo base, while the state government and charities were to provide millions more.
This was announced in Israel during an April 2016 visit by then New South Wales state premier Mike Baird and marketed as an initiative promoting "medical excellence in healthcare delivery" and "community engagement."
But in fact, it was a for-profit venture that would have trained pilots from around the world.
Questions were raised in Australia's parliament about whether the flying doctor service would violate its charitable status by teaming up with Elbit for a commercial enterprise, and whether joining up with a major weapons manufacturer would "conflict with RFDS charity work to assist sick and injured people across Australia."
Western complicity
While activists are celebrating a significant setback for Elbit's commercial and public relations efforts, the company still has major business interests in Australia.
Public records show that in recent years Elbit Systems has secured dozens of contracts adding up to more than $100 million with the Australian defense ministry and federal police.
In 2016, Elbit was awarded a $30-million contract for weapons sights, which like its other arms are marketed as "battle proven" – meaning developed through decades of use against Palestinians and other populations subjected to Israeli military occupation and assaults.
The arms maker also continues to sign contracts in other Western countries.
Last year, the UK awarded Elbit a $720 million contract to provide training to the Royal Air Force through 2033.
The company announced last month that it is bidding for more British military training contracts.
In 2013, Elbit started providing logistics support to the Dutch air force.
And in 2015 it scored a $150-million contract to provide "advanced systems" jointly to the militaries of the Netherlands, Belgium and Luxembourg.
But in a surprise move last year, France rejected an Elbit proposal to supply drones.
The European Union has continued to award "research" grants to Elbit, despite the recent revelation that the company is helping the Israeli military circumvent international restrictions on cluster weapons.
Irish protests
In Dublin on Wednesday, activists delivered a 23,000-signature petition to the Irish government demanding an end to their country's arms trade with Israel.
Human rights campaigners, joined by Irish lawmakers, staged a "die-in" near the office of the prime minister.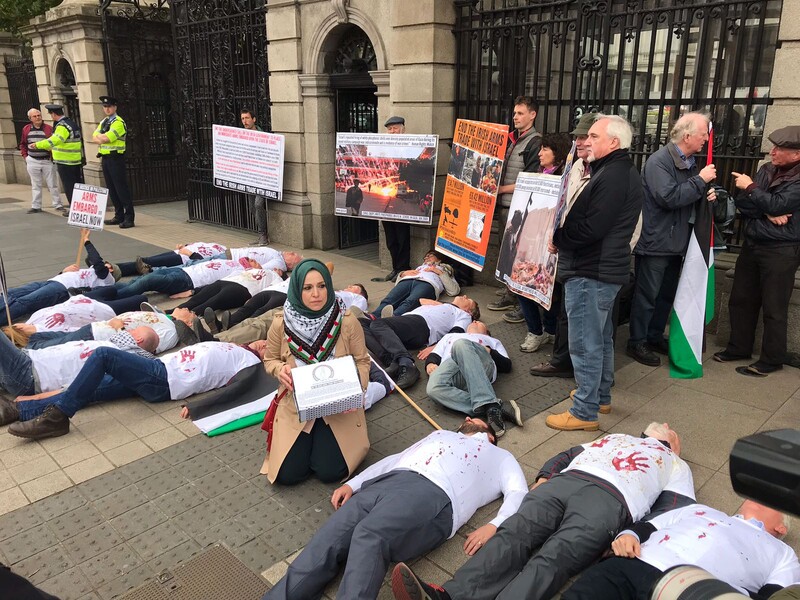 Activists say that Ireland has bought or sold $26 million worth of weapons in deals with Israel since 2011.
"Our aim is to highlight the Irish state's shameful complicity in the oppression of Palestinians that arises from this trade in death," Fatin Al Tamimi, chair of the Ireland Palestine Solidarity Campaign, told those taking part in Wednesday's action.
"Ultimately we wish for an Irish arms embargo on this colonial apartheid state that kills, oppresses, tortures and steals land and liberty from my people on a daily basis."
In 2014, the Dublin city council voted for trade sanctions and an arms embargo on Israel.
There is broad support for an arms trade ban on Israel from human rights and civil society groups across Europe.
Tags