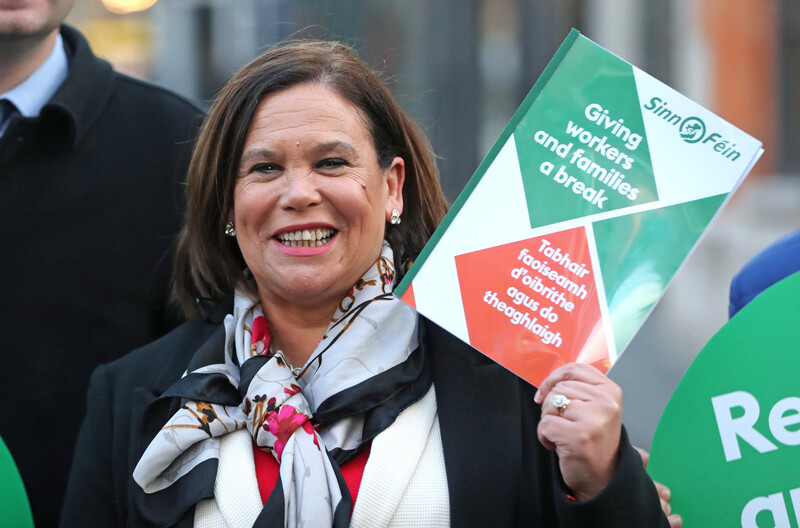 Two of Ireland's largest political parties have committed to banning goods from Israel's settlements in the occupied West Bank if they form a government.
Fianna Fáil and Sinn Féin are tied in first place, according to the latest opinion poll conducted ahead of the 8 February general election.
Both of their manifestos indicate that they wish to see the Occupied Territories Bill placed on the statute books. That legislation would prohibit imports from colonies built in contravention of international law – such as those Israel has constructed in the West Bank and Golan Heights.
The Fianna Fáil manifesto says the party would "progress the Occupied Territories Bill" in government.
Sinn Féin has made a more explicit promise to "ban goods from Israel's illegal colonial settlements in Palestine from entering the Irish market by implementing the Occupied Territories Bill."
The legislation has already won support from a majority in the Oireachtas, Ireland's parliament. Yet the outgoing minority government – which is led by the right-wing Fine Gael party – has invoked an arcane procedure to block the bill, claiming that it clashes with Ireland's obligations as a European Union member.
"Mood for change"
Niall Collins, a former foreign affairs spokesperson for Fianna Fáil, emphasized that his party supports the Occupied Territories Bill.
"We didn't have to put it into our manifesto," he told The Electronic Intifada. "But we insisted on doing so."
The "next step in the process," Collins said, would be the bill's inclusion in the legislative program that Fianna Fáil agrees with another party – or parties – when forming a coalition.
"Personally, I am determined to see this through," Collins said. "It has to be in the new program for government. There is a mood for change. There are lots of issues relating to health, housing and homelessness here in Ireland. But our position on Palestine has stood to us also and it is coming up on the doorsteps. People are showing a keen awareness of this issue."
The latest pre-election opinion poll – published last weekend – puts Fianna Fáil and Sinn Féin jointly in first place, with 24 percent of the vote each.
As it is highly unlikely that any party will command an outright majority, negotiations aimed at forming a ruling coalition will take place after the election.
Micheál Martin, the Fianna Fáil leader, has ruled out joining a government with Sinn Féin, a left-leaning party which supported armed struggle by the Irish Republican Army before becoming active in a peace process during the 1990s.
Although the IRA announced that it was dumping its weapons in 2005 , Martin has alleged that Sinn Féin is controlled by "shadowy figures."
Other Fianna Fáil lawmakers have indicated, however, that they would be in favor of a coalition with Sinn Féin. And Mary Lou McDonald, who replaced Gerry Adams as Sinn Féin leader two years ago, has insisted that there is no "shadowy force" guiding her party.
Election pledges need to be treated cautiously. Fianna Fáil, a conservative party, has broken promises on foreign policy in the past.
While campaigning for a 1997 general election, Fianna Fáil pledged that it would preserve Ireland's military neutrality and not allow Ireland to become a formal partner of NATO, a US-led alliance.
The vow was soon ripped up by a Fianna Fáil-led government. Ireland joined NATO's misleadingly-named Partnership for Peace in 1999.
With Fianna Fáil in power, Ireland assisted the invasions of Afghanistan and Iraq by allowing the US to refuel its warplanes in Shannon Airport.
Pressure
Despite including the Occupied Territories Bill in its manifesto, Fianna Fáil still has to prove that it will enforce the legislation in government.
Doing so would require standing up to pressure from the European Union, which is against banning Israel's settlement goods. A number of US politicians have also urged Ireland to ditch the bill.
"At the end of the day, whoever forms the new government will come under pressure from the US and EU to kill the Occupied Territories Bill and to fall in line with the global attempts to silence criticism of the apartheid state of Israel," said Fatin al-Tamimi from the Ireland Palestine Solidarity Campaign.
"But they will also come under huge pressure from the Irish public to take an even stronger stance in support of the Palestinian people's heroic fight for their freedom, justice and equality," she added. "We are confident that people power will ensure the passage of this bill."
The Occupied Territories Bill has been drafted by Sadaka, another Irish organization that defends the rights of Palestinians. All political parties in the Oireachtas, apart from the ruling Fine Gael, have voted in favor of the legislation.
Marie Crawley, a Sadaka representative said her organization is "100 percent confident" that the bill will enter into force.
"The commitments we have received from parties which are highly likely to be in the next government are considerably more substantial than vague affirmations," she said. "The parties have made those commitments in the knowledge that they will be brought to account for these pre-election statements."
Ciaran Tierney is an award winning blogger and a former newspaper journalist. Twitter: @ciarantierney. Website: ciarantierney.com.
Tags