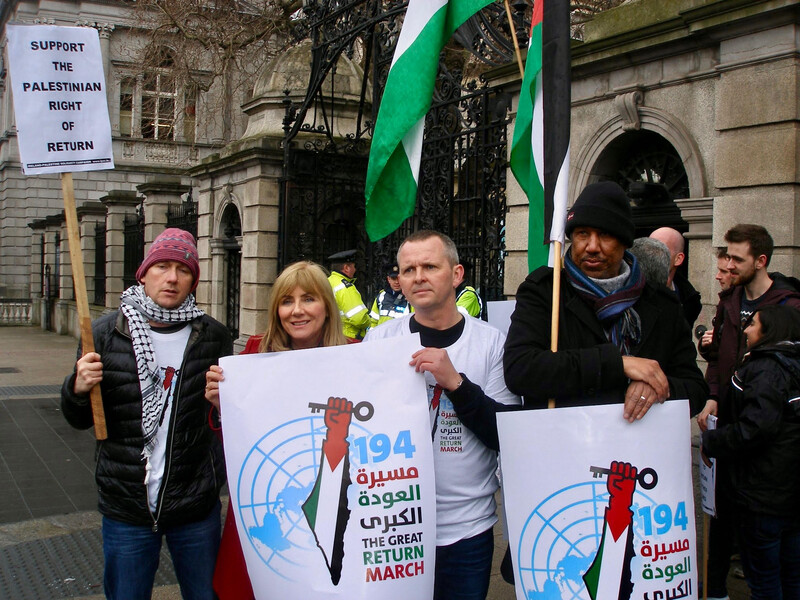 Irish lawmakers are likely to approve a ban on goods from Israel's settlements in the occupied West Bank.

One of Ireland's largest parties, Fianna Fáil, announced this week that it would support the ban in a vote scheduled for 11 July.


The bill to prohibit settlement goods was introduced by Frances Black, a well-known singer.

Now a member of the Seanad, the upper house in Ireland's parliament, Black has kept on campaigning for the ban despite initial signs that it might be rejected.

"Everywhere I go here in Ireland, politicians tell me that they support the bill personally but they have to follow the party line," Black told The Electronic Intifada – speaking a few days before the Fianna Fáil announcement was made. "On the ground, I cannot believe how much support this issue is getting."

Benjamin Netanyahu, Israel's prime minister, reportedly protested to the Irish authorities when Black's bill went before the Seanad in January.

Ireland's foreign minister Simon Coveney refused to support Black's bill at the time.

Coveney sought to justify his stance by pointing out that no European Union country had banned goods from Israel's settlements. Ireland has to accept the EU's trade policies, Coveney suggested.

Coveney is deputy leader of Fine Gael, the party in government.

Fianna Fáil, the second largest party in the Oireachtas, similarly pointed to Ireland's EU membership as an excuse for not fully endorsing Black's bill earlier this year.

Since then the party has come under pressure from Palestine solidarity campaigners to back the bill.

Niall Collins, the party's foreign affairs spokesperson, has just returned from a trip to Palestine.

Collins stated this week that a majority vote in favor of Black's bill could "send a strong message that the issue of illegal settlements is being taken seriously."

All of Israel's settlements in the West Bank are illegal under international law.

There is a growing consensus among international law experts that trade with Israeli settlements is illegal, and Amnesty International has called on governments to impose a ban.

Nominally in opposition, Fianna Fáil is facilitating the government's work through a "confidence and supply" arrangement.

A number of smaller opposition parties approve Black's bill.
"Total solidarity"
Black has argued that individual EU governments may take actions outside the scope of EU trade policy to address international law violations.

Banning goods from Israel's settlements is "something constructive that we can do in Ireland that would make a huge difference to the Palestinian people," Black told The Electronic Intifada. "It would send out that message to the Palestinian people, that we are fully supporting them and are in total solidarity."

Black's resolve to push for a ban on settlement goods was strengthened when she visited Palestine recently.

"What I saw over there was a hundred times worse than what I expected," she said. "I knew it was bad before I went out there, but what I saw was so much worse. They are living in horrendous conditions. One woman in Gaza asked me why the international community had abandoned them. That really struck a chord with me."

Sadaka, a campaign group working on Palestinian rights, has been heavily involved in drafting the bill proposed by Black.

"This bill is fundamentally about the proceeds of criminal activity," said Gerry Liston, a Sadaka representative. "These goods are produced on land which has been stolen from the Palestinian people. The settlers' presence on the land is a war crime in itself, the colonization of land by force is a war crime."
"Take a stronger line"
Raymond Deane, a founder of the Ireland Palestine Solidarity Campaign, criticized the Dublin government for refusing to act independently of the European Union.
"When we set up the IPSC in 2001, we used to have regular meetings every six months with the Irish Department of Foreign Affairs," Deane said. "Gradually, we came to realize that it was a waste of time. They were full of good intentions but they were never going to deviate in any way from European Union policy. EU policy is dictated by the big countries, particularly by Germany, which still thinks it is atoning for the Holocaust by punishing another people."
Simon Coveney's position is not shared by all his colleagues in the Dublin government, which brings together Fine Gael and a number of independent politicians.
One of those independents, Finian McGrath, is a junior minister in the ruling coalition. McGrath told The Electronic Intifada that he "will be pushing to support the legislation" to ban goods from Israel's settlements.
The case for the ban was underscored by the recent Israeli massacres of unarmed demonstrators in Gaza, McGrath said, adding that he "felt very disappointed that Europe and Ireland didn't take a stronger line" against those killings.
Ciaran Tierney is a journalist based in Galway, Ireland. Website: ciarantierney.com.
Tags