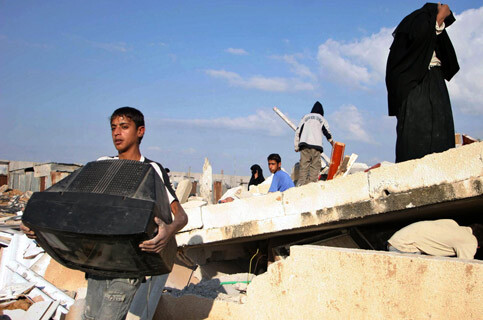 The last few days of Ramadan before the three-day Eid celebrations in Gaza witnessed a further deterioration of the humanitarian situation and economy since the United States and its supporters imposed a tight siege and embargo against the elected Hamas-led government.

While Gazans should have been preparing for the Eid Al Fitr, the fight for survival became all the more pressing. As 46-year-old English teacher Majed Rashid said, "There is no taste for this Eid, it's a sad Eid."

Rashid continued to speak candidly. "This will be the worst Eid of my life because we are facing the worst humanitarian situation yet. There are no salaries due to the siege imposed on us by the American administration. If you have children then you know what I mean. I don't have enough money to buy new clothes, candies, toys and edeyyah [money given to children at Eid] for my four kids."

Tthe school teacher added, "We are living a miserable life full of hardships and obstacles. This Eid will be blinded by darkness as we suffer the lack of electricity since the Israelis bombed the only power plant which provides electricity to 45 percent of Gaza Strip residents."

As attacks on the Gaza Strip did not stop, with Israeli forces killing approximately 14 Palestinians in two days of ground and air attacks, Rashid went on. "The Israelis continue their brutal offensive in the Gaza Strip, killing innocent people, demolishing houses, shelling our fields, raiding and striking our institutions, roads and bridges, detaining our brothers and sisters, razing agriculture fields, assassinating the heroes of our resistance, and keeping control of the Rafah Crossing in the Gaza Strip, which is the gate to the outside world. But in spite of this we rely on Allah. We hope that the next Eid will be a better one."

Nada is married with three children. She is a clinic nurse who says, "The days of Eid will be normal days without joy or celebrations as our daily lives are paralyzed. We are trapped in this big prison like a sardine can. We are bored and depressed. The situation is very difficult."

She added, "My husband is ill with chronic disease and has been unemployed for a long time. I'm working here to get some money to pay the bills and save a little for the bad and blacker days to come. Actually we hope that Eid never comes because we are not enjoying our lives like other people do outside of Gaza."
She placed the onus for the current situation on several players. "Arab leaders betrayed us and left us alone to face the Israeli genocide against Palestinians, especially in Gaza. The US is a strong ally of Israel, so they don't care about the ordinary people. This siege imposed on us is a form of collective punishment."

Nada said, "We are human beings just like the Americans and Israelis!! I wonder how they call themselves civilized people and export their democracy to the world."

A man in his mid-thirties, Nader Daher, had his little boy, five-year-old Noor, with him when he spoke. "I'm not feeling happy with this sad situation, especially in the shadow of poverty and chaos. You can see the sadness and depression in people's faces. On the days of Eid we usually visit our relatives throughout the Gaza Strip, but unfortunately some of them left Gaza looking for better futures as the Palestinian economy further collapses."

When asked if the father would be able to buy something for his little boy he smiled with sadness. "My boy wants me to buy him something."

Little Noor spoke up. "I want a toy gun, and I prefer an M16." That is the machine gun commonly used by Israeli soldiers.

His father, Nader, said, "When I was his age I never thought to have a toy gun. We used to go to the rides and buy chocolate. But now our children do not enjoy their childhood because of the continuous Israeli military operations and attacks against us."

These are the stories of life in the Gaza Strip.

Related Links

Photostory: Ramadan in Ramallah, Rima Merriman (19 October 2006)

BY

TOPIC

: Cutting Aid to Palestine (30 March 2006)

Yousef Alhelou is a producer, translator, and fixer based in the Gaza Strip.