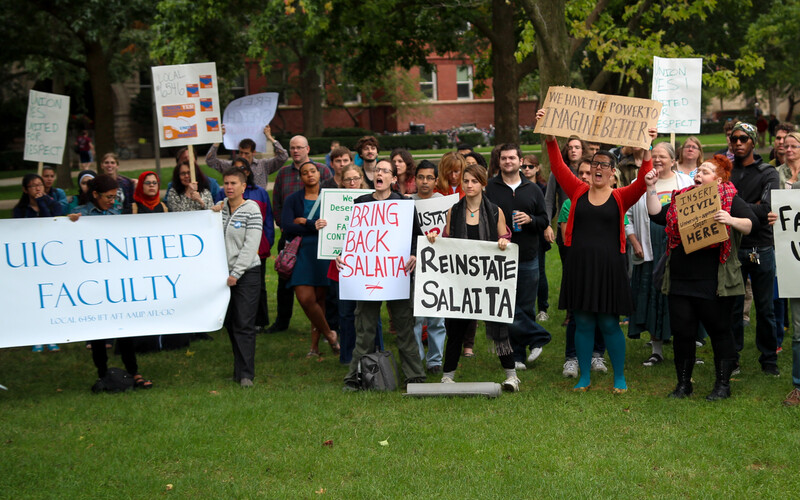 When the University of Illinois at Urbana-Champaign dismissed my client, Professor Steven Salaita, from a tenured faculty position in August 2014 over tweets critical of Israel's assault on Gaza, it sent reverberations throughout the movement for Palestinian rights in the US.
Although almost every Palestine solidarity activist has their own story of having been vilified, censored or punished, the particulars of the case, especially UIUC's unabashed speech-based justification for its decision, struck a distinct nerve.
Salaita has a stellar record as a scholar, having obtained tenure in 2009 at the age of 33 and published six books before the age of 40.
If a university could get away with firing someone like him on the basis of tweets criticizing the policies of a foreign government, what does it means for the junior scholar weighing whether to sign a divestment petition? Or the student thinking of organizing a demonstration?
It became clear to us at the Center for Constitutional Rights that this was a line in the sand case that required a strong response.
The controversy brought me back to my formative days working on Palestinian rights as a student organizer at Stanford University in the early and mid 2000s. At the time, Palestine felt very much like a fringe issue on college campuses, virtually impossible to build coalitions around and consistently relegated to the margins.
"Focus on falafel"
When I started as a freshman in 2003, there was not a single student group focused on Palestine — the handful of us who wanted to plan ad hoc events or demonstrations used to meet periodically in the dining hall. In 2004, we formed the Coalition for Justice in the Middle East, through which we organized dozens of speaker events, film screenings and festivals, and in 2006, we founded Students Confronting Apartheid by Israel (later renamed Students for Justice in Palestine) and launched a campaign calling on the university to divest from companies violating human rights in Palestine.
Around the country, organizing for Palestinian rights also began to pick up, particularly after the 2005 call from Palestinian civil society for boycott, divestment and sanctions against Israel.
We confronted efforts to silence our voices at every turn. I remember an editorial, penned in a campus newspaper during my sophomore year, accusing our group of anti-Semitism, of having "blood on [our] hands," and calling for us to "focus on other things, like falafel, women's rights in Muslim countries or the contributions of Arab Muslim society to the world."
We responded by organizing a "falafel fest" (complete with falafel soup and falafel pizza, among other savory dishes) as part of our annual commemoration of the Nakba, the ethnic cleansing of indigenous Palestinians in 1948. Shockingly, this did not mollify our critics.
Although fortunate to have a comparatively more understanding administration, we operated in constant fear that our activism would undermine relationships, affect our status on campus and undermine future job prospects, leading many of us to conceal our involvement. When an administrator informed me in 2007 that the nomination I received for a university honor had to be withdrawn, as I had become a "divisive" figure after launching a campaign for Stanford to divest from firms aiding Israel's crimes, it struck me as routine and even expected.
Fighting back didn't even seem like an option.
I could never have imagined then that less than a decade later we'd not only fight back against suppression, but receive wide-ranging, overwhelming solidarity and support and win, as we've done at every stage of the Salaita affair, which culminated in the $875,000 settlement signed earlier this month.
The response to Salaita's firing began with the Palestine solidarity movement and locally at UIUC with student walk-outs and votes of "no confidence" by 16 academic departments in the school administration, but quickly expanded.
More than 5,000 academics, including Cornel West and Angela Davis, pledged to boycott UIUC, resulting in the cancellation of more than three dozen scheduled talks and conferences and the freezing or deferral of several open hires at the school.
Line in the sand
Prominent academic organizations condemned UIUC, including the Modern Language Association, the Society of American Law Teachers and the American Association of University Professors, which, after conducting an investigation and issuing a scathing report, took the rare significant step of placing UIUC on its censure list for firing Salaita.
An Illinois state court ruled in our favor in a Freedom of Information Act suit, forcing the university to come forward with documents that made clear that the university acted in response to a coordinated campaign by Israel advocacy groups which mobilized donors and other influencers to threaten to withhold donations and support for UIUC unless it fired Salaita.
A federal court issued a stinging rebuke of the university's actions in an August decision, a definitive pronouncement of the law declaring that the case invoked "every central concern of the First Amendment" and that the university's position threatened "the entire American academic hiring process as it now operates."
Within hours of the issuance of that decision, Phyllis Wise, who a year prior had written to Professor Salaita to notify him of his dismissal, resigned from her post as the university's chancellor. Later the same month, Ilesanmi Adesida, another central player in the firing, resigned as provost.
The near seven figure settlement not only gives Salaita and his family the relief they deserve and the opportunity to put this matter behind them, but also allows the Palestine solidarity movement to declare victory at our zenith instead of getting dragged into years of murky legal back-and-forth unlikely to result in a better outcome.
And we have drawn that line in the sand: now, the next similarly situated administrator is more likely to question whether spurious claims of incivility or anti-Semitism merely mask a disingenuous attempt to muzzle criticism of Israel (which we document at length in a recently released report, "The Palestine Exception to Free Speech").
After "no confidence" votes, walkouts, boycotts, censure, legal victories, resignations and a significant settlement, what even marginally competent administrator would choose to follow UIUC's path?
This victory embodies just how far the movement for Palestinian rights has come since my early days as a student activist. Just this year, the undergraduate student senate at Stanford voted to call on the university's board of trustees to divest an endowment of more than $21 billion from companies subsidizing Israeli rights abuses.
That was the kind of outcome we could only dream of when we launched the campaign a decade ago.
Our movement continues to grow in spite of desperate attempts to quash it. And we won't stop until Palestine is free.
Omar Shakir is a Bertha fellow at the Center for Constitutional Rights. He is one of the attorneys who has represented Steven Salaita.
Tags