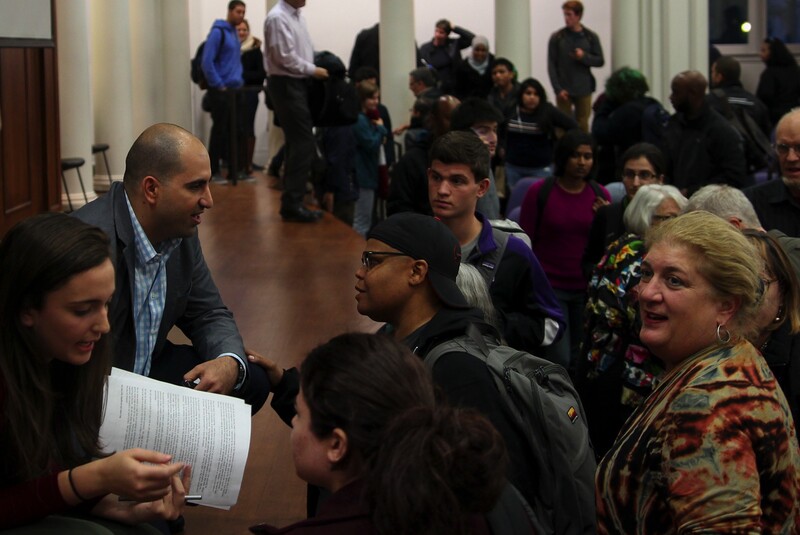 As Steven Salaita makes a number of appearances at Chicago-area campuses this week, his firing by the University of Illinois at Urbana-Champaign (UIUC) continues to cause reverberations. (Note: I appeared on a panel with Salaita at the University of Chicago last night along with Bassem Tamimi, former prisoner of conscience and a leader in the popular struggle in the occupied West Bank village of Nabi Saleh.)
The Executive Committee of the Program in Jewish Culture and Society at the University of Illinois has added its condemnation over administrators' decision to fire Salaita over his tweets criticizing Israel.
The statement comes after the faculties in more than a dozen other departments have passed votes of no confidence in Chancellor Phyllis Wise. And this week, a prominent scholar in Armenian genocide studies canceled a planned lecture, becoming the latest among thousands of academics to endorse a boycott of the university.
"We are deeply troubled by the disregard for academic freedom, freedom of speech, and the principles of shared governance – enshrined, as they are, in the University of Illinois Statutes," the Jewish Studies executive committee says in a statement signed by nine of its thirteen members.
"Contradictions and obscurities"
"We believe this disregard will have a chilling effect on our ability freely to study and discuss controversies central to our field, including those regarding the Israeli/Palestinian conflict," the statement adds.
"Furthermore, as specialists in some of the areas relevant to this case, we are frustrated by the complete lack of faculty consultation that the administration has exhibited; we believe our expertise, along with that of many other colleagues on campus, might have helped the administration address the complexities of the case and come to a more just decision," the scholars say.
Noting that the "the account the administration has provided of their decision to revoke Professor Salaita's offer contains many contradictions and obscurities," the committee calls for "a complete and impartial inquiry into the decision-making process."
Some of those contradictions and obscurities – including contradictory statements by university president Robert Easter, and the claim that the university cannot find a memo on Salaita handed to Chancellor Wise by a major pro-Israel donor – have been revealed in The Electronic Intifada's reporting.
Fears about hiring
The university administration's summary dismissal of Salaita, after pressure from pro-Israel donors, is leading to fears that departments will have a difficult time hiring top-level faculty.
Professor Valerie J. Hoffman, director of the school's Center for South Asian and Middle Eastern Studies, expressed these concerns in an email she sent to an academic listserv announcing a job opening for an assistant professorship in Islamic studies.
The Electronic Intifada obtained a copy of the email which states that the "furor" over Salaita's firing "on our campus is still in full throttle and will likely not subside any time soon."
Here are the relevant portions of Hoffman's email to prospective candidates:
Some of you may be concerned about applying for a job at our university because of the higher administration's decision not to forward Steven Salaita's appointment to the Board of Trustees because of his "uncivil" tweets of justifiable outrage over the Israeli bombardment of Gaza. His tweets prompted prominent pro-Israel donors to threaten to stop donating to the University of Illinois, and the President of the Board of Trustees, Christopher Kennedy (son of Robert Kennedy), pressured Chancellor Wise not to follow through with the appointment.

As you are probably aware, some academics at other institutions have decided to boycott our campus because of this. Most people have stressed the principle of academic freedom, which is of course extremely important, but from the vantage point of the faculty here at UIUC, the violation of the principle of shared governance is just as important.

I would like you all to know that many departments in the College of Liberal Arts and Sciences, including the Department of Religion, have voted to issue statements of no confidence in the leadership of the Board of Trustees, the President of the University of Illinois and the Chancellor of the Urbana-Champaign campus. A group of forty Jewish faculty, students, staff and alumni also sent a letter to Chancellor Wise and the Board of Trustees in support of Steven Salaita that said, "As Jewish members of this campus community, we insist that you do not speak for us in your unjust actions. In no way do Professor Salaita's words, tweets, or presence on campus make us feel unsafe, disrespected, or threatened, as your public letter indicated…."

The letter protested the equation of criticism of Israel with anti-Semitism and said that the administration is "disregarding a large and growing number of Jewish perspectives that oppose Israeli military occupation, settler expansion, and the assault on Palestine. We did not survive ethnic cleansing and carry on the legacy of our people to have our existence used to justify the genocide and ethnic cleansing of Palestinians, or their unethical treatment when they speak out against the murder, violence, and displacement of their own people." It argued that the University's action deprived the campus of "an invaluable scholarly voice to help lead this community in a conversation about why as well as how to stop this from ever happening again."

The furor over this on our campus is still in full throttle and will likely not subside any time soon. As a result, faculty hiring procedures are being reviewed for probable revision, in order to avoid situations like this in the future. We are still demanding that Salaita's position be reinstated, though I am not optimistic that that will happen. But I do believe important changes will happen. It seems that higher administration officials had no idea that they would provoke this sort of reaction.

So I hope that our colleagues elsewhere will not view our campus as an entity to be avoided. This is a great place to live and work, and as Director of the Center for South Asian and Middle Eastern Studies I am made more aware than ever of how many wonderful faculty members we have on our campus who engage in work across all disciplines on these two important regions.
Tags