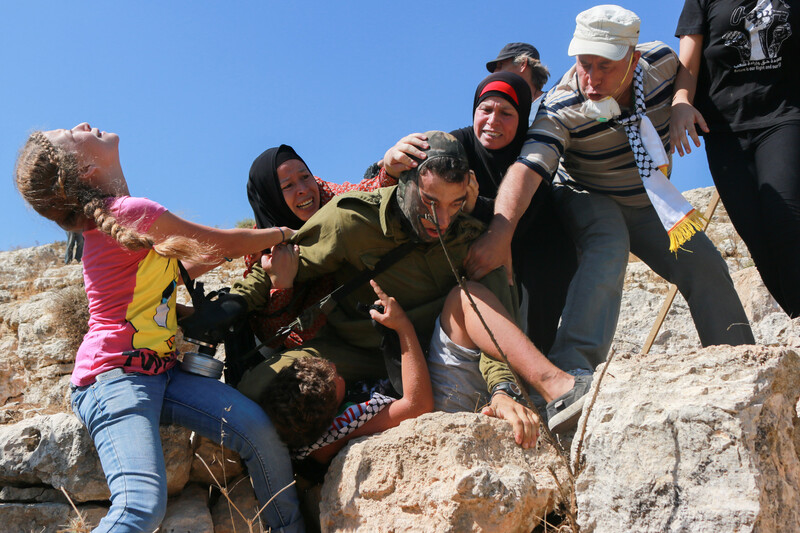 The small West Bank village of Nabi Saleh is paying a steep price for a video of Israeli brutality.
Widely circulated in recent months, the video shows the mother and sister of 12-year-old Muhammad Tamimi wresting him away from a masked and armed Israeli soldier. The boy was throttled and jammed into boulders on 28 August, despite having a cast on his arm.
Israeli politicians not only defended the Israeli soldier's actions; some argued that he should have behaved in an even more cruel manner.
Miri Regev, Israel's culture minister, said that the soldier should have shot the boy's unarmed rescuers.
Since the incident, the Israeli army has detained scores of young men from the village and subjected them to lengthy periods of interrogation, during which abusive treatment occurred.
Seventeen are currently imprisoned, including Waed Tamimi, Muhammad's 19-year-old brother.
Waed was arrested, along with his 20-year-old cousin Anan, during a 19 October night raid on the home of Waed's parents, Nariman and Bassem Tamimi. Four other young men were seized by the army that same night, including Louay Tamimi, whose brother Mustafa was killed in December 2011 when a soldier fired a high velocity tear gas canister at his head from a meter away.
Bassem Tamimi, who was on a lecture tour of the US when his son was arrested, has himself been detained a dozen times. He has also been tortured and spent three years in prison without a conviction.
Defying military orders
Bassem and his cousin Naji, the father of Anan, have been recognized as human rights defenders by the European Union. In 2012, Bassem was declared a prisoner of conscience by Amnesty International.
The cousins have helped coordinate their village's unarmed resistance activities. Rather than submit mutely to the confiscation of their land and freshwater spring by Israeli settlers, the residents of Nabi Saleh have for the last six years held spirited weekly demonstrations demanding an end to the Israeli occupation.
In so doing, they have defied Israeli Military Order 101, which criminalizes participation in protests, assemblies and vigils, as well as waving flags and distributing political material. Efforts to influence public opinion are prohibited as "political incitement."
But to Nabi Saleh residents, such military orders are inherently unjust. During his June 2011 trial for organizing demonstrations, Bassem Tamimi told the court:
"Despite claiming to be the only democracy in the Middle East, you are trying me under military laws which lack any legitimacy; laws that are enacted by authorities that I have not elected and do not represent me. I am accused of organizing peaceful civil demonstrations that have no military aspects and are legal under international law. We have the right to express our rejection of occupation in all of its forms; to defend our freedom and dignity as a people and to seek justice and peace in our land in order to protect our children and secure their future."
Israeli and international activists have frequently joined the weekly protests in Nabi Saleh, and face an army deploying stun grenades, tear gas, skunk water, rubber-coated steel bullets and live ammunition. Hundreds of demonstrators have been injured, some permanently, and two were killed.
Over the years, as many as 200 villagers have been detained out of a population of just over 500. All of them belong to Tamimi clan.
Why is the world silent?
At the 28 August protest, the army arrested Bassem's 19-year-old nephew, Mahmoud. Vittorio Fera, an Italian activist, was also detained.
Fera was swiftly acquitted by an Israeli civil court from the charge of throwing stones and other objects.
Mahmoud — who faces identical charges in the military court system — has spent months now in Ofer, an Israeli prison in the West Bank, without a hearing.
For Palestinians, including children, there is no presumption of innocence and little likelihood of acquittal, given the 99.74 percent conviction rate in military courts.
Most of these convictions are a result of plea bargains, agreed to after the coercive extraction of confessions from children as well as adults. Some prisoners may be sentenced to administrative detention. Under that practice, detainees are held without charge or trial and without being told what evidence the authorities hold on them.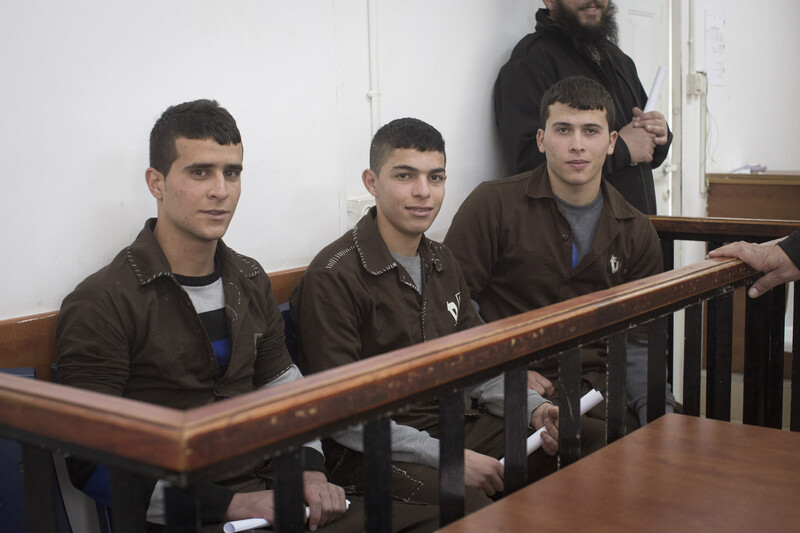 The 17 young men from Nabi Saleh may have been marooned in military prisons — where their families cannot visit them or even send them warm winter clothes — because someone from the village has been intimidated into saying who they saw throwing stones.
Two young men detained on 9 December have now been released, but Nabi Saleh families fear there will be more arrests. Israel appears bent on doing everything it can to impose collective punishment on a village that serves as the symbol of resistance to a nearly half-century-long military occupation.
As the youth await trials and anticipate years in prison, US activists have set up a Facebook page to press for their release. Bassem Tamimi, meanwhile, wonders why the international community has not taken a determined stand against Israel's relentless repression.
"The silence of the world is worse than what the occupier is doing," he said. "We can't understand this silence, because our struggle is for humanity and the world is supposed to care about human rights."
Nancy Murray, who for 25 years was director of education at the American Civil Liberties Union of Massachusetts, has worked for Palestinian rights since her first trip to the region in 1988.
Tags